Hi everyone!  What a fantastic weekend we had in NYC celebrating my Sophie's 14th birthday.  We saw the Broadway show, Waitress, went shopping and had fun with my sister and her family.  Now we are home and getting into a new groove with my son back at Salisbury University, my daughter Ella starting her senior year and Sophie her freshman year in high school.  Bring on fall!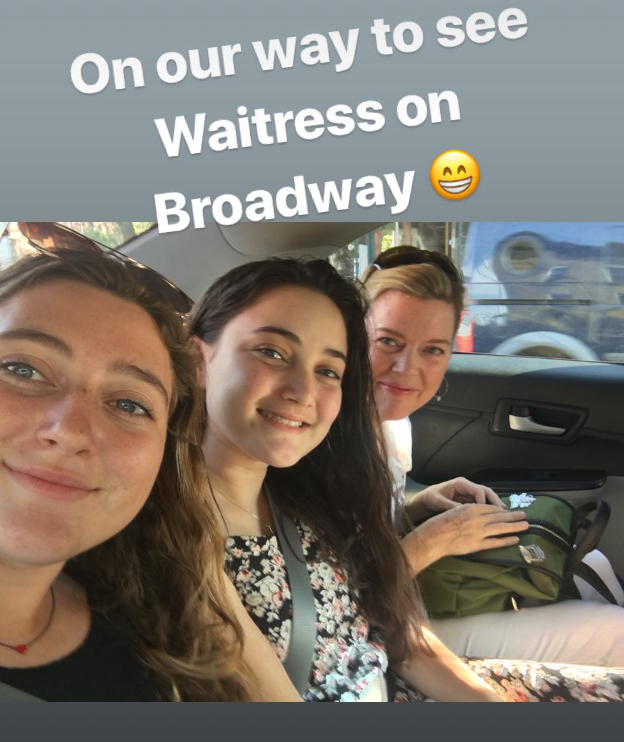 Before I go on you must understand a recurring theme of mine…Oh, how a small project escalates into insanity in my home!
I started painting my kitchen cabinets (yet again) in a bright white.  I had painted my kitchen cabinets a few years ago in General Finishes milk paint and sealed them using their topcoat.  After a few years the paint was chipping off in the places with a lot of use, such as around the cabinet pulls.  No bueno!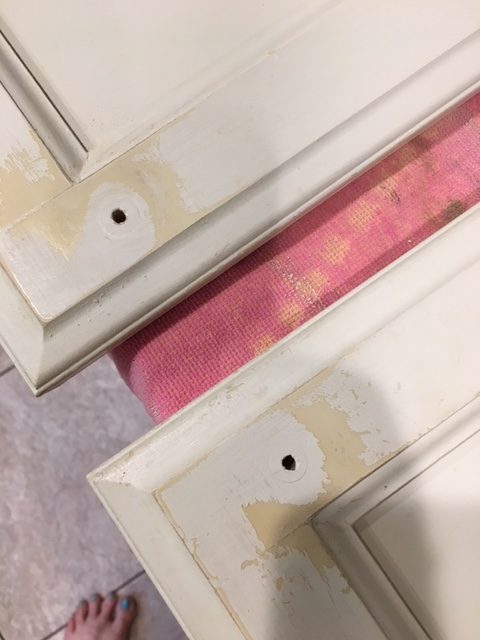 I decided to go with a latex paint this time and chose PPG Diamond paint and primer in one, mixed in a satin finish and in the color Cloud White by Benjamin Moore.  I'm hoping it will be more durable and hold up to our family of five.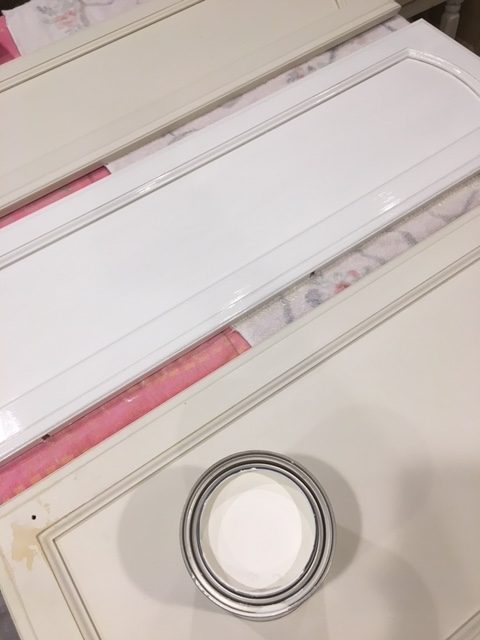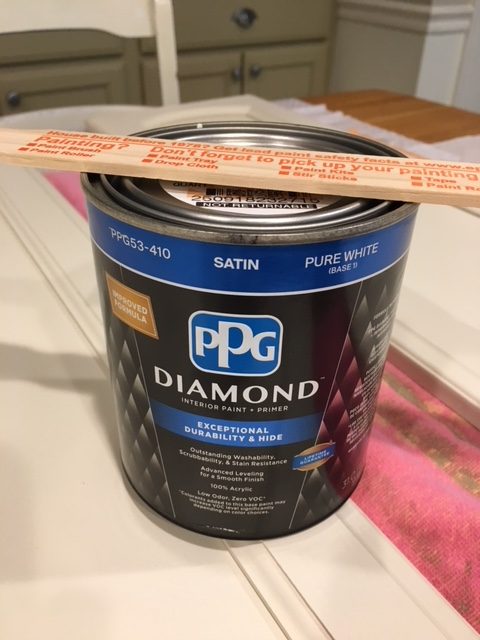 White I was taking the cabinet doors off, I mentioned (complained) to my husband how I really disliked the hanging shelf units under the cabinets.  They took away from the countertop space underneath, plus I wasn't crazy about the curved "countryish" design. Honestly, they were not too useful because the actual shelf depth was so narrow.  How amazed was I that he went to the basement, got the tools and took them down (without my asking ten times).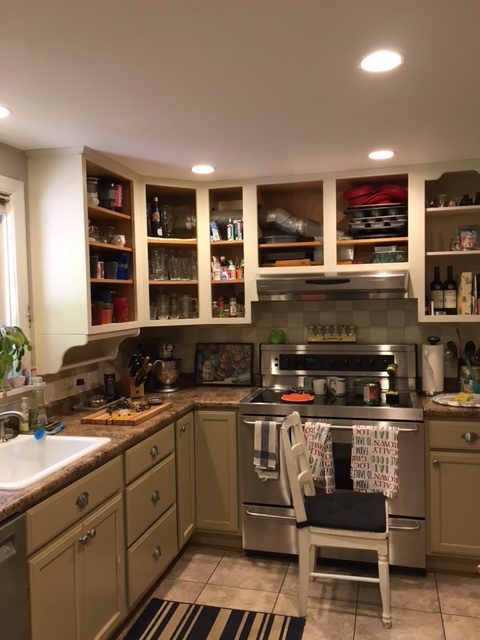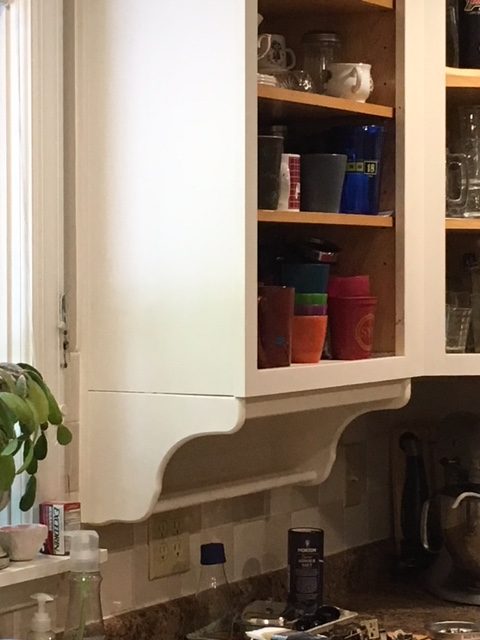 I've also been hankering to take down the cabinet between our kitchen window and refrigerator.  I would prefer open shelving to create a look of more space.  Boom! He took it down (I'm telling you, this was a magical and mysterious day.  I have no idea what he had for breakfast that morning but I need to find out).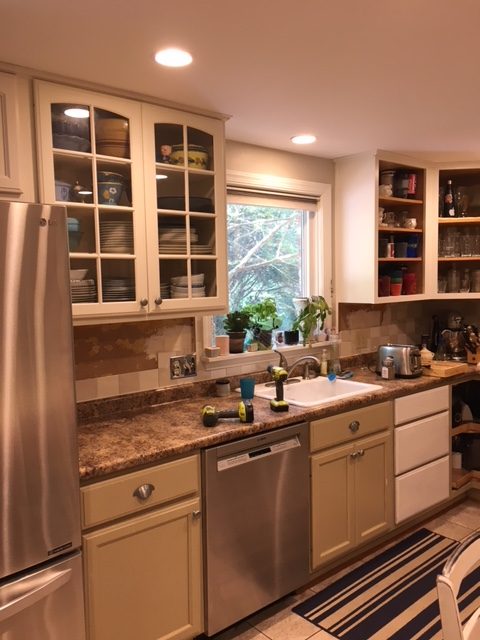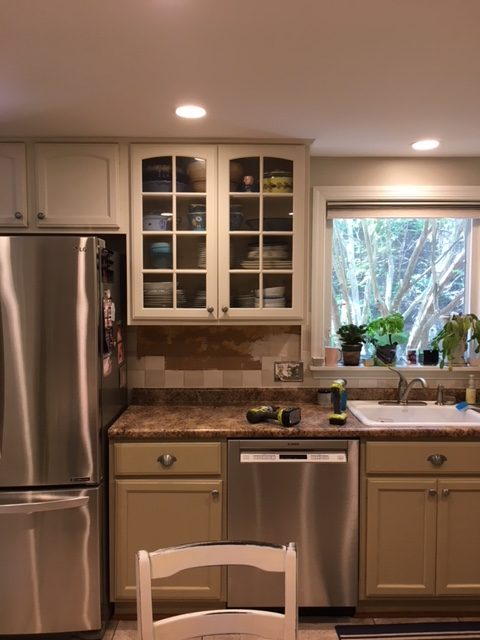 Then I decided to really push my luck and told him how I really, really wanted subway tile instead of the existing tile backsplash.  Bam – down it came!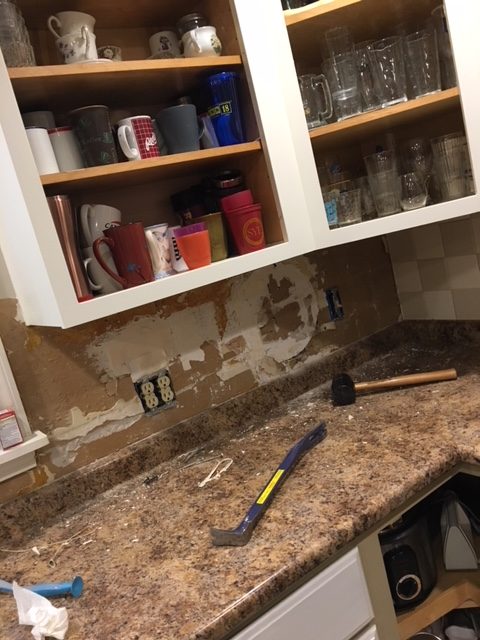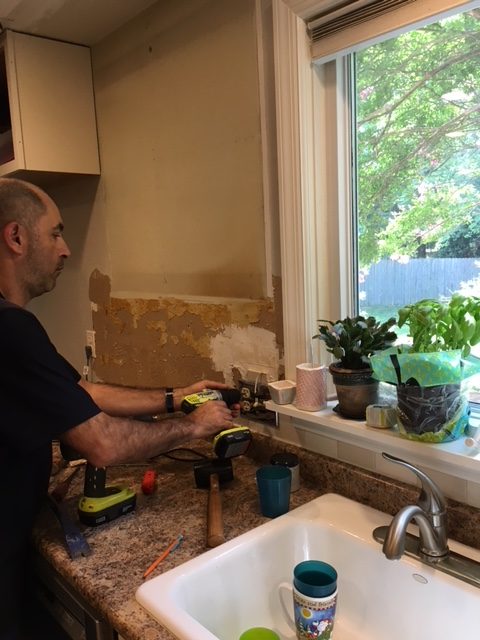 This was all done in the space of a half hour and I was left satisfied but wondering that in my haste maybe I had not thought this one through.
The kitchen was mess.
A few days later, we had my husband's surprise birthday party (in our partly destroyed kitchen) and left the next morning for Chicago.
Fast forward a few weeks later to a very unusual Saturday because we actually didn't not have any plans. This happens about once per year.  We went to Home Depot and purchased a tile cutter (not a wet saw) for only about $20, tile clippers for about $10, spacers for a few bucks and the tile.  The tile was an inexpensive subway tile at $0.22 each.  We also bought a tub of adhesive and a cheap trowel to apply it.  I really like our tile cutter because this is not an intricate tile cutting application and it does the job.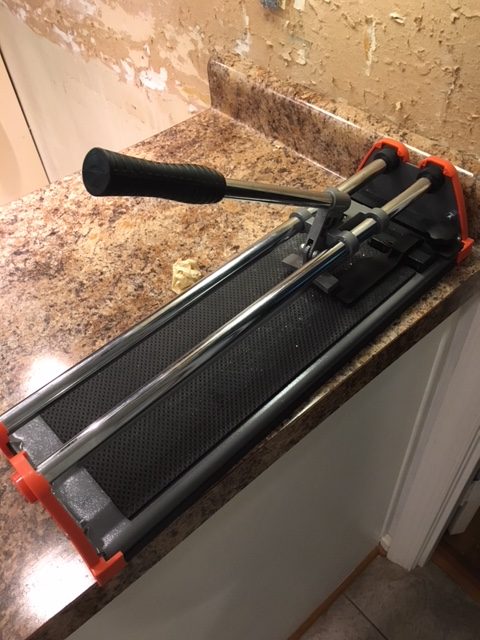 Taking our level,  we made sure that our countertops were level before using them as a base to begin working upwards from.  Our counter tops have a 3″ lip that goes up the back of our wall (you can see it in the pic above).  Our tile is exactly 3″ so when we eventually remove the countertops, we can easily add another row of subway tile in its place.  Taking the adhesive and using the trowel, my husband started applying the tile to the wall, working his way up by stacking them upwards as he went.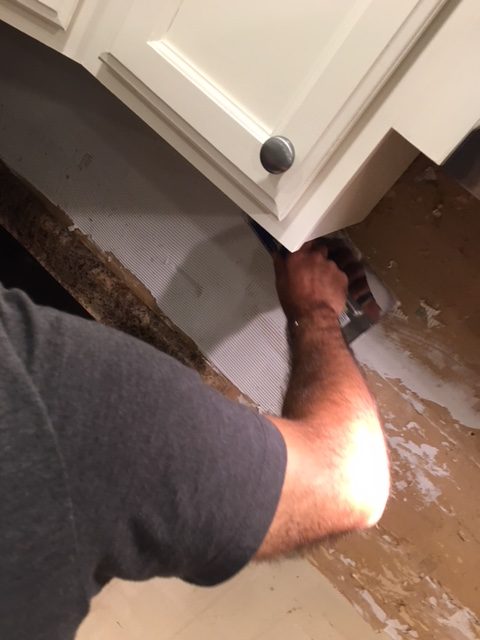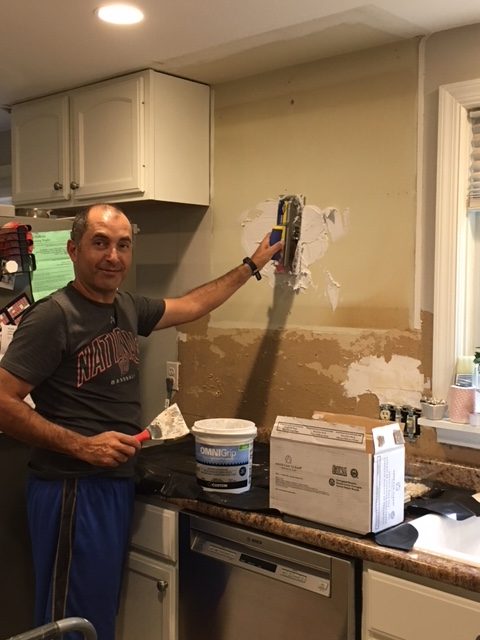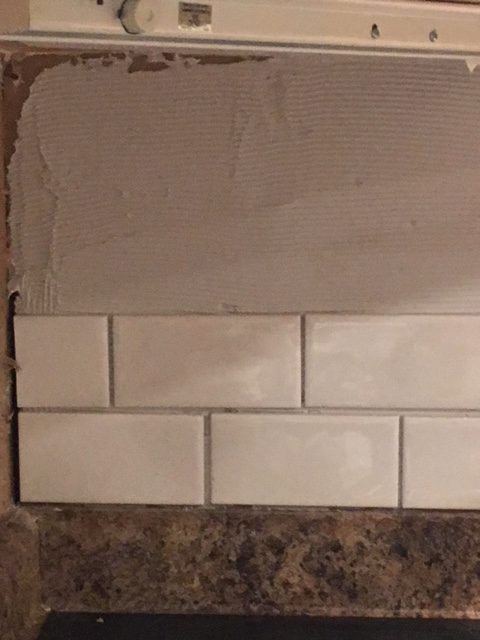 We used spacers to make sure they were evenly spaced.  This actually was tricky but once we got going, we got the hang of it. My husband used the tile cutter for the oddly shaped tiles around the light switches and along the edges, etc.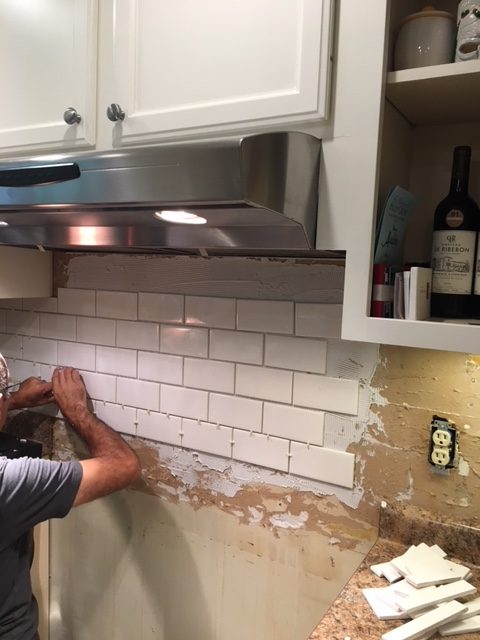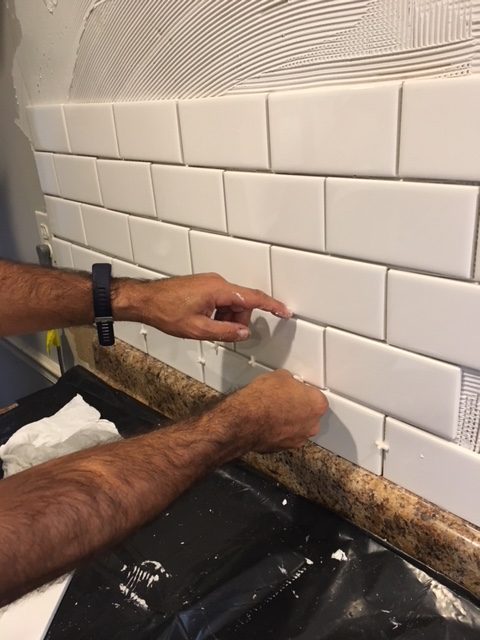 It's shaping up!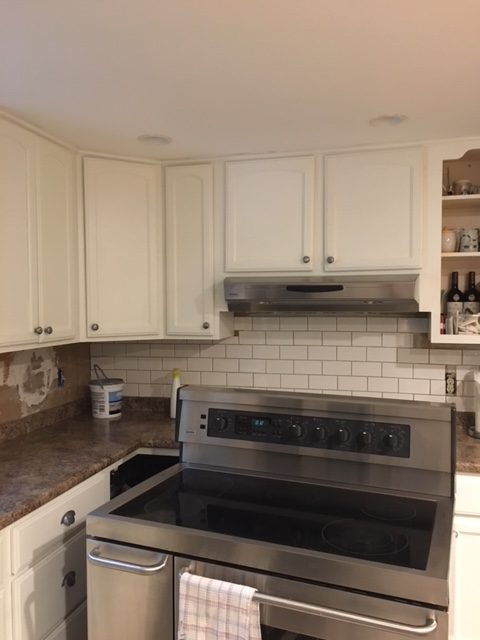 We decided to tile all the way to the ceiling where the cabinet once was.  I'm going to put three open shelves on top of the tiles.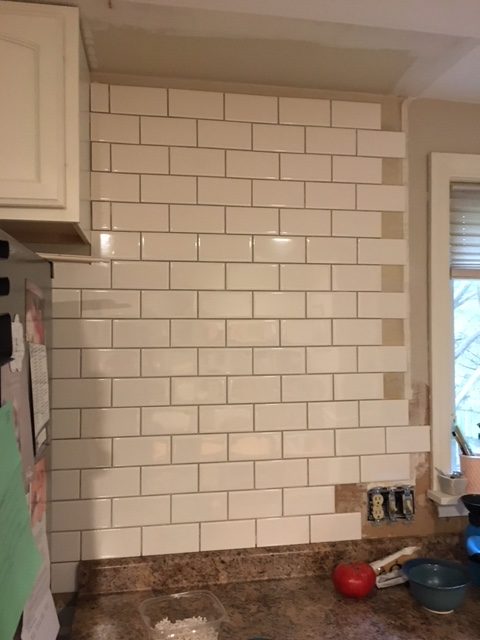 Once we finish the tiling we will apply the grout.  Who knew there were so many shades to choose from?  I'm thinking a light gray.
Honestly, I am now terrified of drilling holes into the tile to install the shelves.  I think that will literally make me pass out of stress.  I have to find them first and am now on the hunt.  I also want to get rid of our kitchen table and put an old, large cabinet (I have it in my head) in its place.  Again, I need to find it first.  And those countertops!  They also need to go. But first I need to finish painting those cabinets and grout that tile.
Baby steps 🙂