It's very late Monday and there is a forecast for even more snow this week!  Exactly when did we move to Canada?
OK, I'll stop complaining and will move on to this week's favorite find.  A gorgeous, classic, solidly built, and fantastic french dresser.  This piece is Drexel Heritage – total quality.  The drawers glide in and out and the interior cabinet has smaller drawers inside.  A perfect piece for either a bedroom or as a sideboard in a dining room.  Now I just need a (somewhat) nice day outside so I can sand down the top prior to moving it inside for the paint.  I may need to wait awhile for that to happen!
Now on to these fantastic side tables with detailing and leather tops.  The shape is so retro fun and the size is perfect for beside a sofa or even a bed.  Very useful little guys.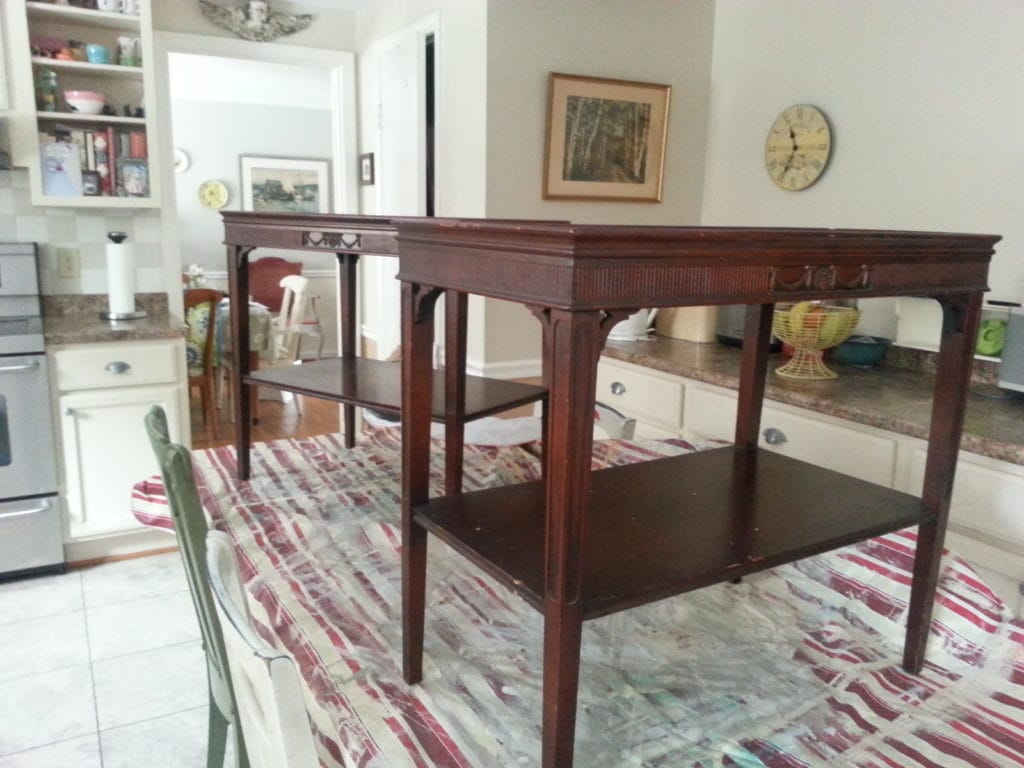 I decided to start off with a coat of General Finishes Milk Paint in the color Seagull Gray.  I happen to love love love this paint.  I even love the smell of it (weird, I know).  It goes on so smoothly and dries quickly.   General Finishes was kind enough to send me some free samples, including a few new colors.  I was like a kid opening a Christmas present when my box of goodies arrived!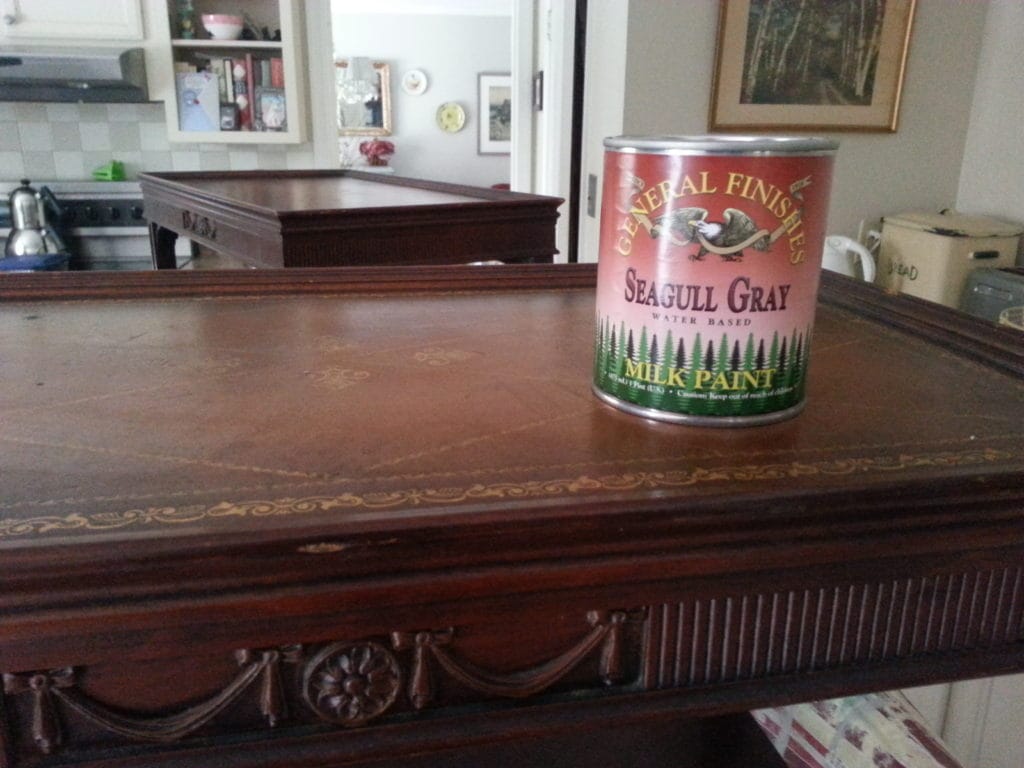 Seagull is a gorgeous, light grey and unlike Annie Sloan's Paris Grey (another one of my all time faves) it does not have much blue in it.  It's a pale grey that lends itself to the true shabby chic look.  I then added a very light coat of chalk paint on top of the milk paint.  Annie Sloan's Old White worked as a great complement to the grey underneath.
Here they are after distressing and wax.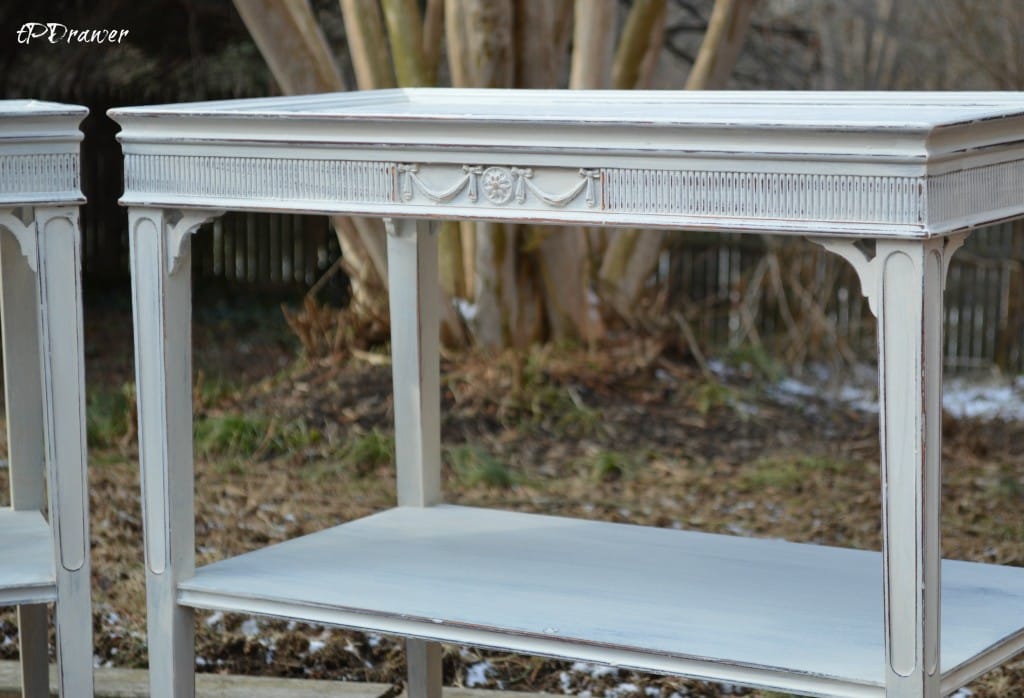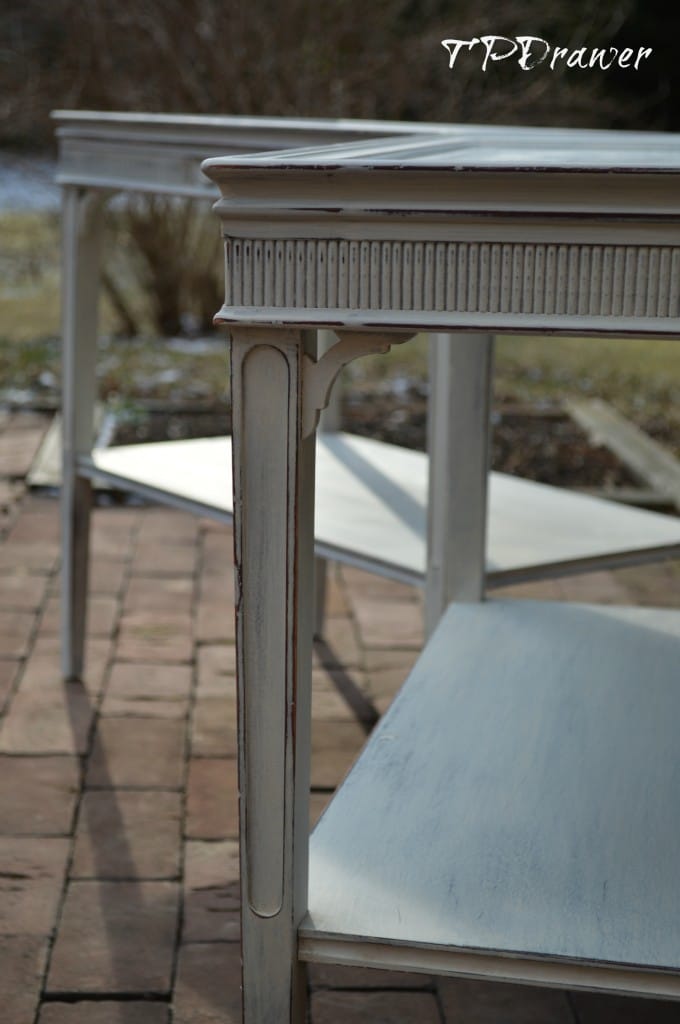 A quick "before" of the leather top…
and the "after"…My favorite thing about leather tops is that it's almost like stenciling when the design pops through.
The details also popped with paint and I hope you can see the grey under the white…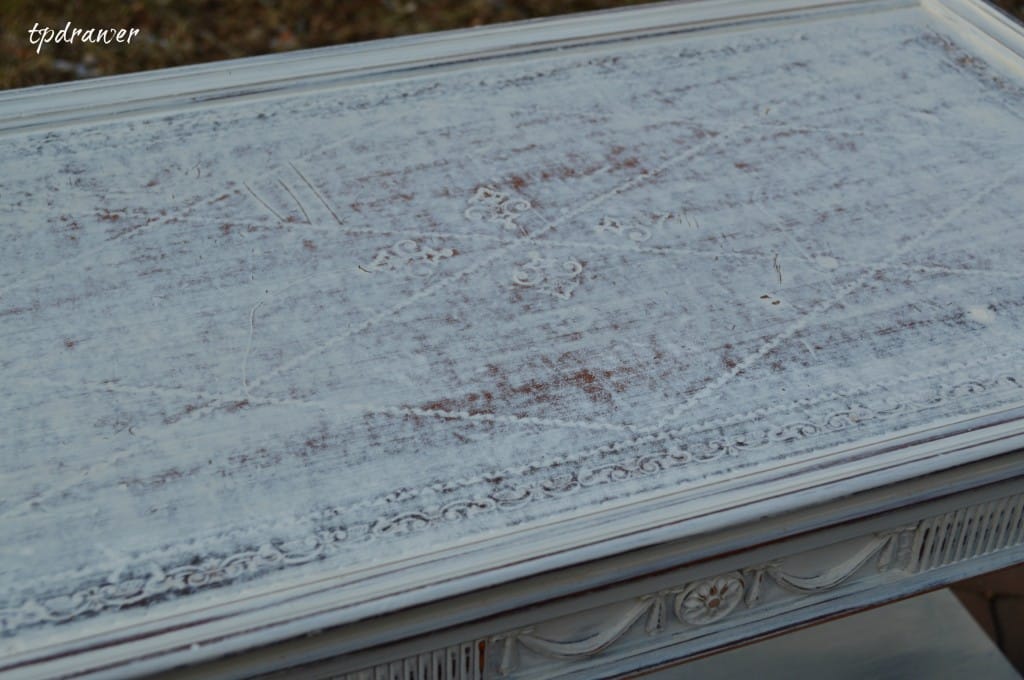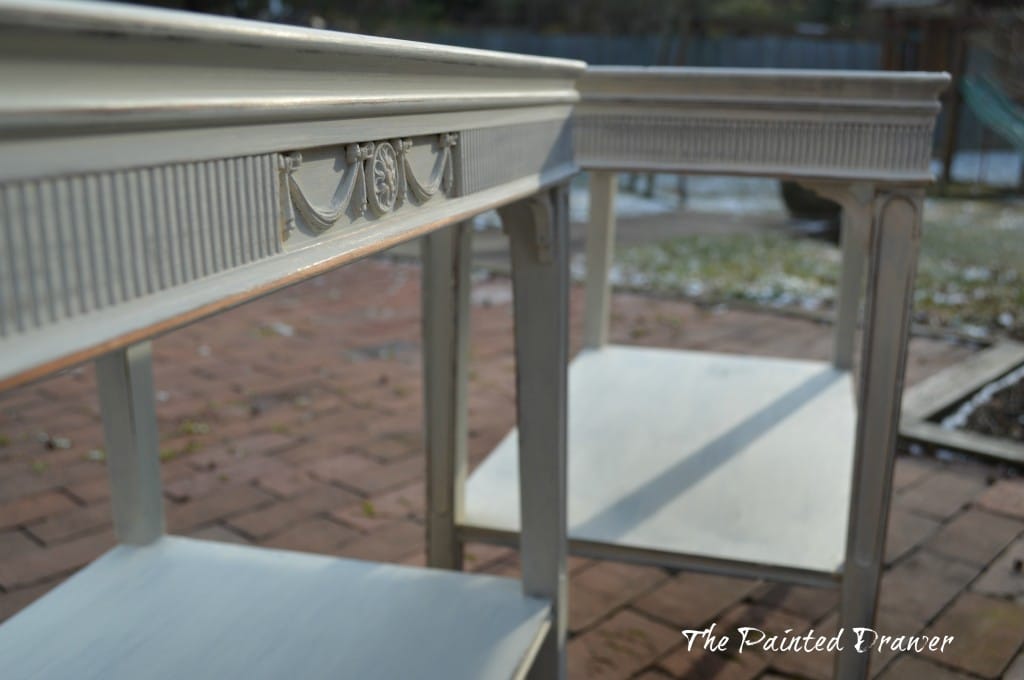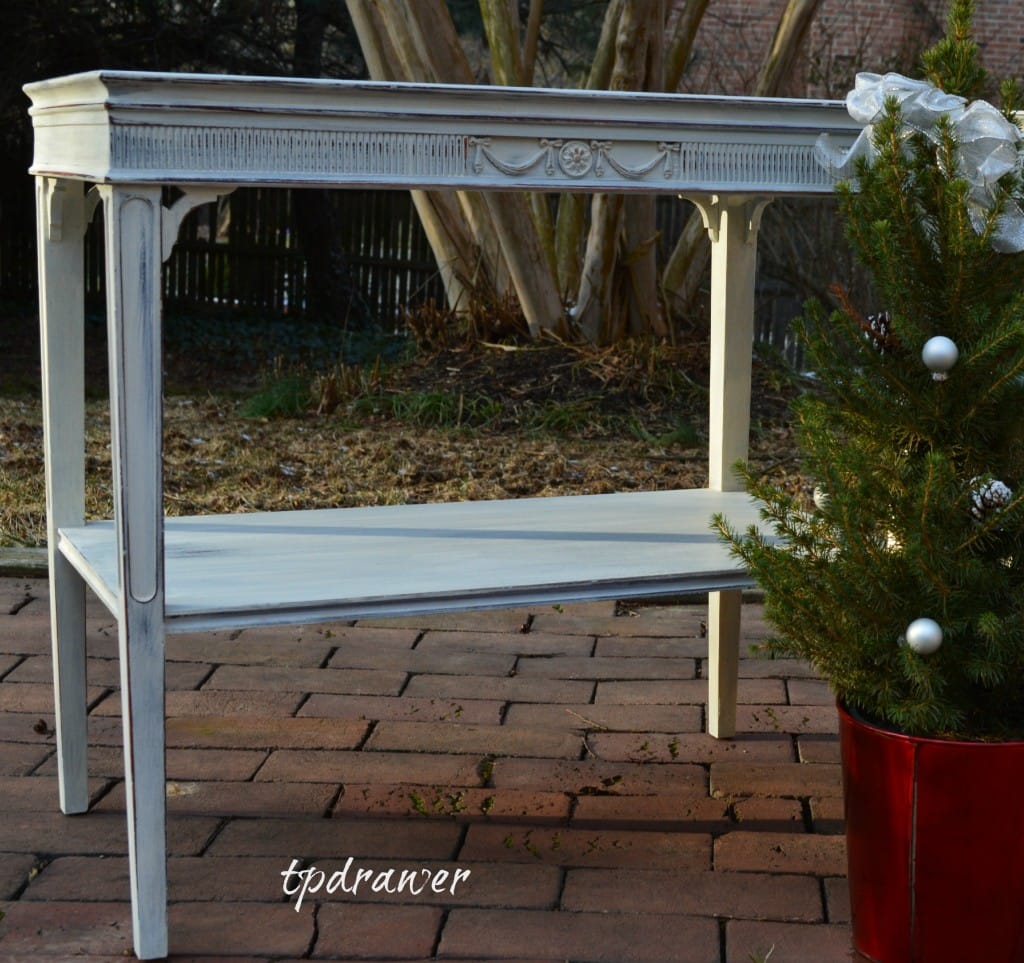 I always enjoy using more than one medium.  You can apply both milk paint and chalk paint and even add latex into the mix.  There is no end to the fun – except taking pictures in the freezing cold 😉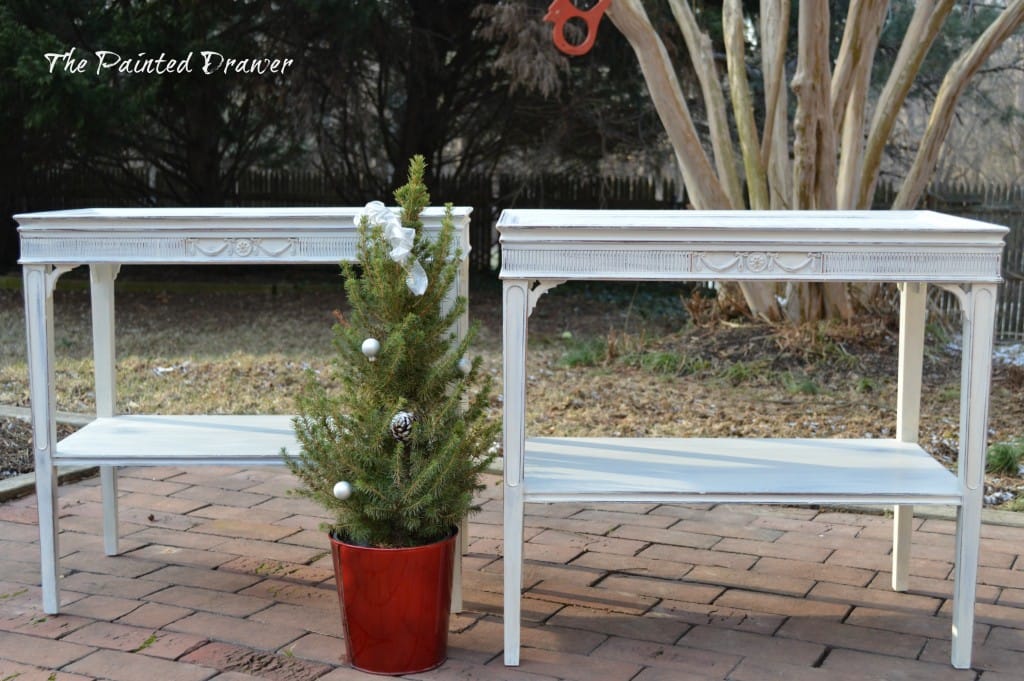 Join the Fun! I Always Love More Subscribers!
 Linking To: