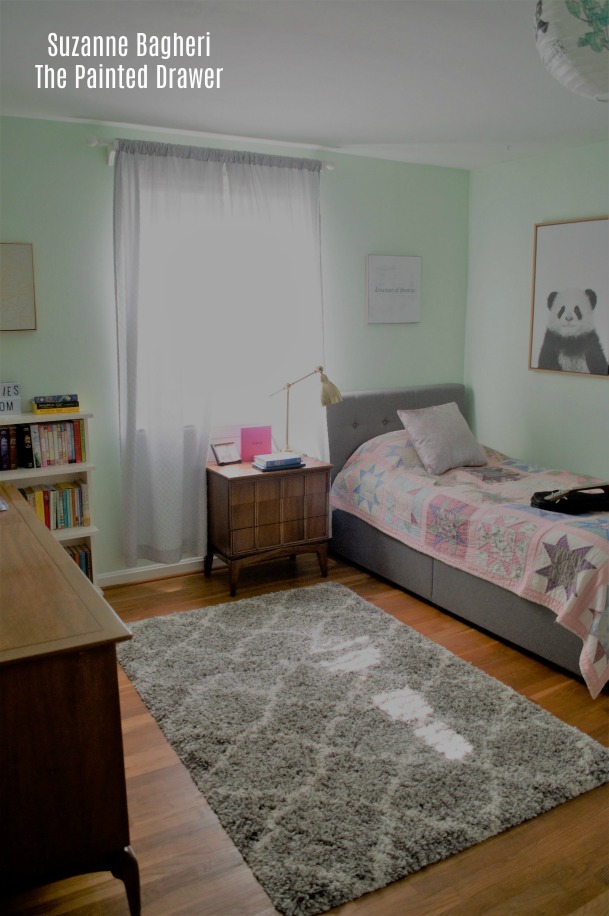 We are just about finished with Sophie's Establish Mint Mid-Century Modern Teen Bedroom Makeover – whew, that's a title!
The room started off pink and purple, with bunk beds and my childhood bedroom furniture (post here).  We sold all of her furniture on Craigslist, which totally emptied the room and gave us a blank canvas.  She selected Behr's Establish Mint for her bedroom walls.  It is a soft mint that changes from a deeper mint hue to a much lighter one depending on the light and time of day.  Very pretty!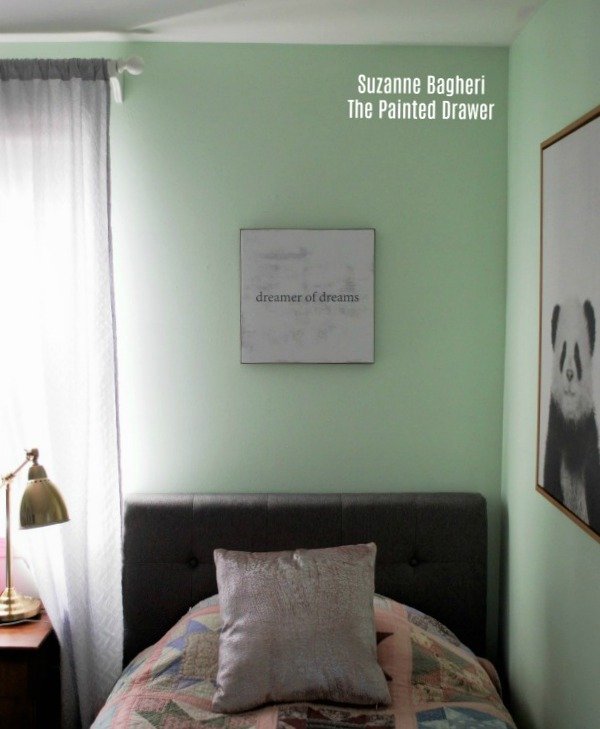 After painting the room, I was on the hunt for "new" furniture.  The bedroom is on the small side with two doors and two windows that impede furniture placement although make for a nice bright room.  We decided to stay with a twin size bed and I found the perfect solution from Wayfair.  The Houchins Upholstered Storage Platform Bed is modern but also soft and comfortable.  It's very useful with two drawers that pull out from underneath for storage.  We liked the gray against the mint and purchased it online.  This is the first big online purchase that I've made and I'm glad to say it was a great experience.
The bed arrived within a few days and was perfectly packaged.  It took my husband about 3 hours total to put it together.  It wasn't difficult, just time consuming.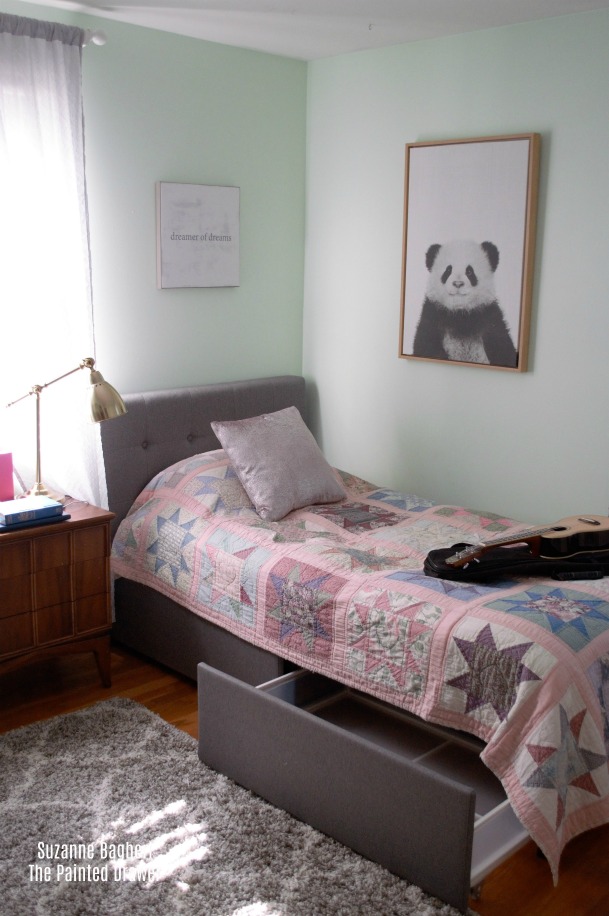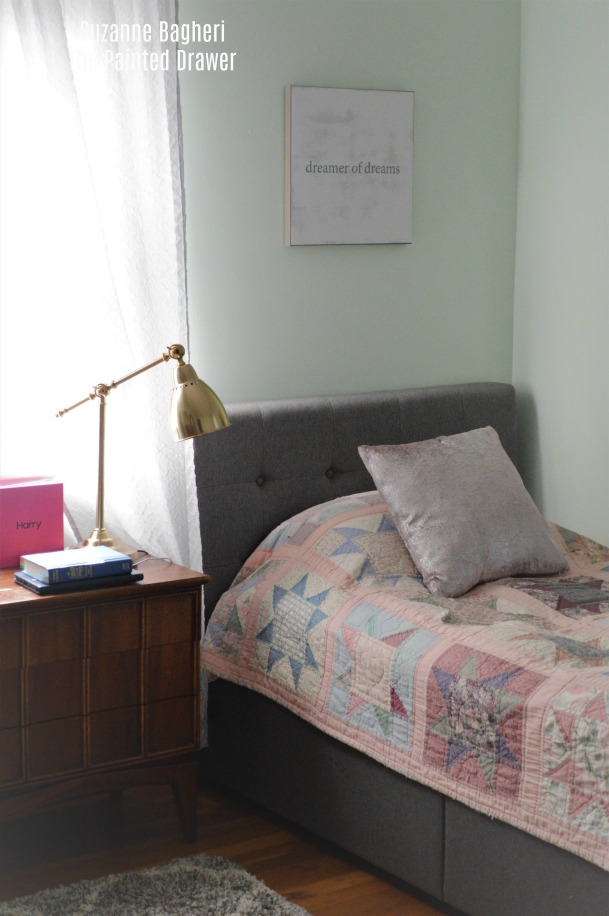 Once the bed was in the room, I found this fantastic mid-century bedside table.  It was $20 at the thrift store and is a Kent Coffey piece.  I just wish the store also had the matching dresser but it wasn't there 🙁  Still, quite a score with the table!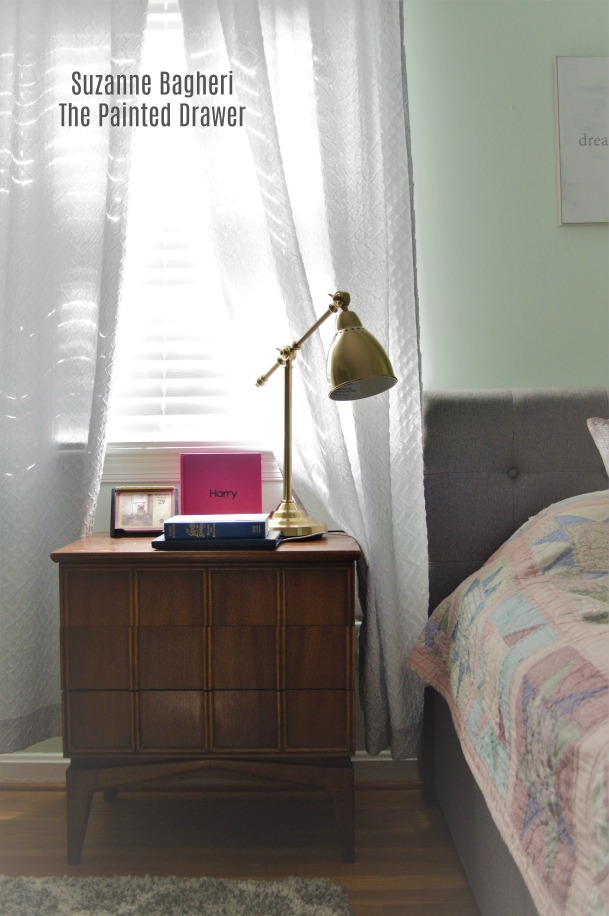 We purchased the reading lamp from Ikea and the giraffe hooks from World Market.  The quilt was made for me  when I was a little girl by my mother and now has been used in both of my daughter's rooms.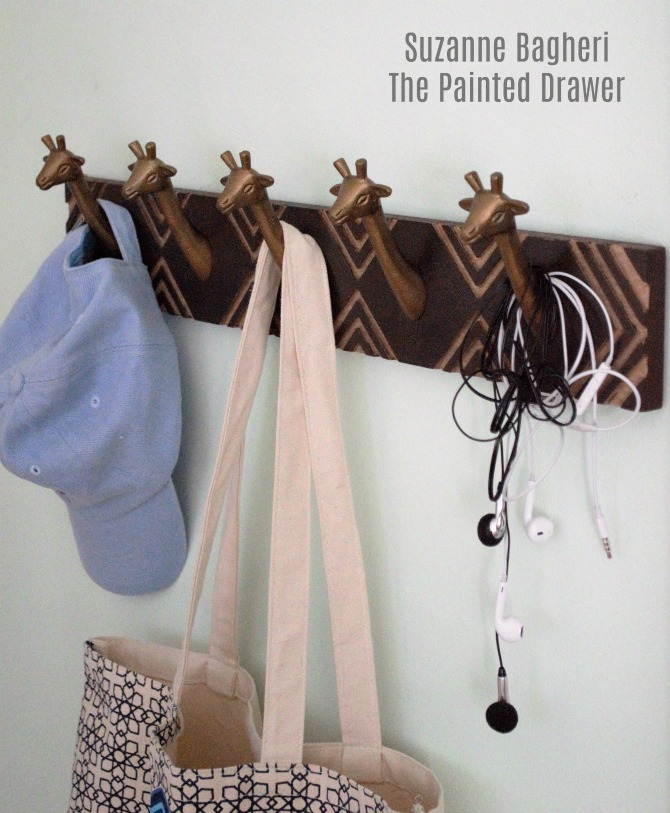 At another thrift store I found this dresser and mirror.  It is very mid-century and in pristine condition.  It's large, with lots of storage, drawers that open and close smooth as butter and a huge mirror, plus it was only $80.  Using my technique and General Finishes gel stain, I am going to stain it a darker brown sometime this fall, when I can open her windows to let the smell outside.
We added a few bookcases (one vintage and one new from Ikea), her vintage record cabinet that was a thrift store makeover (post here) and new curtains and artwork from Home Goods.  Done!