I am so close to finishing the vintage desk but have run into a problem.  The drawer pulls that I always purchase at Home Depot are not longer there – yikes!  I have tried different pulls that I have in my stash and looked online but don't want to wait for shipping.  I'm off to Lowes today to see if they carry any decent ones.
Drawer pulls are like jewelry to a piece, they set it off.  Or shoes to an outfit – that finishing touch!  Here are pics of gold (yuck) and a glass one that I had (not bad but I only had the one and need 10).  Wish me luck!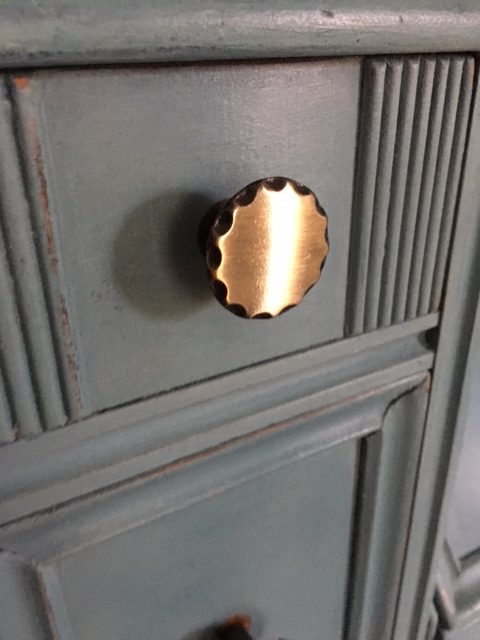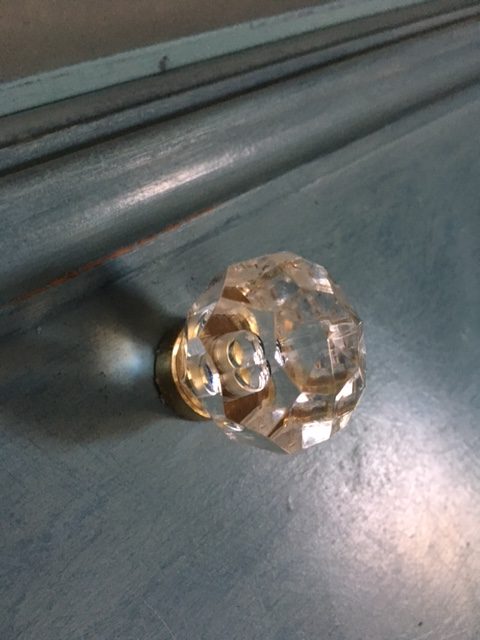 Here are related post about Drawer Pulls.  Seems fitting for today!

Sometimes, all that is needed to change a piece from one style to another are different drawer pulls.
The original wooden pulls give this dresser a very farmhouse look.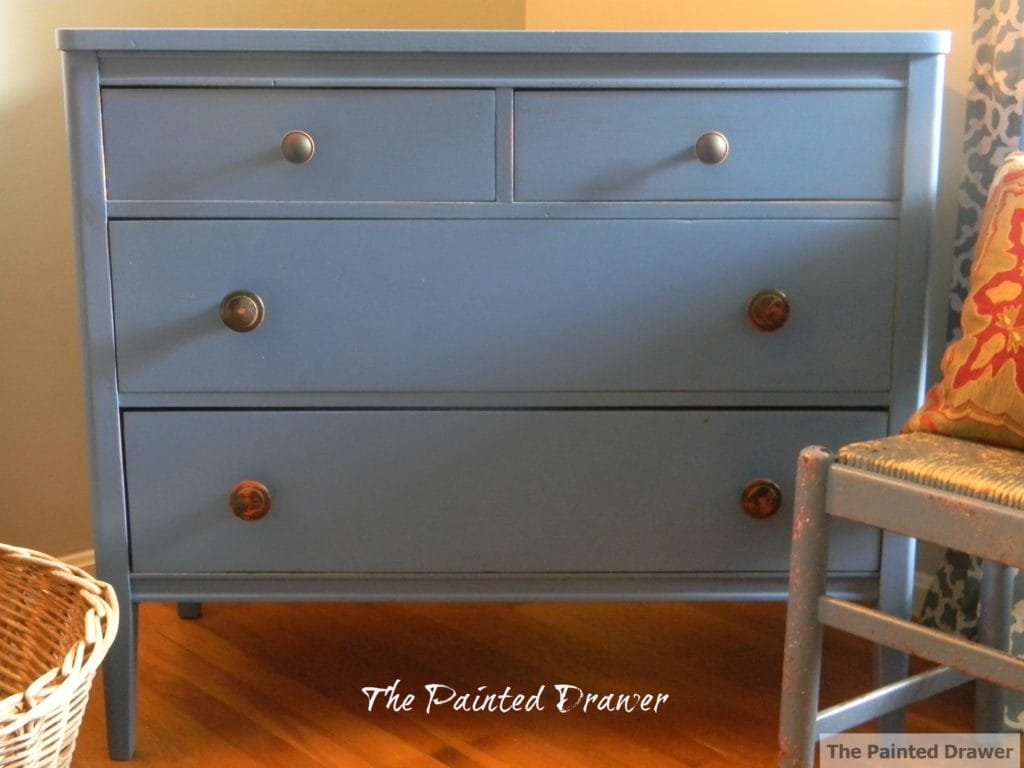 While the sparkly pulls give this dresser a more glam feel.
White knobs make this so very beach-chic!
While standard french pulls make this so "ooh la la"…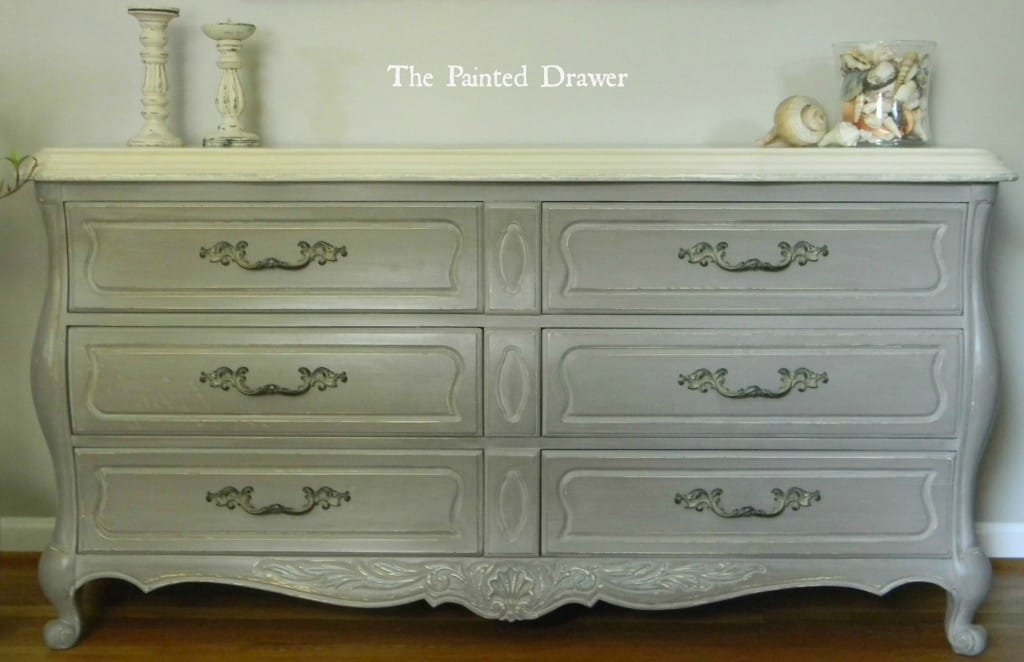 These glass pulls gave this piece sparkle and light against the green.
Original pulls always give the piece a more vintage feel.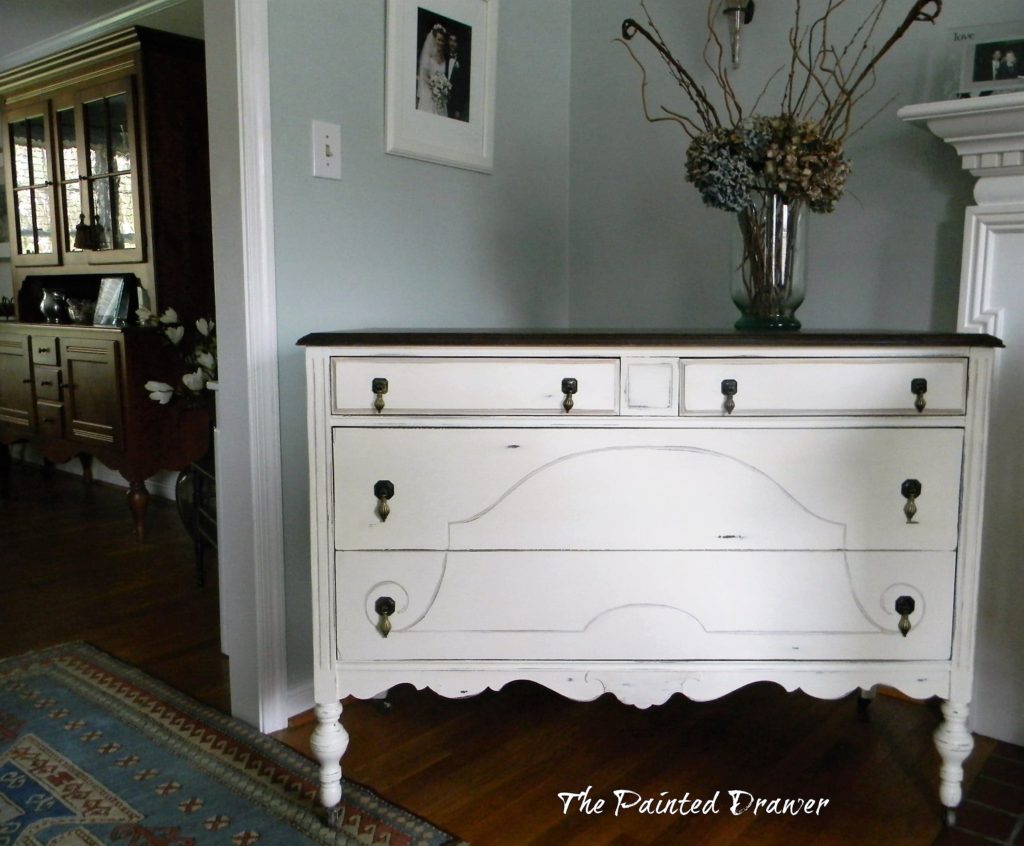 To paint or not to paint?  It depends on the piece.  Sometimes the hardware is too difficult to change out (as in the piece I am doing now) so I just add a bit of paint and give them some charm.
The Shabby Glam dresser's original gold pulls set of the gold stenciling perfectly, so they were left as-is.  I feel they gave the piece a great vintage feel that fit the finish well.
I always keep the cost of the drawer pulls in mind when purchasing a piece.  If the piece you are contemplating has pulls with double screws (as above) be very careful if one is missing.  Sometimes the holes are not drilled in a "standard" measurement, so you will find yourself having to drill all new holes for newer pulls to fit through.  This plus the cost of all new hardware can really put you back in your time and investment.  I have left pieces before that are missing a drawer pull for that reason.
Most girls love their jewelery boxes, I happen to love my box full of drawer pulls!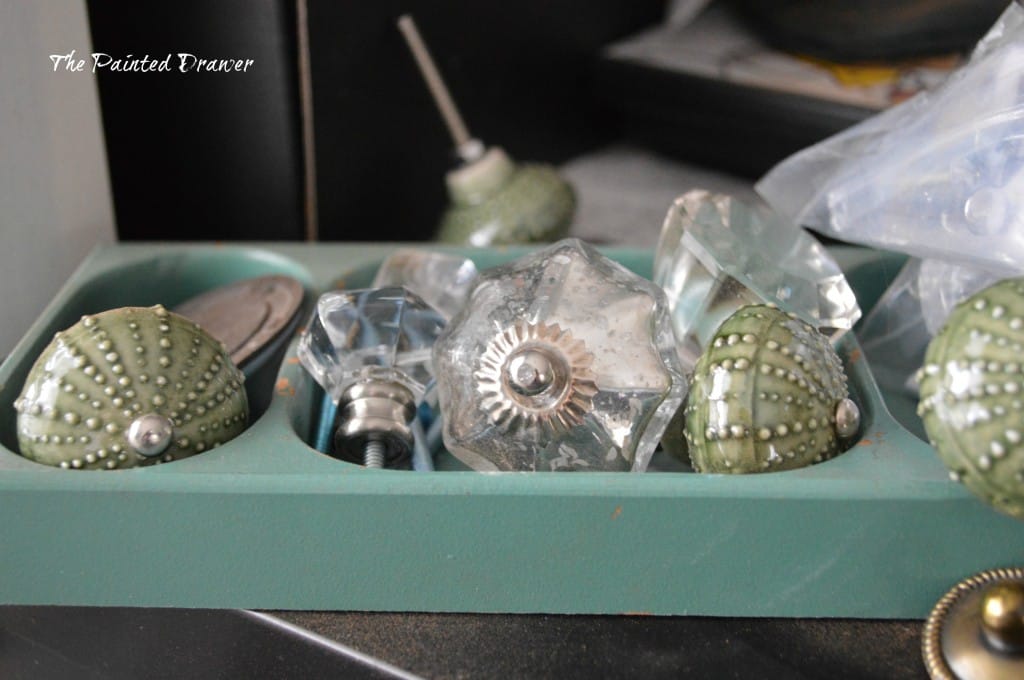 Wood Filler Is a Friend: How to Change Drawer Pulls
   I'm busy working on this great piece that I picked up a few weeks ago.  It is in pretty good shape but missing all of its hardware.  
I can tell from the outline left on the drawers that it originally had Hepplewhite drawer pulls.  I actually have a few in my stash but decided to take this piece in a different direction. Hence, new hardware!
In this case, I am changing out the double screw pulls for single screw knobs.  I start by placing my drill bit in the middle/center of the original holes and drill my new one.  I then take wood filler and apply it into the original holes from both the front and back ends.  Sometimes, the back of the drawer will split slightly from drilling.  In this case, I gently pop off any sharp wooden ends and if I have to, fill and sand it to smooth it out.  
Let this sit and dry for a half hour and then gently sand over them (I use 100 grit sandpaper for this).  I repeat this process at least three times until the holes are totally filled and completely level so they won't show under the new paint. Fill, sand…fill, sand..fill, sand.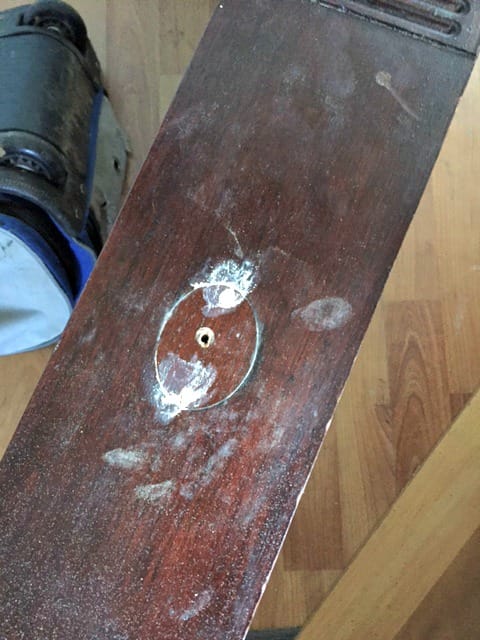 This is a tedious process but so worth it in the end.  I then can have fun when all done and add some pretty, sparkly pulls!