The vintage desk is finally finished and it has turned into a gem.  Let's first revisit the "before". Yikes!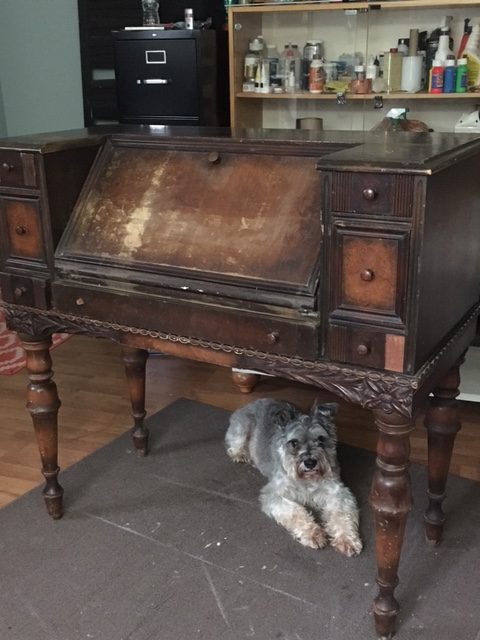 Here it is today, painted in a combo of Annie Sloan chalk paints.
Quite a difference!
For this piece, I layered Annie Sloan Aubusson, Annie Sloan Provence and Annie Sloan Duck Egg.  It was sealed in Annie Sloan clear wax.
I first applied Annie Sloan Aubusson as a base coat and a coat of Provence was applied on top.  The desk was waxed in Annie Sloan clear wax.  I then dry brushed Aubusson back over the Provence, stippling it in hard over the wax.  I like to dry brush over a waxed surface; I can add as much as I want and take it off without it just being absorbed into the paint.  Using my soft sanding sponge, I rubbed it in circles and left some areas darker than others.  I waxed it again.
It still wasn't quite right in the front!  I added a wash of Duck Egg over the front and sides, leaving the legs and top without the wash.  The inside is Provence over Aubusson.  The entire piece (inside and out) was waxed and using a soft sanding sponge, I went over the entire piece to create a super smooth finish.  Gold gilding wax was applied to the detail.  And that is exactly what I did.  It sounds crazy but this is how I work!  I keep trying until I'm happy with the result.
The drawer pulls are the original with added paint and gold gilding wax for some glam!  The one pull on the front of the desk is glass, just to add some sparkle. The interior is super clean and its detail painted to complement the piece.  I love its legs!  Those legs plus the vintage detail is amazing.
The desk is hard to capture on camera. I think you will see that in some photos it seems a lot darker or lighter than others. The layers of paint change their hue slightly depending on the light, from lighter to darker.  It is so beautiful.
Just listed on Etsy!  Have a wonderful weekend!
(Item Sold)