Sometimes, what I imagine will be an easy job turns out to be anything but.  This week's favorite find turned out to be just that.  To refresh your memory, here is the "before" of the tables.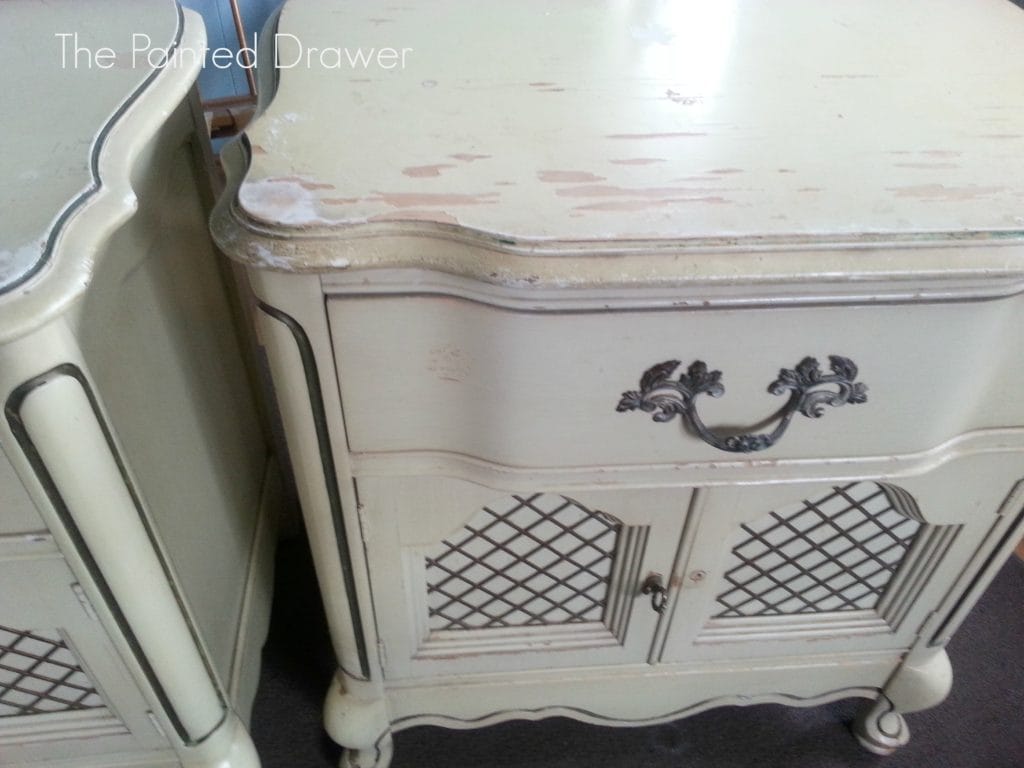 After a long day's work, here is the "after".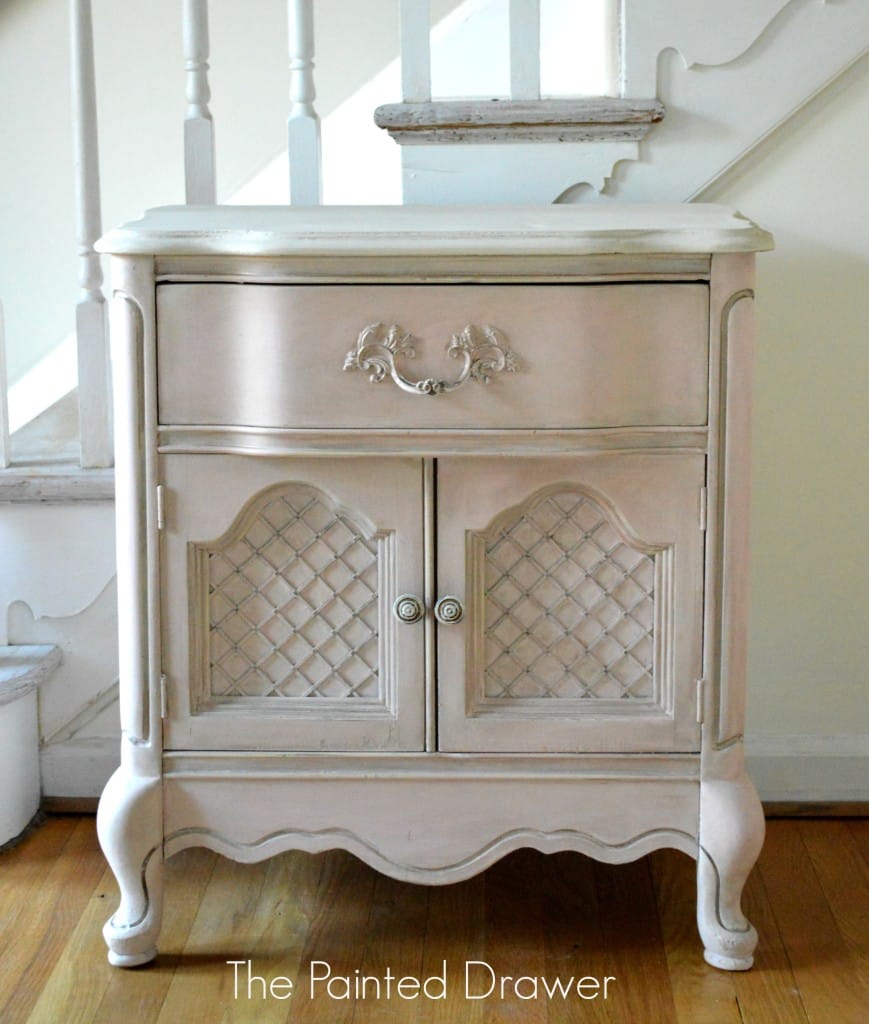 I knew I wanted pink.  However, I didn't have any Annie Sloan Antoinette on hand.  Instead, I made my own mix of Annie Sloan Old White and a teeny tiny bit of Burgundy.  After I applied a few coats, I used both clear and dark waxes on the entire piece to create an aged look.  I stepped back and looked and it still was not quite right.
I decided a wash of creamy white would soften it up.  I added the wash of Old Ochre over the wax and then used an old rag to rub it off/into the paint.  I also added a touch of gold.  Voila!  Perfect.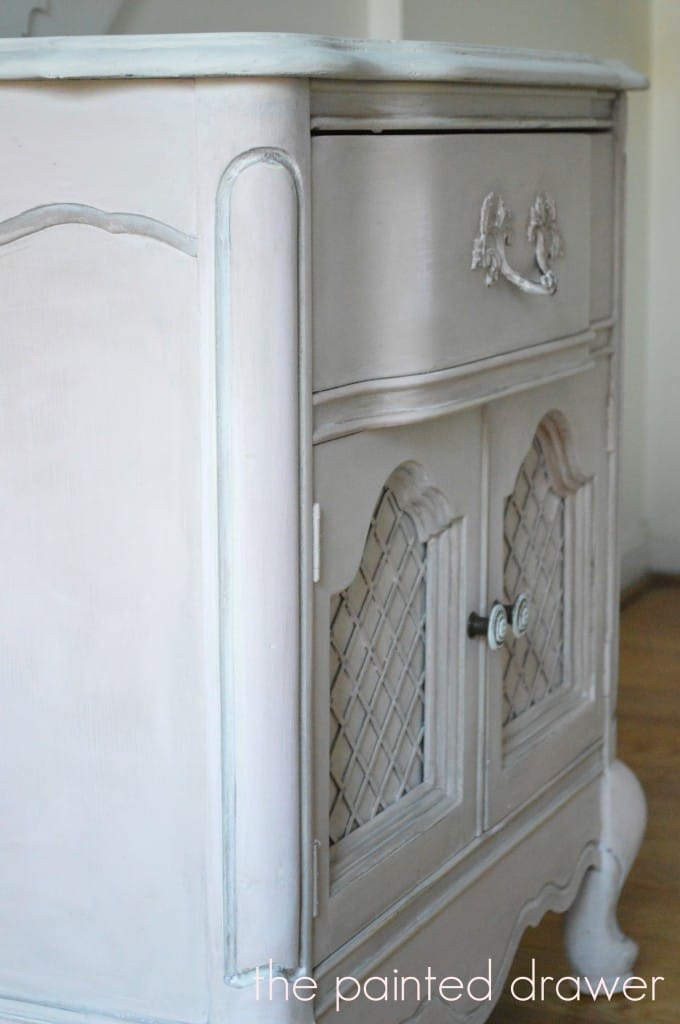 I used a stripper (Citristrip) and power sander to smooth and strip the top.  I went to all of that trouble, stained the top and then really disliked the finished look (this has happened to me before.  I am a glutton for punishment!).  However, once I painted the top in the creamy white, I was relieved and happy.  It sets off the pale pink much better than the darker wood.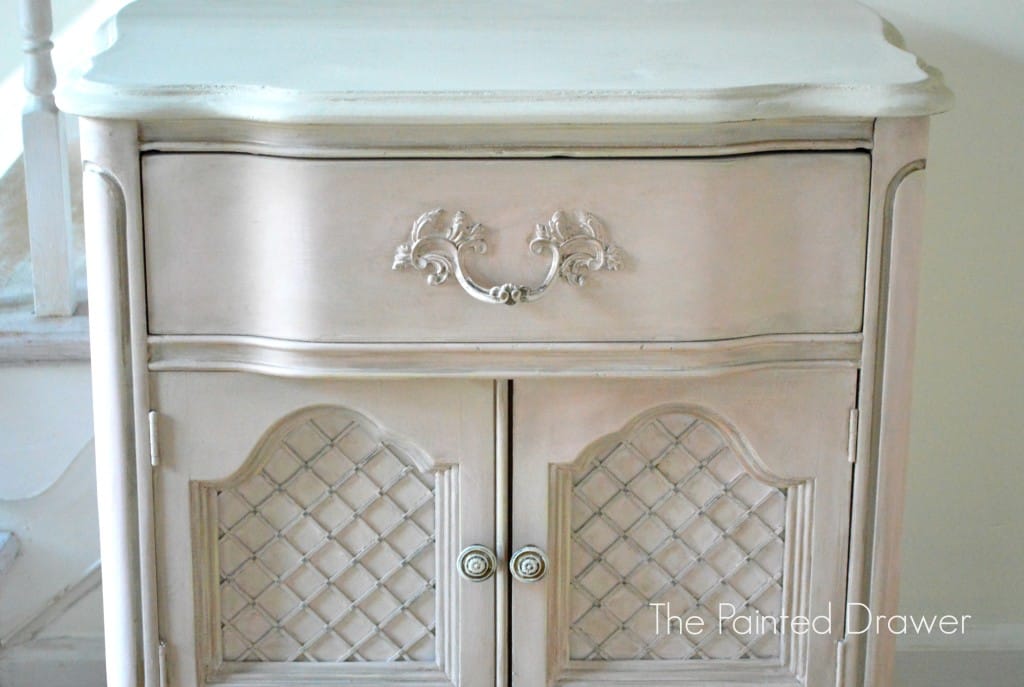 Both tables are missing their pulls but I had some vintage ones on hand that did the trick.  They are the right size and after I lightly brushed on the creamy white paint, look original to the piece.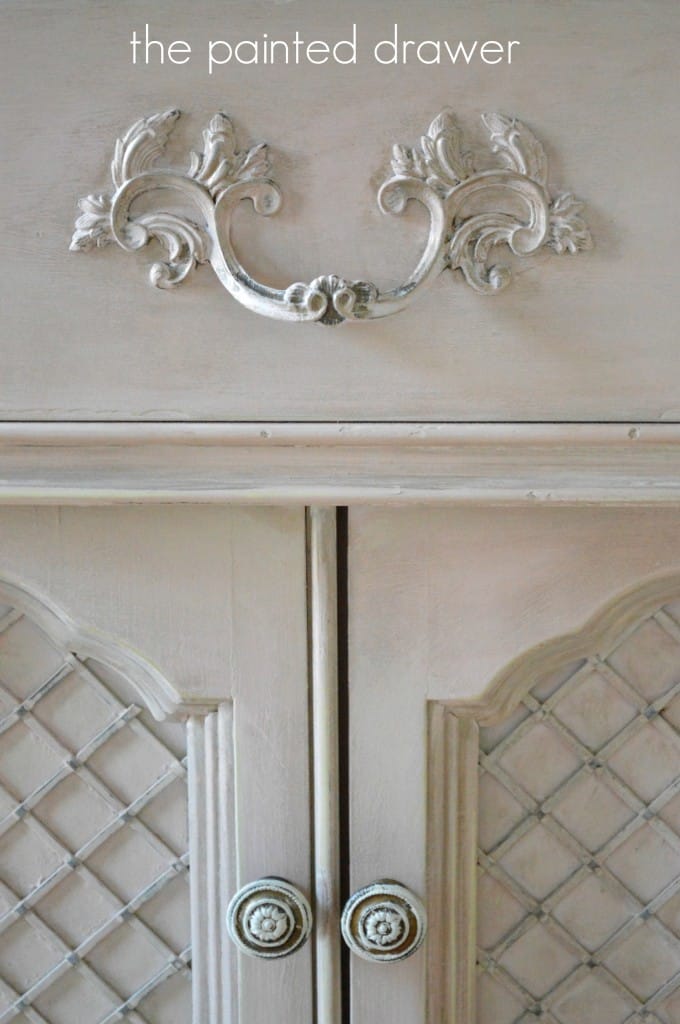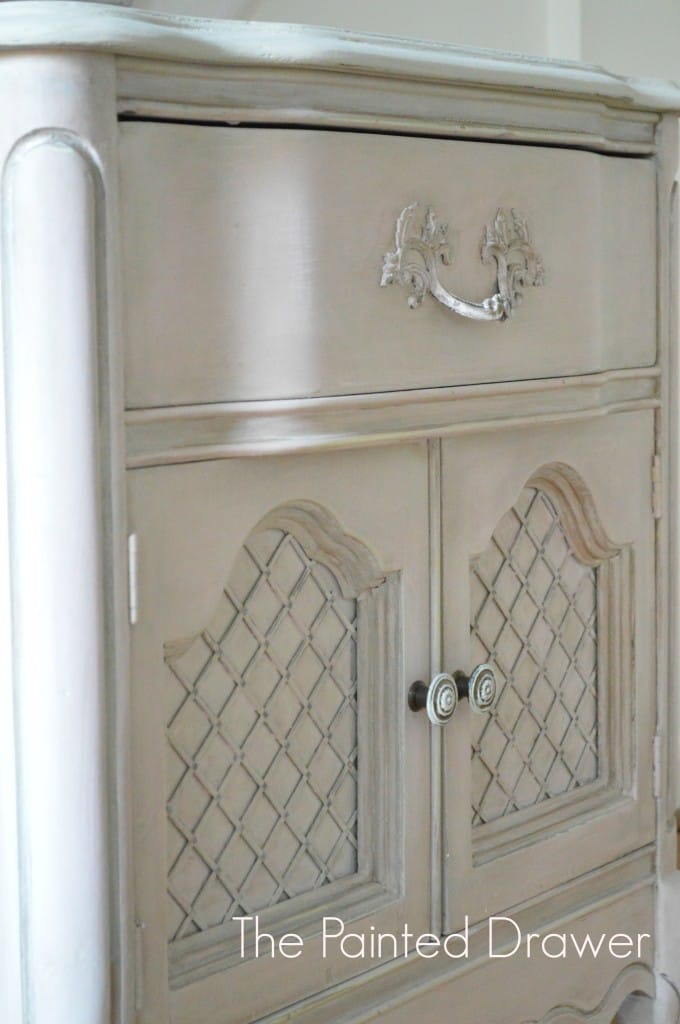 I wanted to use pink on these tables and am so happy I did!  I think it looks feminine and pretty.  In my mind, pink needs dark wax or aging or else it runs the risk of looking too "little girl" vs old french.  Don't get me wrong, they will look sweet in a little girl's room but it's a more mature pink and not too babyish.  It was hard to capture on my pictures, but the dark wax really made all the difference to this piece.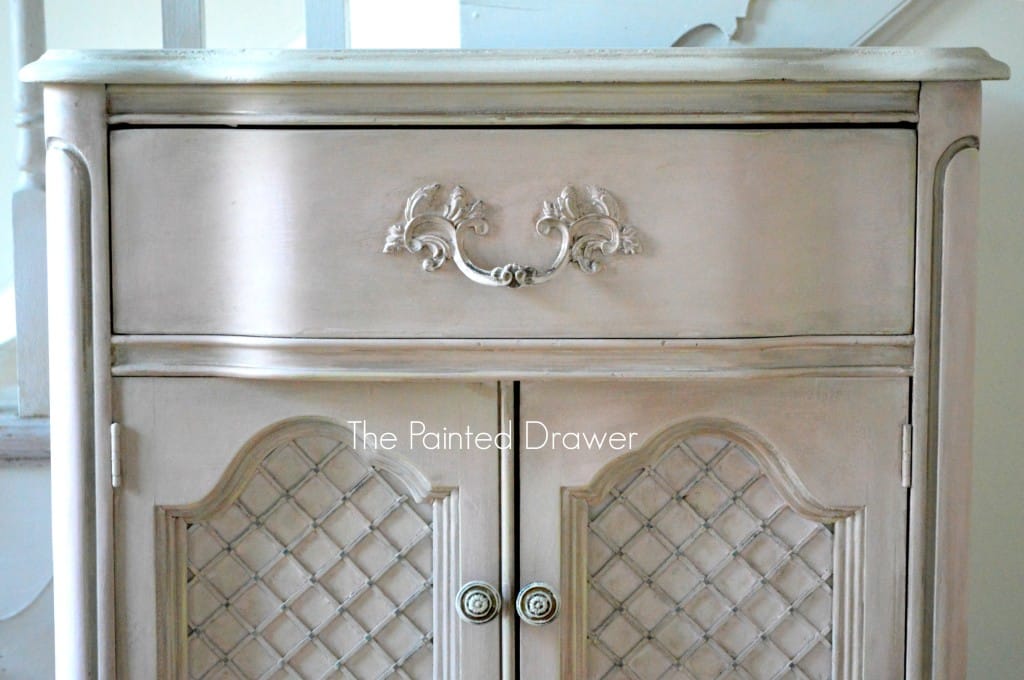 I had hoped to finish both tables today but with all the trial and error that didn't happen.
I also had to get the Persian Blue chest ready for shipment this afternoon.  I always clean out the drawers, add my stamp and put my tag on before pick-up.  My shipper arrived and it is now heading to its new home in Galveston, TX.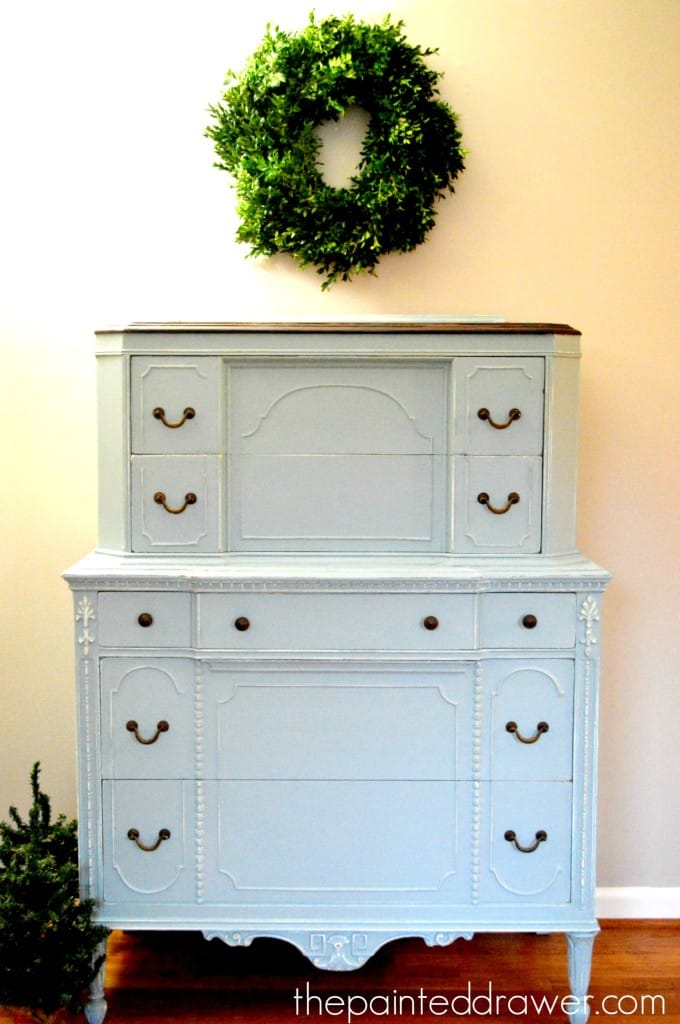 I'll work on the Pink French Table's pair tomorrow. These are going to be for sale on my site and Etsy.  I'm now off to my daughter's 5th grade concert!
Join the Fun! I Always Love More Subscribers!
Linking To: French Country Cottage, Miss Mustard Seed, From My Front Porch to Yours, Silver Pennies