Wood Filler Is a Friend   I'm busy working on this great piece that I picked up a few weeks ago.  It is in pretty good shape but missing all of its hardware.  
I can tell from the outline left on the drawers that it originally had Hepplewhite drawer pulls.  I actually have a few in my stash but decided to take this piece in a different direction. Hence, new hardware!
In this case, I am changing out the double screw pulls for single screw knobs.  I start by placing my drill bit in the middle/center of the original holes and drill my new one.  I then take wood filler and apply it into the original holes from both the front and back ends.  Sometimes, the back of the drawer will split slightly from drilling.  In this case, I gently pop off any sharp wooden ends and if I have to, fill and sand it to smooth it out.  
Let this sit and dry for a half hour and then gently sand over them (I use 100 grit sandpaper for this).  I repeat this process at least three times until the holes are totally filled and completely level so they won't show under the new paint. Fill, sand…fill, sand..fill, sand.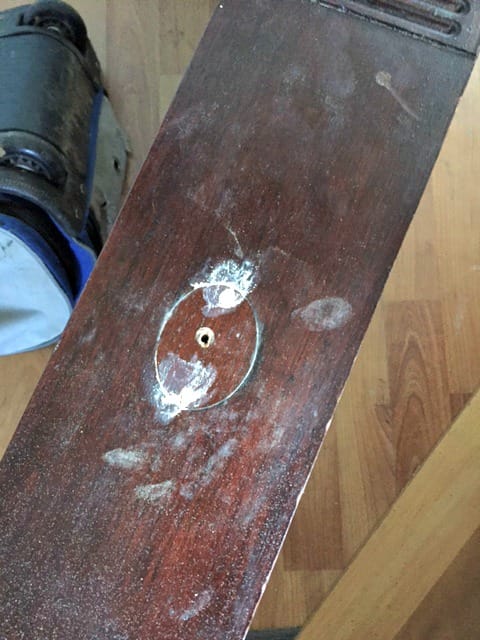 This is a tedious process but so worth it in the end.  I then can have fun when all done and add some pretty, sparkly pulls. It is like putting jewelry on after getting dressed – they add that perfect finishing touch!
I also switched out the farmhouse table that I just finished (the one that has given me nothing but grief) back to my original kitchen (thrift store) table.  Here is how it looks now (sorry for the grainy photos but they were taken from my phone).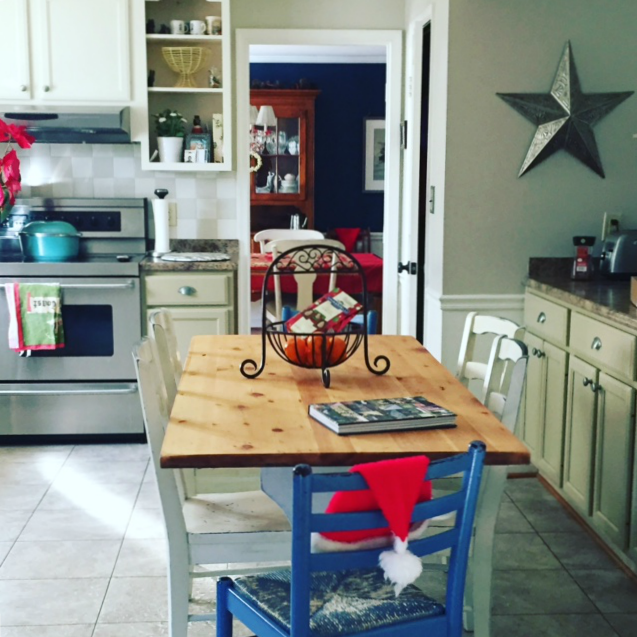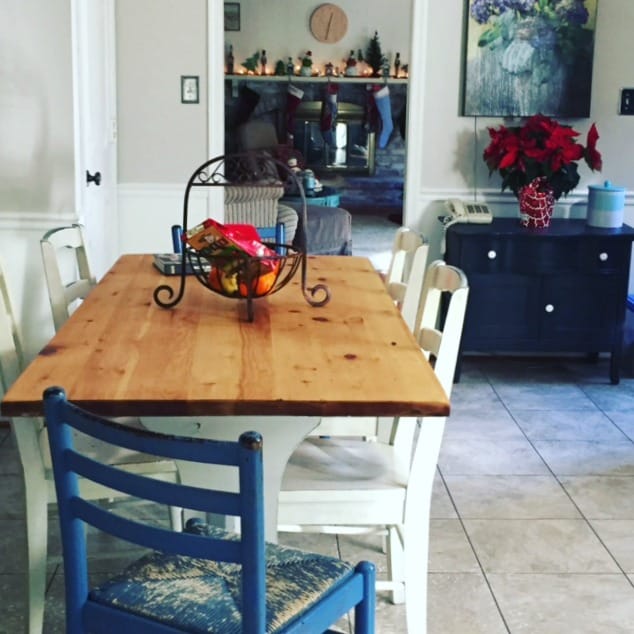 The "new" farmhouse table is disassembled and back in my garage.  I'm just not happy with it and will revisit it again in the spring to finish it (finally) and list it for sale.  I need to walk away from it for a bit!