Say, what?  The secretary that tried to kill me?  Yes, I tell you – kill me!  I found this sweet, innocent secretary last week and was thrilled.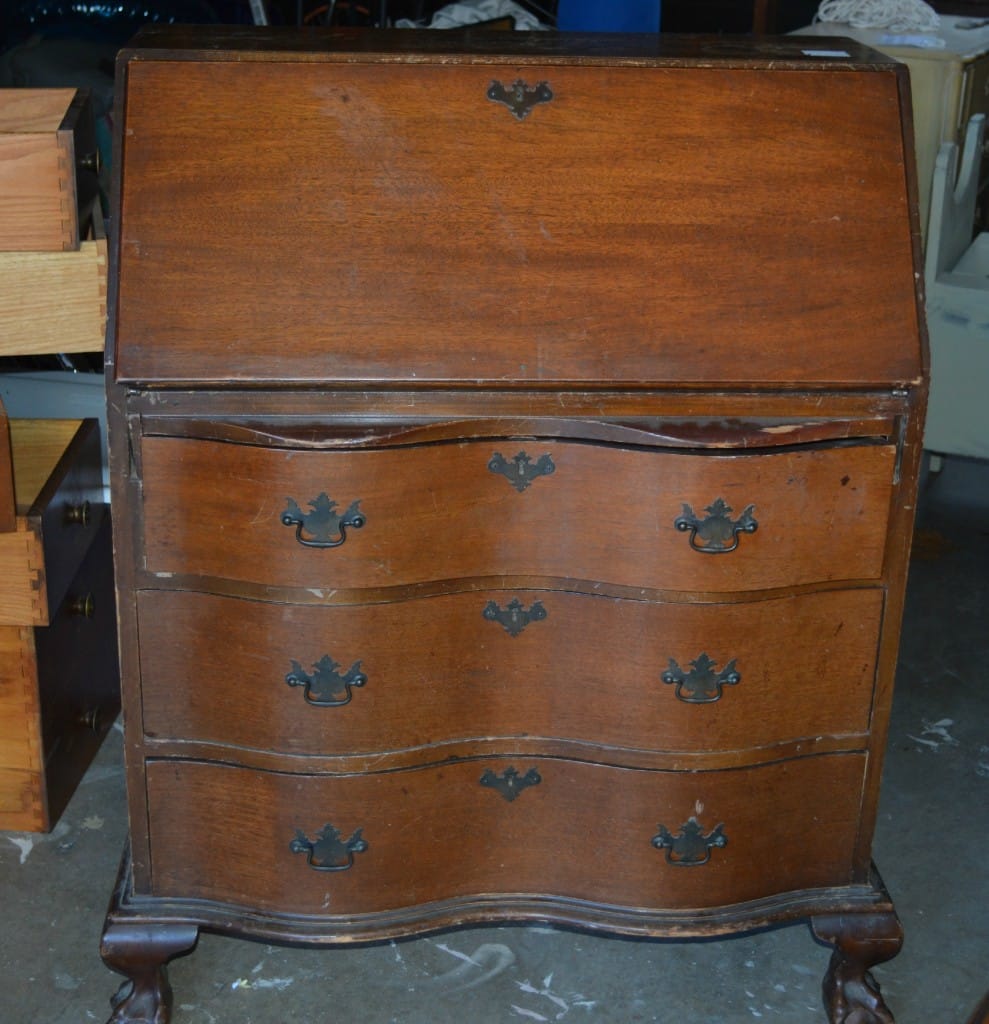 However, the mechanisms that automatically pull out the small slats from underneath (for the top to rest upon) were broken.  Taking out the drawer, I crouched down in front to inspect it further.  I was peering inside while Alex (employee of store) opened and closed the top over my head for me to see if I could fix it.   Until… he dropped it.  Now, remember the slats weren't working to stop its fall?  Guess what did?!  It swung down at top speed right smack onto my head.  It knocked me backwards and I ended up on my backside wondering what in the world had just happened?  I actually saw stars!  It isn't a made up expression – you actually see them!  I also felt nauseous.  He rushed around and tried apologizing profusely which is hard when you only know maybe three words in English.  I tried to smile and told him that I knew he wasn't actually trying to kill me. 
My one saving grace was that I was wearing a very thick hat.  I do believe the padding saved me from actually being knocked out cold.  It is now just a bad bruise on my head  – like an egg – that is healing.  After all that, do you think they brought the price down?  Heck, no.
So, with a pounding head I had them put the desk into the back of my minivan.  Forgetting that my little one had a basketball game the next morning, I left it there.  My husband, aka the coach, left early to buy the team doughnuts (a treat he likes to do).  Since he wasn't home, my son and I lifted it out and…bam.  There went my back.  This has never happened to me before.
Game. Over.  Secretary 2, Suzanne 0.
I am still very happy with my find!  I love, love, love secretaries.  They always are gorgeous when painted and are wonderful additions to any room in the house.  Laurel's Desk turned out so sweet and feminine…
See the little slats that the top rests upon?  These are what need fixing on my newest.  They are attached to a hinge inside the door so they slide out and in when the top opens and closes.
Here is the Green/Blue/Grey hued desk that sold at Lucketts.  This one was full of whimsy with the fun layered pops of colors.
Hmmmm, now how to finish my newest find?  This is the fun part.  No pain, no gain!
Join the Fun! I Always Love More Subscribers!