Do you remember the sweet petite dresser that I shared a few weeks back? I found it at the thrift store and knew it was the perfect size for a child's room.  With this in mind, I decided on a pink makeover for this sweet piece!
Before starting with the paint, I first removed the old drawer pulls and filled in the holes with wood filler (post here).  I then went to town with the paint and there were a ton of layers involved! I first applied two coats of Annie Sloan Old White.  I then added Annie Sloan Burgundy to Old White to make a custom pink (post here) and applied a coat of the custom pink over the Old White.

After that dried, I added a wash of Old Ochre, a wash of Graphite, stippled on more pink and white and waxed to seal in Annie Sloan clear wax (post here).  I like to swirl and stipple on the paint when I layer and just have fun with it.  I tried to convey this in a video (Subscribe Here).
Here is the before pic of the Sweet Petite Dresser as I found it at the thrift store.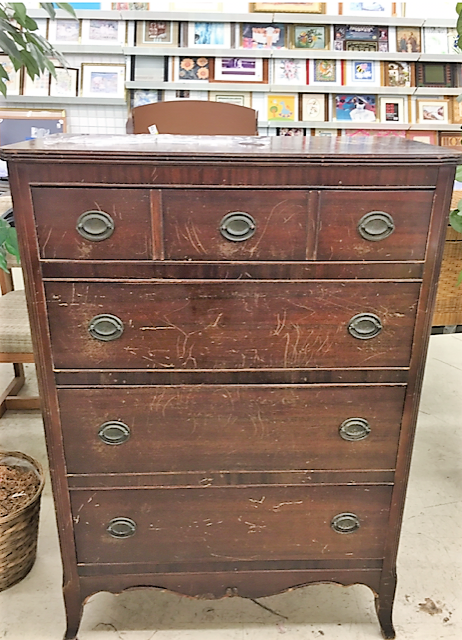 Here are pics of the after.  It was hard to capture all of the colors by camera but I think you can get an idea.  The finish is soft and muted and very, very pretty.
Just listed on ETSY!  Happy Valentine's Day! ♥♥♥