Can you feel it?  I mean, really feel it?  It's slowly warming up and spring is finally in the air!  After spending so many long, dark and cold days in our family room, I thought to brighten it up with a few small changes.
Going back to the beginnings of the room – here is a pic from a few years ago when my husband ripped out the old parquet floor and installed a new, warmer toned wood floor.  You can also see how dark the brick hearth was.  Above on the ceiling (unseen) were dark wooden beams.
We had a large wool Pottery Barn rug in the room and I just switched it out with a smaller, sisal rug that I purchased from The World Market.  We can see more of the new wood floors and it brightens the room.  The whitewashed brick (what a difference from the "before" pic above!) also lightens the room.  Since that picture above was taken, I painted the beams white and the ceiling between in Benjamin Moore Muslin.  It gives the ceiling an illusion of more depth and height.  All together, the floor, brick and ceiling changes have created a lighter and larger feel.
Here is our family room today, ready for spring!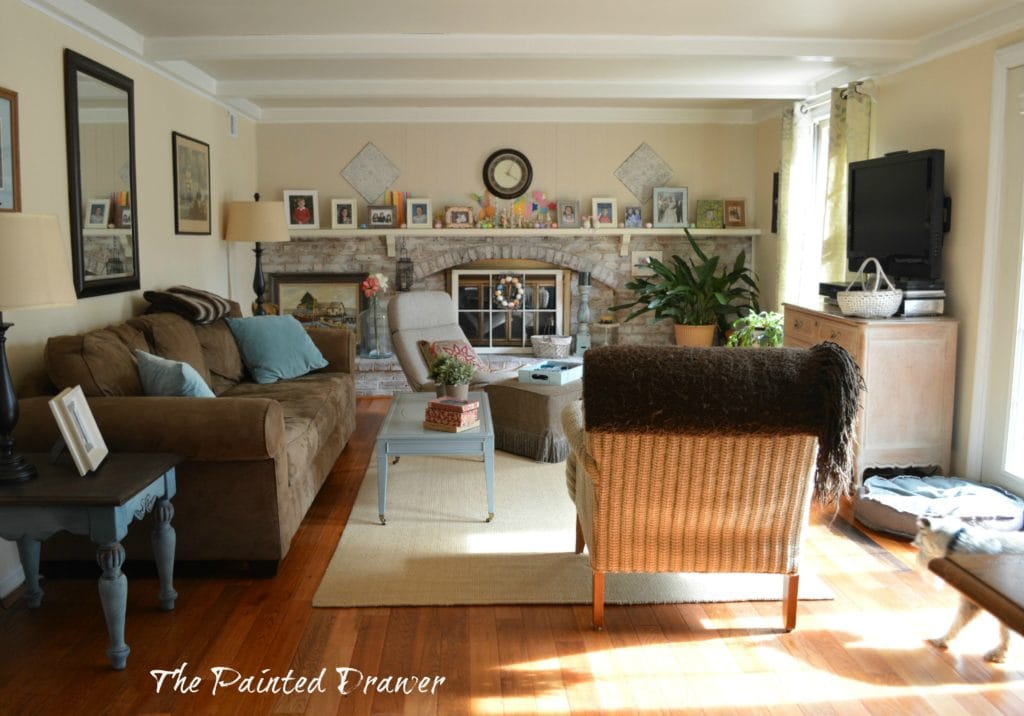 I added a great little vintage coffee table that I painted in blue with a coat of poly on top for extra protection.  The little brass wheels were cleaned with Brasso and now they shine and are oh, so useful.  It's easy to move around while the kids eat snacks or play games.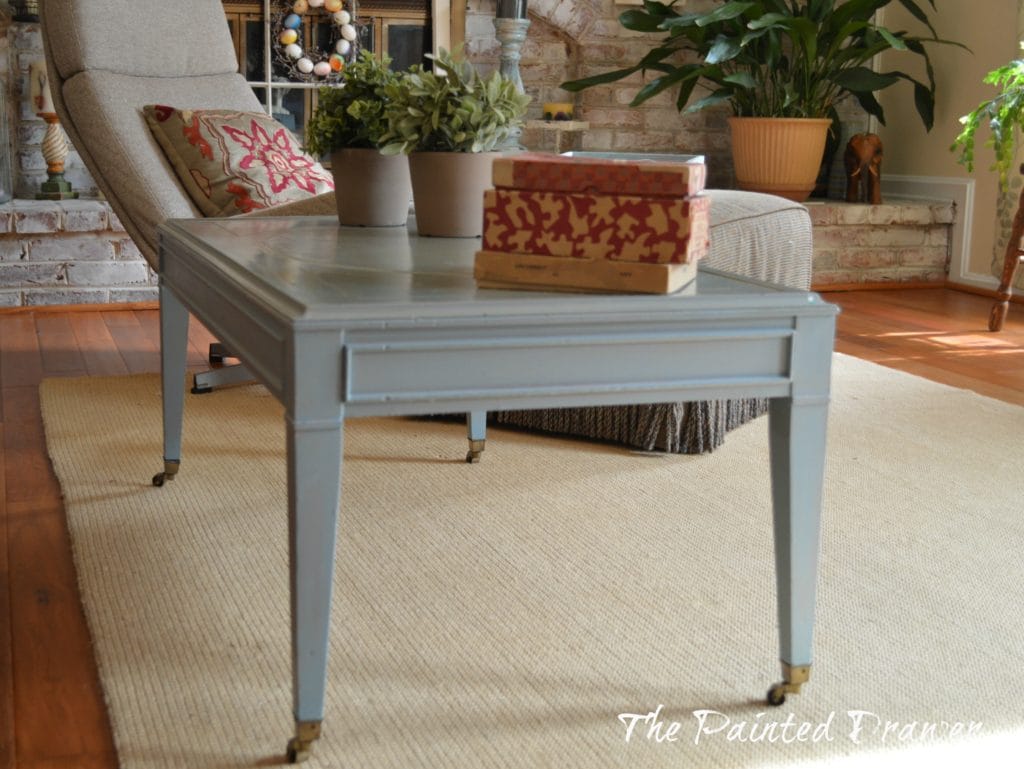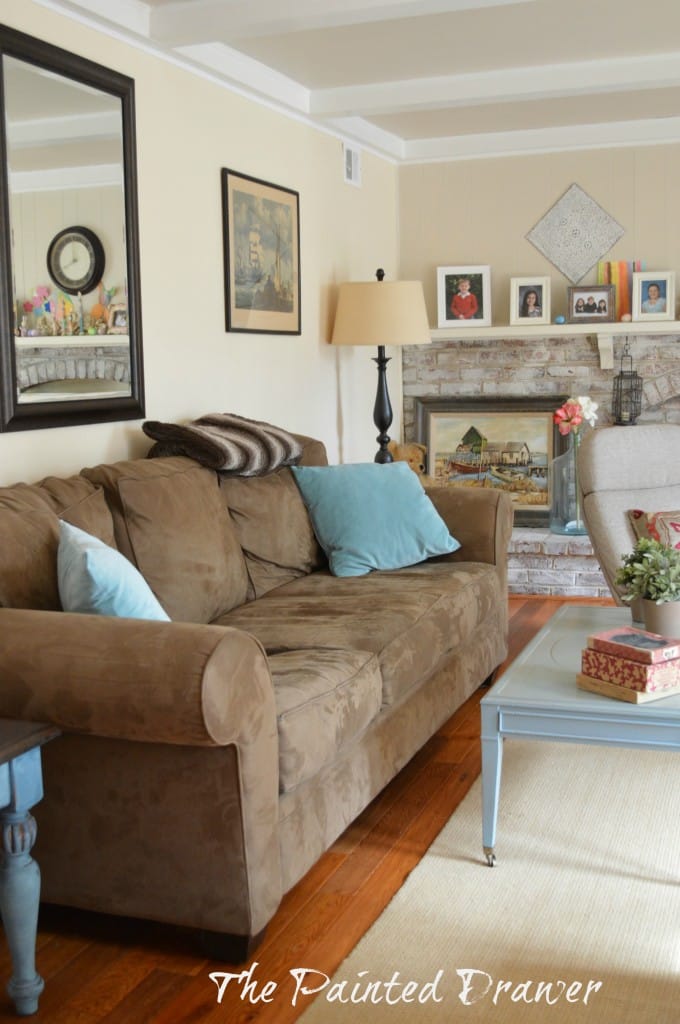 My girls and I had fun shopping for items to bring in more pops of blue.  We also added our spring wreaths and Easter decor to the mantel and hearth.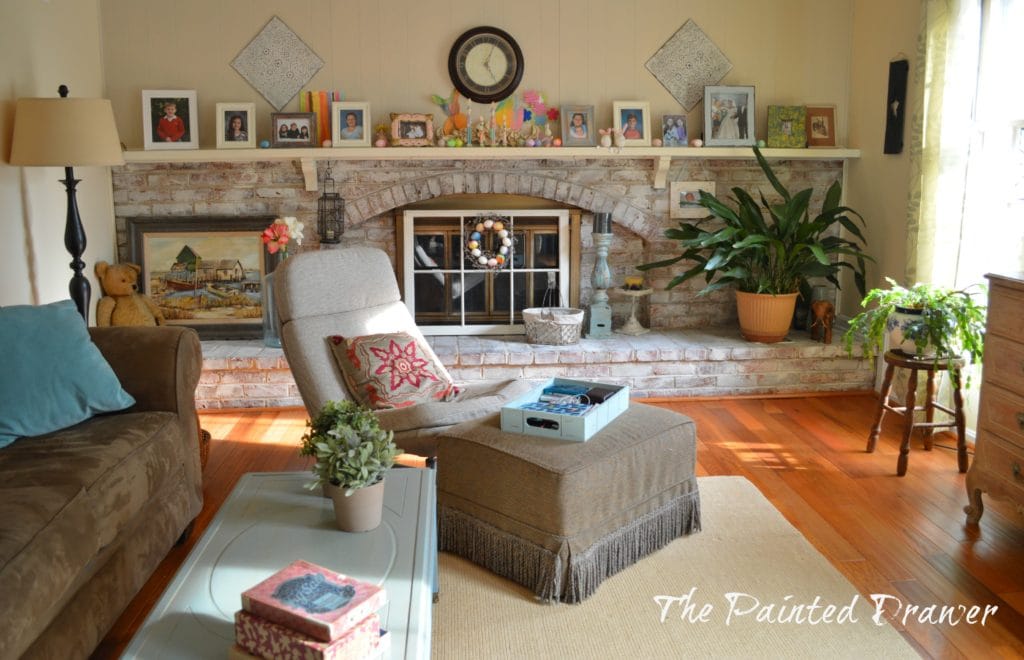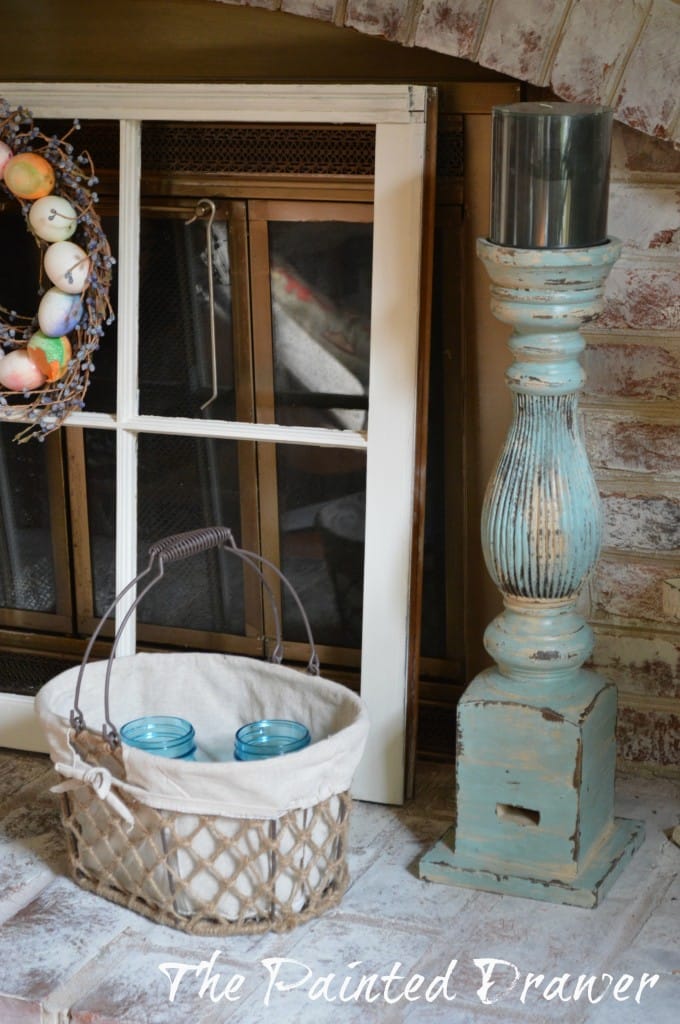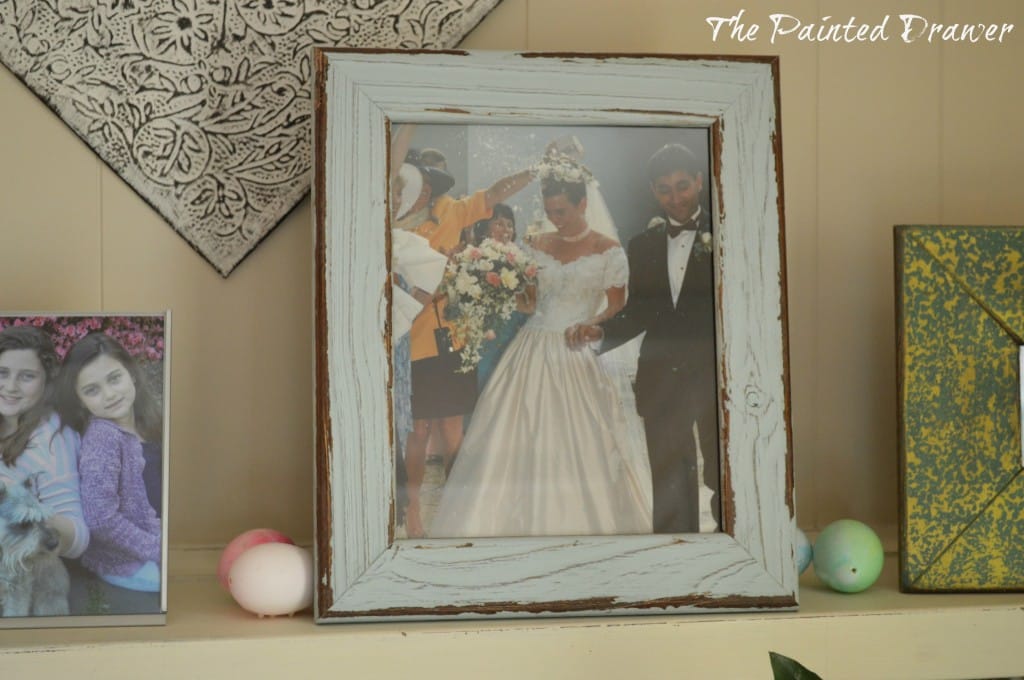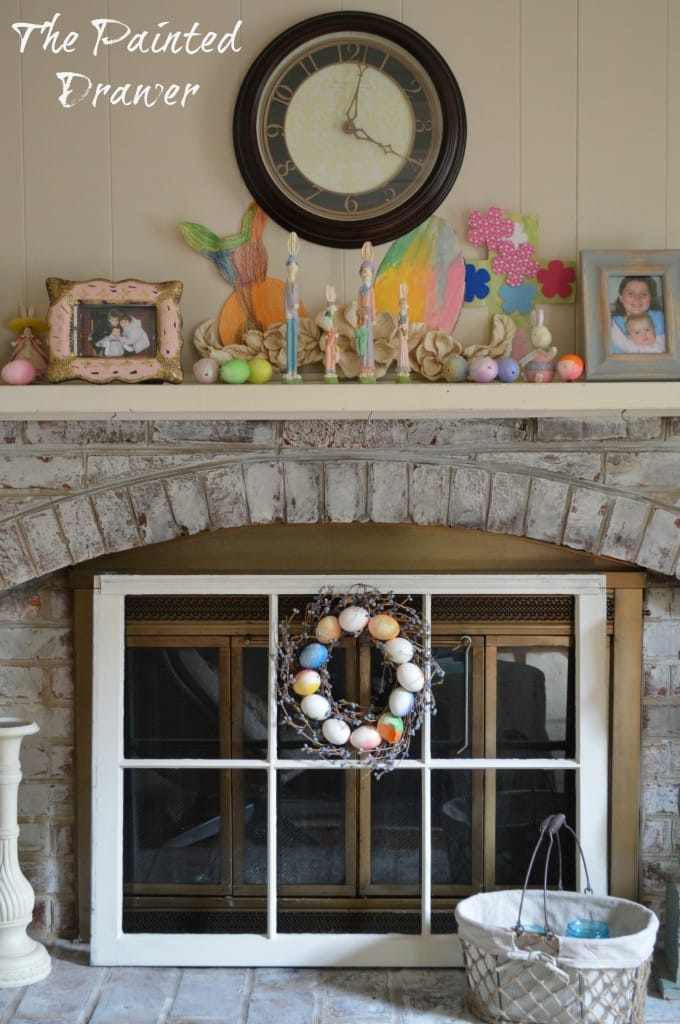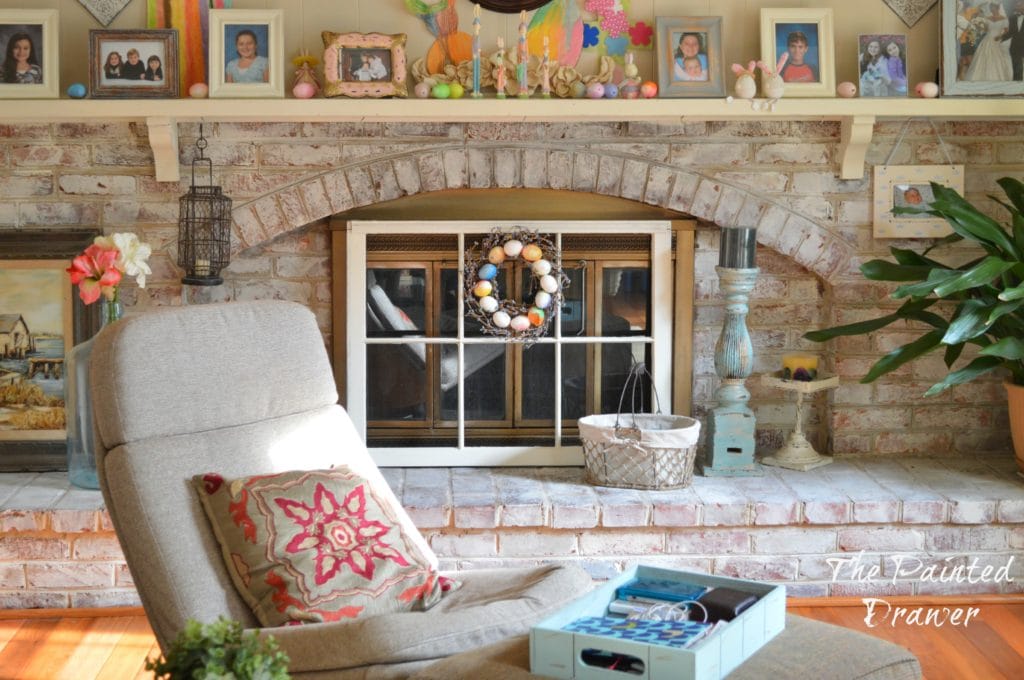 I brought in my pair of blue farmhouse tables to place on either side of the sofa.  They are for sale but hey, until they sell they look great in the room!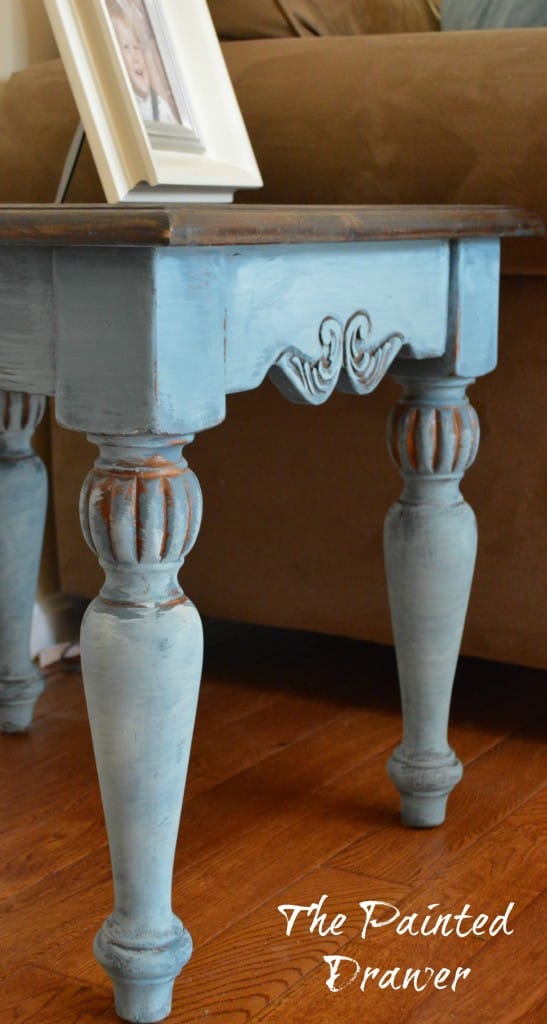 My favorite french dresser sits under our tv.  I bought this years ago from Goodwill.  The drawers are full of the kid's dvds and video games.  It's such a great use for a vintage piece.
It's now brighter and lighter and ready for Easter and baseball season – our rite of spring in this house!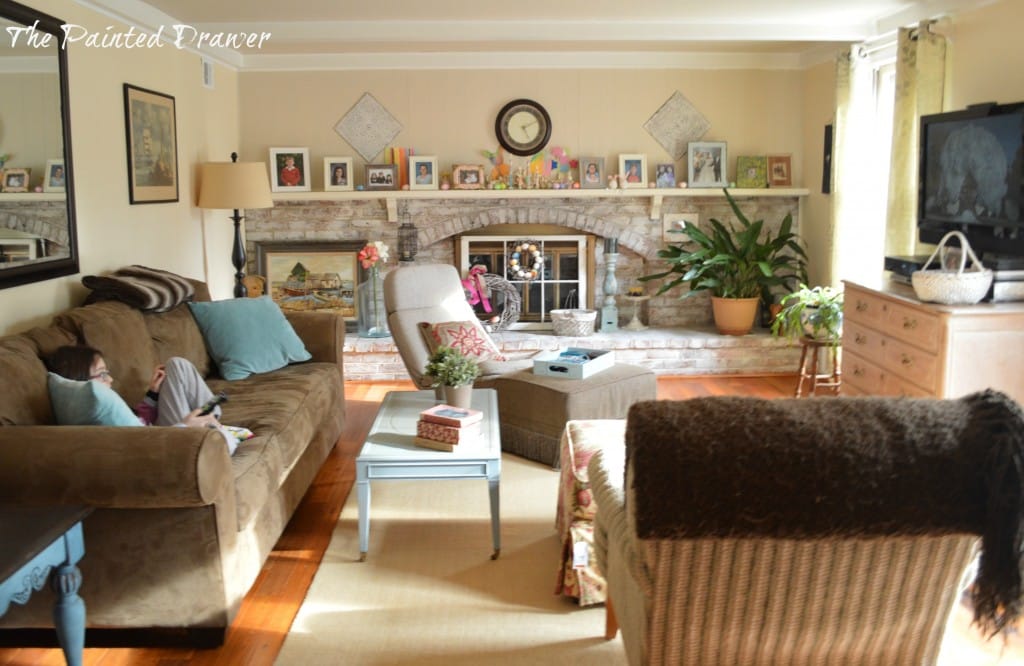 I just bought this great ottoman last week from a thrift shop.  It is like new.  I need to decide which one to keep in the room.
Decisions, decisions!
Join the Fun! I Always Love More Subscribers!