Thanksgiving Recipe Share: Cranberry Orange Sauce
Thanksgiving is right around the corner!  Each week prior to Thanksgiving, I'll share one of my family favorite Thanksgiving recipes. 
I would love to hear your suggestions because we all could do with a few more great recipes to follow!  Add your recipe in the "Comments" section below to be shared the following week.

Another week, another recipe!  Previously I shared my Cider Herb Gravy, Cornbread Casserole and Tangerine Sweet Potato Casserole.  Today's recipe also includes mandarin oranges and was given to me by my mother.  She has made this cranberry sauce for years and it is our family favorite. So much better than the canned cranberry sauce and so easy to make!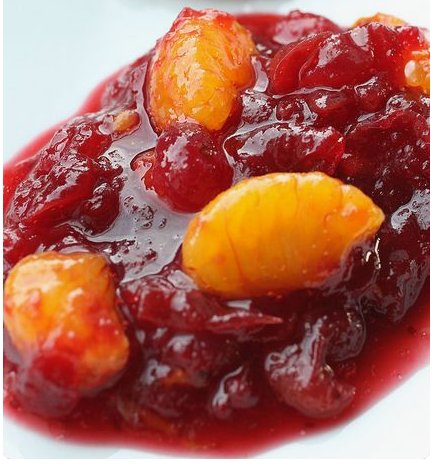 Cranberry Orange Sauce
Ingredients:
1 bag cranberries
1 can mandarin oranges
1 cup of mandarin orange juice plus water
3/4 cup sugar
Directions:
Wash cranberries and pick off any stems
Open can of mandarin oranges and drain juice into measuring cup
Add water into juice to equal total one cup (juice + water = 1 cup)
Place washed cranberries into small saucepan with juice/water mix
Add sugar into saucepan
Bring to boil and reduce heat to low
Cook on low heat until cranberries have softened and thickened
Take off heat
Fold mandarin oranges into cranberry mix
I place my sauce in a pretty glass dish.  It looks very festive on the table with its red and orange colors and is so tasty with the turkey!
I took this picture this morning of my neighbor's tree in full fall color – spectacular!