I've finished the bedroom set in Paris Grey for a little girl's room and with a lucky Target fluffy pillowcase find, the set is complete!
Earlier this week I shared the Cottage Gray dresser that is part of this project and now am sharing the vanity. These pieces are not an actual bedroom set (see here) but they will be placed together in her room.  We decided on Paris Grey to tie the two together.
This vanity and bench started out looking like this: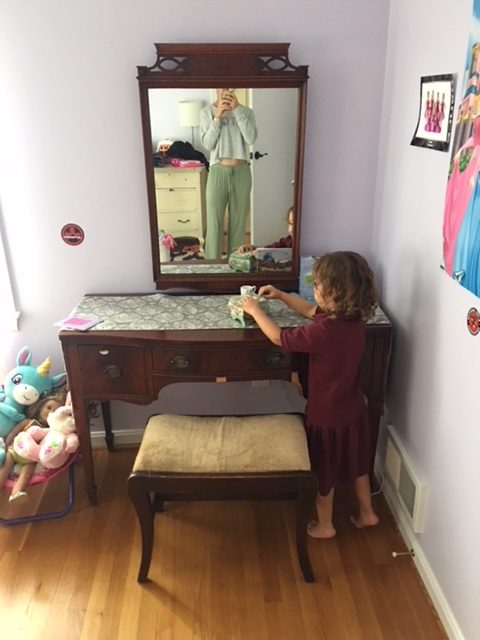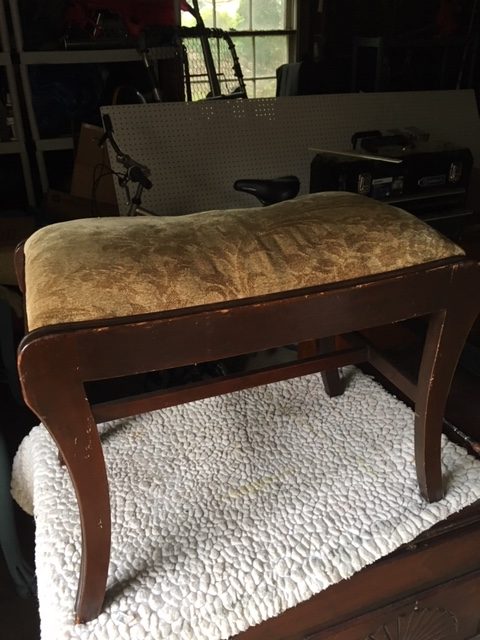 It had chipped veneer and the top was in pretty bad shape.  The top needed to be sanded back to a smooth finish prior to painting.  I also applied wood filler where the veneer had broken off and sanded those places smooth.  The old drawer pulls were removed and the holes filled with wood filler and sanded back.  New holes were drilled and if you are interested in this process, I posted all about it here, Wood Filler is a Friend: How to Change Drawer Pulls (and the Blue Velvet Dresser).  I also sanded back the bottoms of the drawers to make them slide more easily (they are super old and were getting stuck so sanding helped a little).
After all the prep, it was time to paint!  It took three coats to cover and I had an issue with bleed through on the top.  I like to apply a coat of General Finishes Flat Out Flat sealer on top of any places where there is bleed through.  I let that dry and paint over it.  The topcoat seals the finish (like a shellac will do) and allows the next coat to cover fully.
The little bench was painted and I removed all the old upholstery. I added new batting and found this super sweet pillowcase at Target.  It was perfect! It's pink and fluffy and was on sale for $10.  I cut it to size and stapled it on.  It looks so sweet!
The mirror is just lovely and the whole piece is full of pretty detail.  This was brought out with light distressing after I sealed the piece in Annie Sloan clear wax.  I also used 400 grit sandpaper over the whole piece to create a super smooth finish.  The finishing touch were the acrylic knobs from D. Lawless Hardware.  They add sparkle and are perfect for a little girl.
Here's the result!