Thanksgiving Recipe Share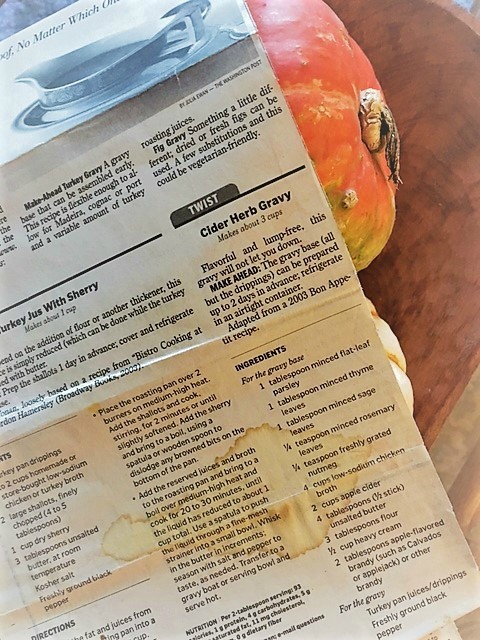 Thanksgiving is right around the corner!  If you are like me, you either will host or are required to take a dish to another's home.  We have a few standard dishes that are a must-have requirement for my family.  Without these favorites, it doesn't feel like it is truly Thanksgiving.  I either serve them as host or bring them along to share – I do always check with the hostess first!
Each week prior to Thanksgiving, I'll share one of my family favorite, Thanksgiving recipes.  I would love to hear your suggestions as well because believe me, I could do with a few more great recipes to follow!  Either add them below in the link party so others can click on the link and read your recipe, or add it in the "Comments" section below 🙂
First up is my Cider Herb Gravy.  I actually only make this if I am hosting (it would be a little rude to bring our own gravy to another host's dinner!).  It is such a savory and perfect gravy to go with turkey and adds so much flavor to the meal.  I first found the recipe in the Food section of the Washington Post in 2007.  You can see from the pic that it is a much used recipe!
Cider Herb Gravy
Recipe via Washington Post.  Adapted from a 2003 Bon Appetit recipe.
Makes about 3 cups.  Flavorful and lump-free, this gravy will not let you down!
Make Ahead: The gravy base (all but the drippings) can be prepared up to 2 days in advance; refrigerate in an airtight container.
Ingredients
For the gravy base
1 tablespoon minced flat-leaf parsley
1 tablespoon minced thyme leaves
1 tablespoon minced sage leaves
1/4 teaspoon minced rosemary leaves
1/4 teaspoon freshly grated nutmeg
4 cups low-sodium chicken broth
2 cups apple cider
4 tablespoons (1/2 stick) unsalted butter
3 tablespoons flour
1/2 cup heavy cream
2 tablespoons apple-flavored brandy (I actually don't add this)
For the gravy
Turkey pan juices/drippings
Freshly ground black pepper
Directions:
For the gravy base: Combine the parsley, thyme, sage, rosemary and nutmeg in small bowl.
Combine the chicken broth and apple cider in a large heavy saucepan: bring to a boil over high heat and cook uncovered for about 20 minutes, or until the mixture has reduced to 3 cups.  Transfer the reduced mixture to a medium bowl.
Return the saucepan to the stove, over medium-high heat and add the butter, stirring just until melted.  Add the flour and cook, stirring, for 1 minute.  Whisk in the reduced chicken broth-cider mixture, then the cream, brandy and the herb mixture.  Bring to a boil, then reduce the heat to medium-low and cook for about 15 minutes, whisking often, until the mixture thickens and has reduced to 2 1/4 cups. Remove from the heat.  (At this point, the gravy base may be cooled to room temperature, then refrigerated in an airtight container.)
For the gravy: Heat the gravy in the large, heavy saucepan over medium-high heat, stirring occasionally.
Meanwhile, transfer the turkey pan juices/drippings from a roasted turkey to a large fat-separator measuring cup.  Add the defatted juices/drippings to the gravy base and bring to a boil, whisking occasionally: cook for several minutes until the gravy thickens enough to coat the back of a spoon.  Season with pepper to taste: transfer to a gravy boat and serve hot.
It does seem like a lot of steps but actually, it really is not that difficult to prepare and well worth the effort!



I'll share our cornbread casserole next week 🙂