I'm a little out of it today.  I had to have a little operation on my foot to remove a shard of black plastic that I stepped on a few weeks ago.  I was just hoping it would get better all by itself but (of course) that wasn't the case!  Such a freak accident!  And, can you believe it?  Poor Lucky has hurt his foot as well.  He sprained it.  The two of us are both feeling like this today…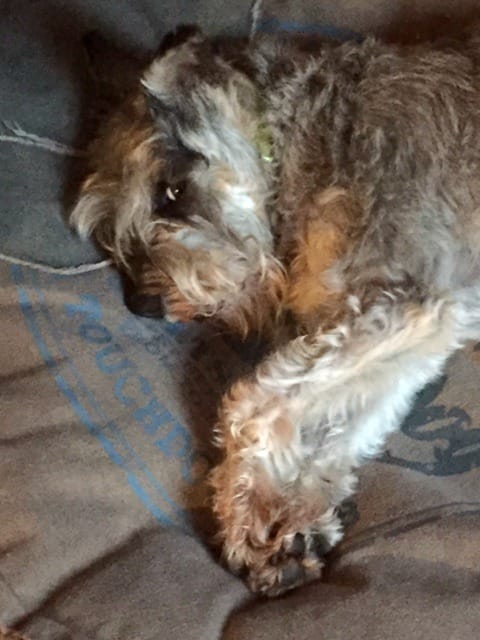 In the spirit of yesterday's post on a pop of mustard for fall, I am sharing last year's Chippy Daisy Dresser Before and After.  The dresser sold at last year's Luckett's Spring Market and is still one of my faves!
---
I have been working for the past few days on this vintage dresser than I refinished in General Finishes Milk Paint.  The color is Somerset Gold and is a gorgeous, deep mustard color.  It looks amazing with a dark wooden top and lends itself to the farmhouse aesthetic.
I thought to try a new approach on this piece.  I love to paint and draw and decided to try out my talent on the drawers.  I first used chalk to outline the design and then acrylic paint to color it in.  Then came the fun part!  I just love the look of old, chippy painted pieces.  General Finishes does not naturally chip off so I went to town with my sand paper to create the look.  It was a lot of fun to heavily distress the piece back.  The idea of rubbing off most of my hard work was daunting at first but once I got started I had a ball.
Here is the before.
Here it is all done and ready to share!