A fantastic reader of mine sent me the link to this great piece, Stuff It: Millennials Nix their Parents Treasures just published in the Washington Post.  I don't know how I missed it as I read the Post almost every day.  It is all about how millennials do not want china sets for 12 and large dining room sets, etc. that their parents own.  I see this happening all the time.  The younger generation want a clutter free home with interesting and one of a kind pieces and no longer want the large, heavy dark wood furniture sets that we all grew up with.  Who cares if the Queen Anne style dining table and chairs were originally owned by Great Auntie Mary?  They don't want it.  I love to take these old throwaways that no one wants any longer and give them new life for a new generation!  They can pick and choose pieces and have them custom painted to suit their own taste and decor.  It creates a great mix of the old and new.  I feel that I am keeping these pieces out of the landfills and really it empowers me as I take a lot of flak on other sites for painting over wood.
Read about it HERE.
Well, it was raining again all day today and I didn't want to take pictures of my hallway in the dreary light.  I shall hopefully take them tomorrow when the sun is shining!  Instead, I worked on finishing my Color Gallery tab (above on the main menu).  If you click on the Color Highlight inside the Gallery, it will link you to the post of the piece shown.
I added my General Finishes Milk Paint Colors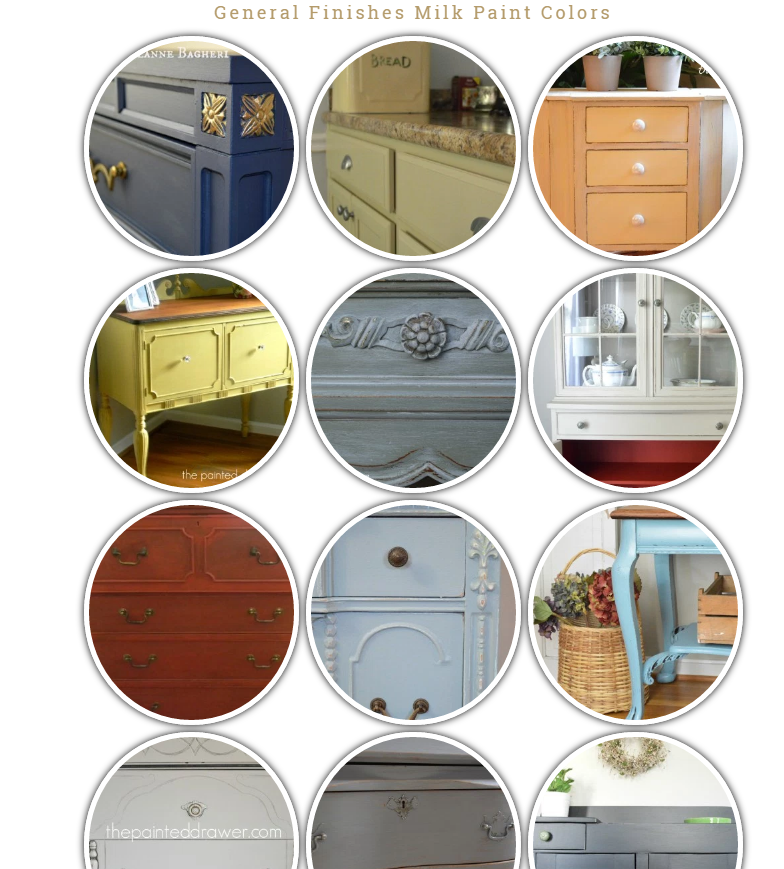 I also added a few pieces that I have finished in their Milk Paint Plus Glaze
Enjoy and I hope they give you a bit of inspiration for a project you may have in mind!