Mid-Century Modern Chest of Drawers
This post is in partnership with Regency Shop, but all opinions are my own.  My grandmother's vintage, mid-century modern Bassett chest of drawers has been in my son's room for years, awaiting its makeover.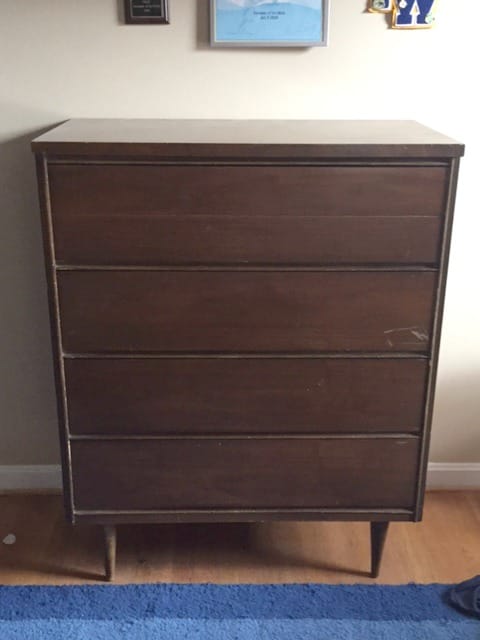 I previously had finished this great Mid-Century Modern Dresser a year ago for my son's room.  I used General Finishes milk paint and you can read the full before and after HERE.  I was thrilled when I found the dresser at the thrift store because it was almost a perfect match to my grandmother's chest of drawers (above) in his room.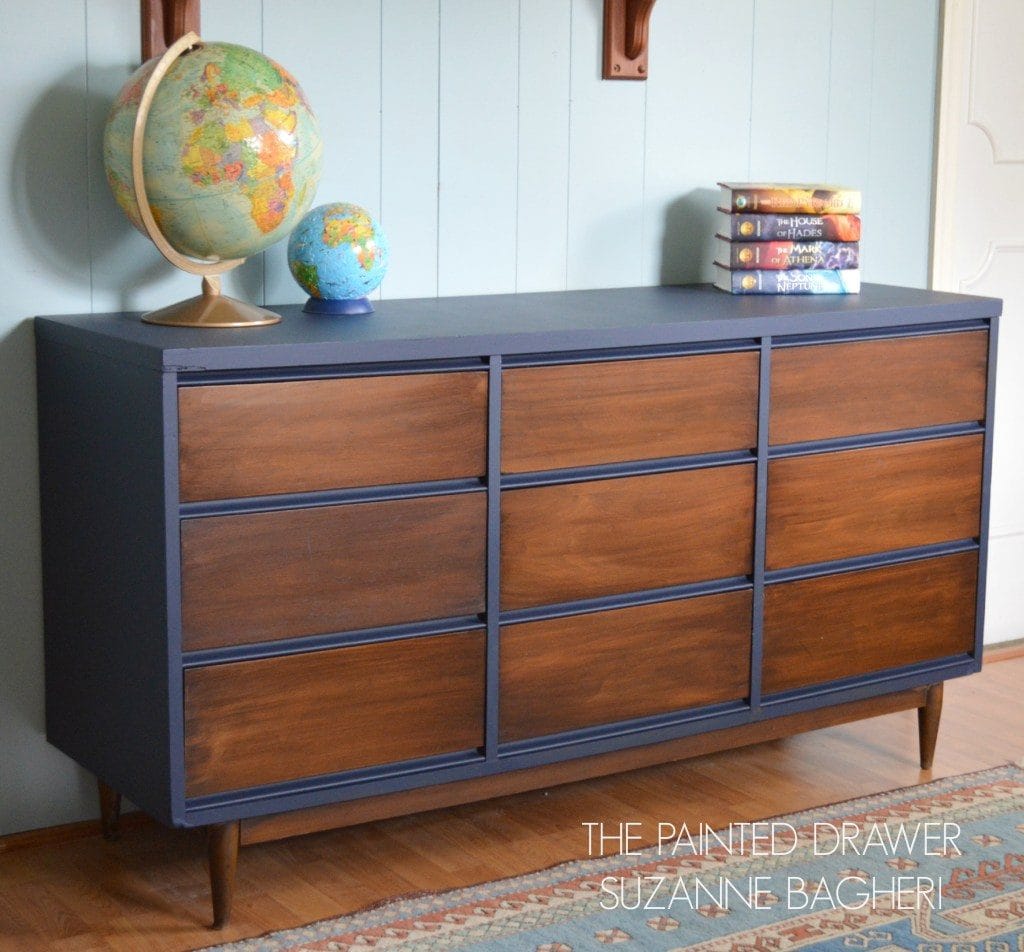 It has taken all this time for me to finally get around to finishing my grandmother's chest!  The impetus was this great clock.  An online seller, Regency Shop, provided me with this Modern Ball Clock.  Here is their description: Our Ball Clock is an iconic example of mid-century modern design and inspired by the design Nelson clock. This modern clock represents the spirit of emerging form-follows-function culture and transforms any room into a work of art.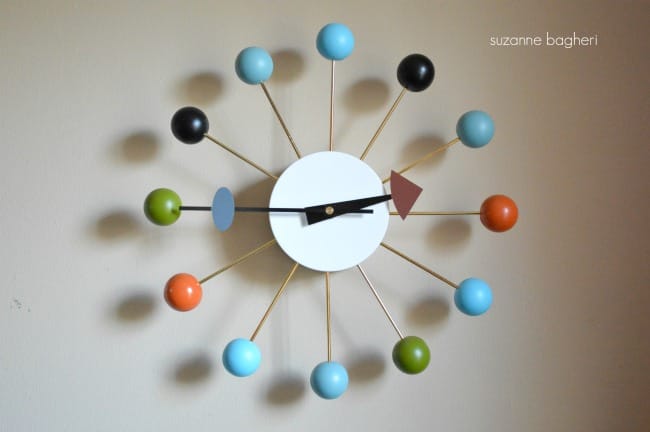 I knew it would be the perfect addition to my son's room.  I also knew that I could wait no longer and had to get that chest of drawers finished.  I mean, he is going to college next year so really I am almost out of time!
Here the vintage Bassett chest of drawers now, after a few coats of General Finishes Chalk Style Paint in Midnight Blue.  I actually wanted to use their Coastal Blue milk paint (the same as the long dresser in his room) but when I checked my stock I was out.  I was impatient to get the project started and hence, I used the Midnight Blue Chalk Style Paint that I had on hand.  Honestly, it really looks almost exactly the same as the longer thrift store dresser and together they make a gorgeous bedroom set!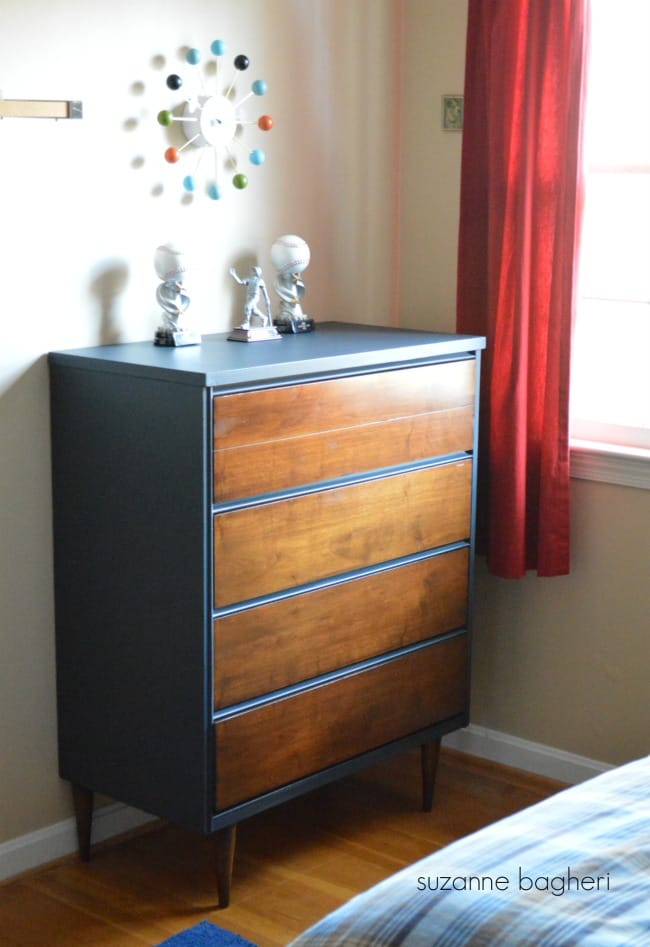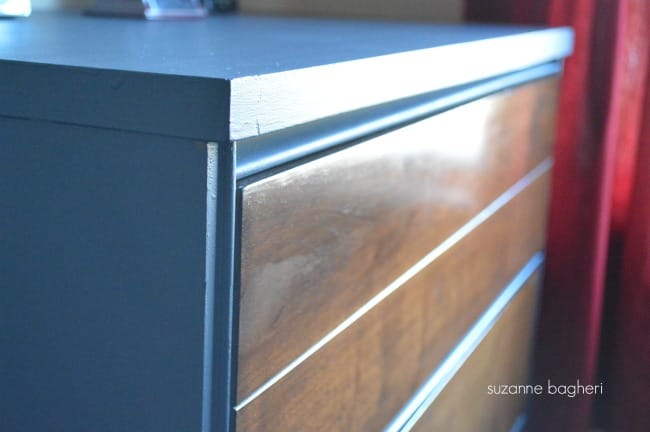 I applied two coats of the Midnight Blue and a coat of General Finishes Flat Out Flat top coat.  For the drawers, I used General Finishes Java Gel Stain and applied it exactly as I had on the other dresser.  You can check out my video tutorial below on how to apply the stain without prior sanding.
Can I say, I am in LOVE with how it looks?  The
wall clock
sets it off perfectly.  Such a great look for a boy's room.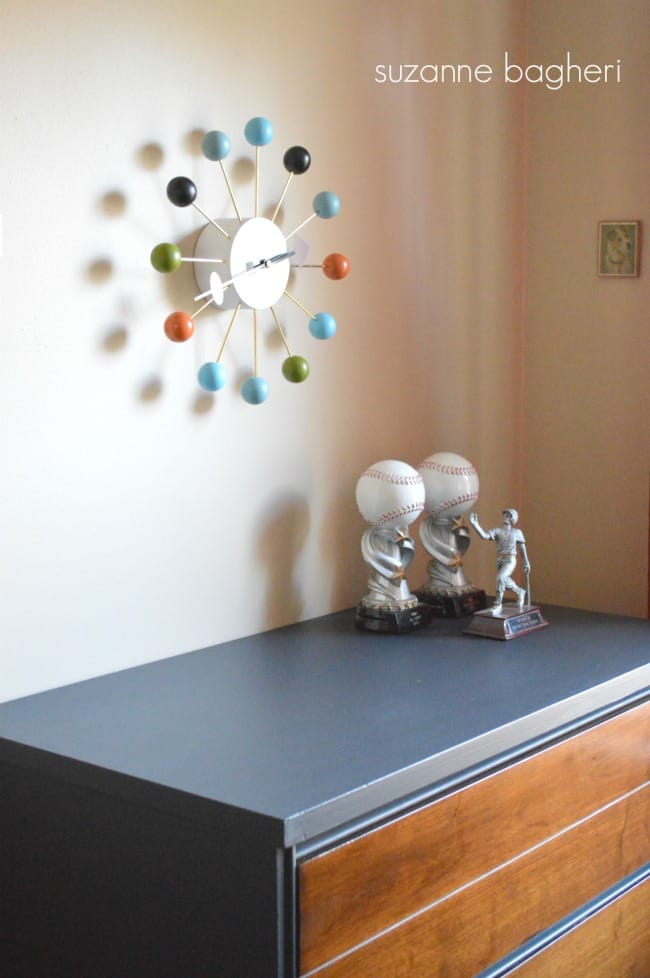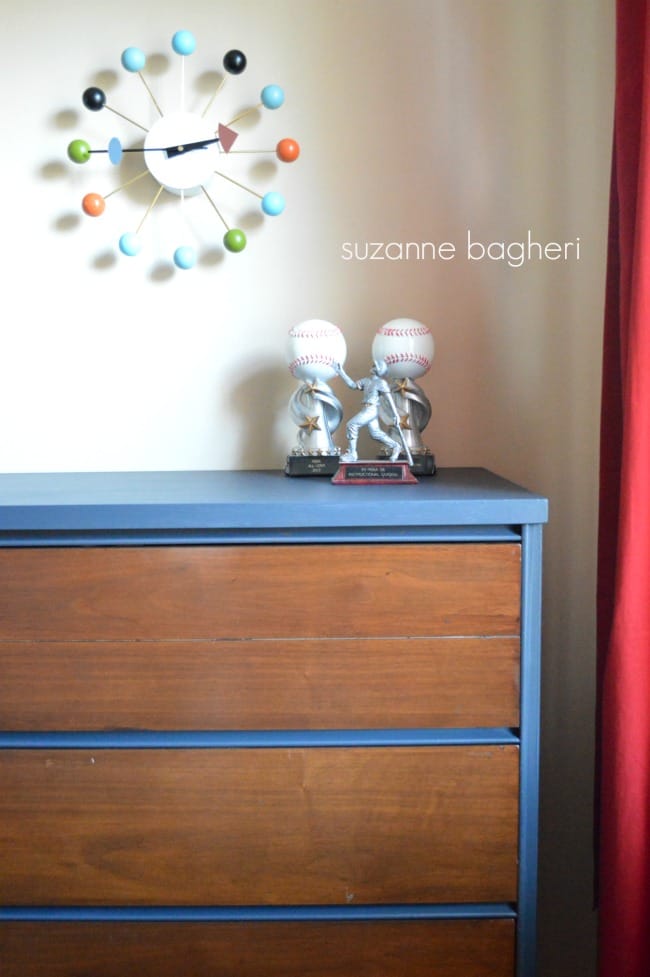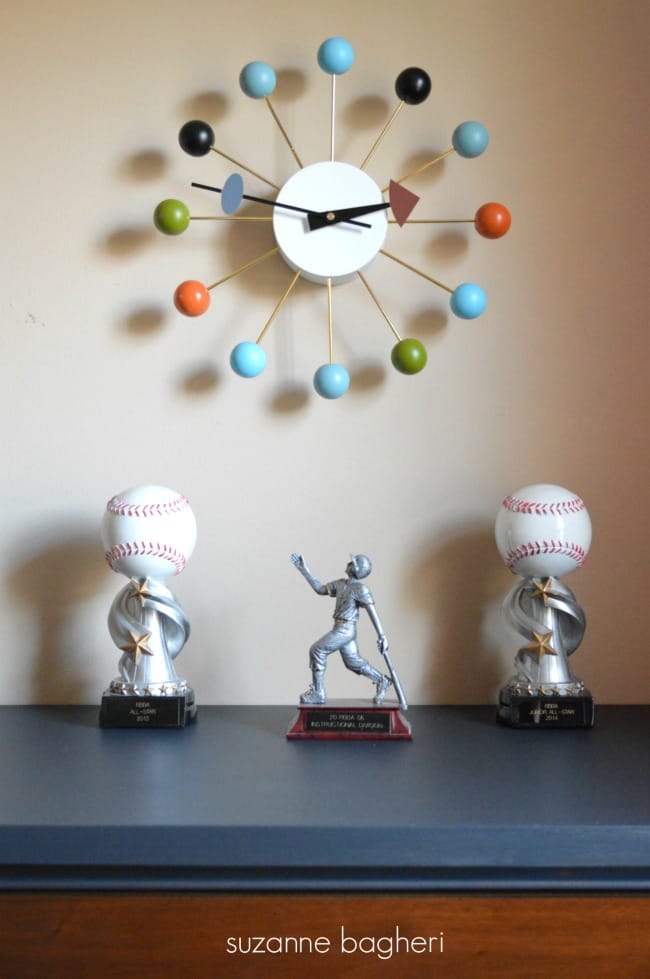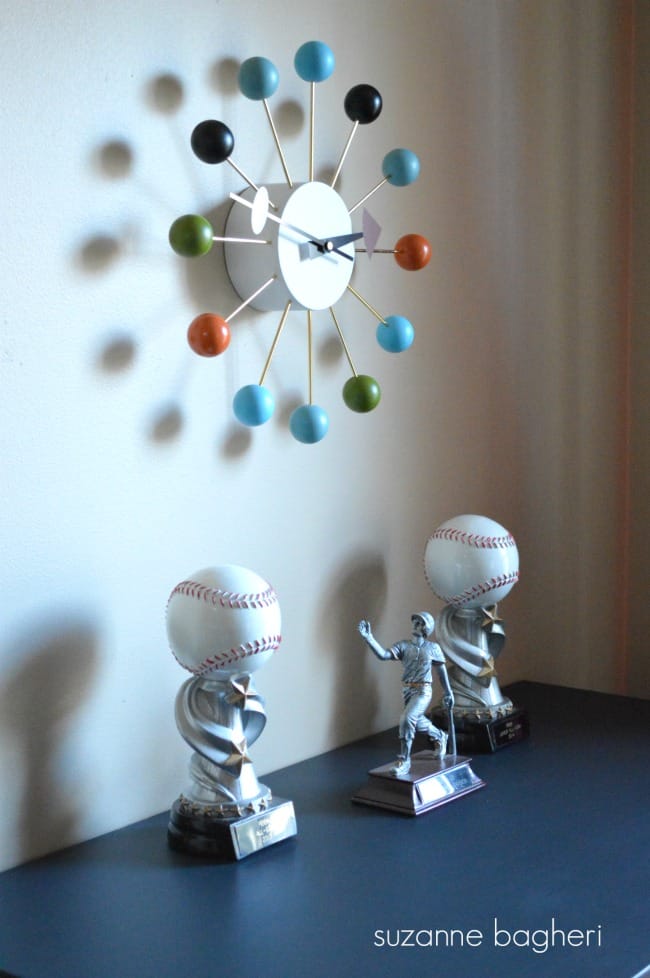 I'm really into the mid-century look for his room and have had fun browsing through the Regency Shop site for design ideas.  Either their Ibiza Chair or funky and fun Arne Jaconsen Style Egg Chair would look pretty great in his room.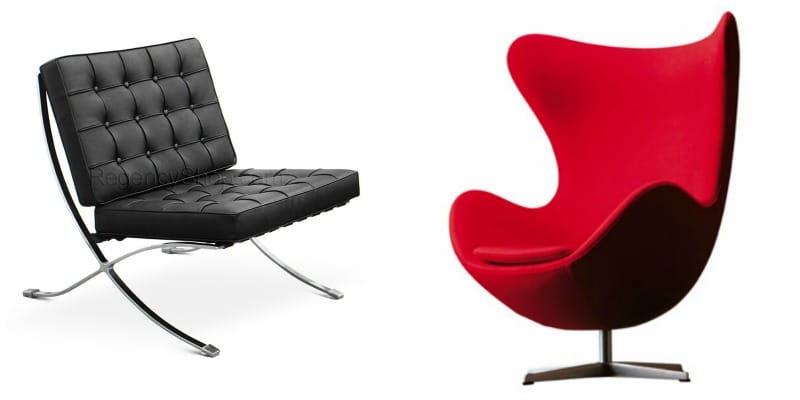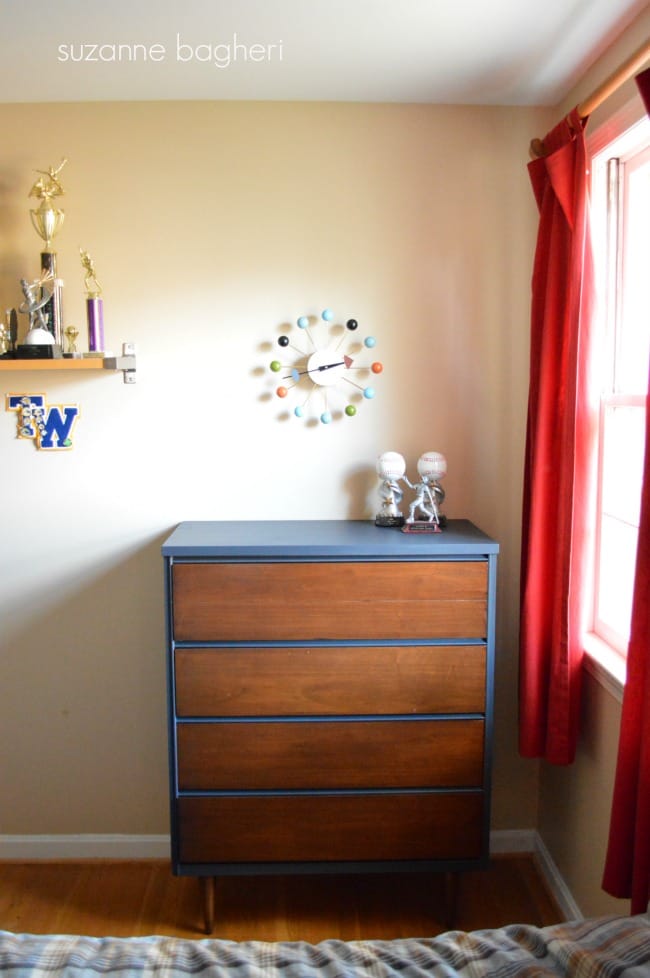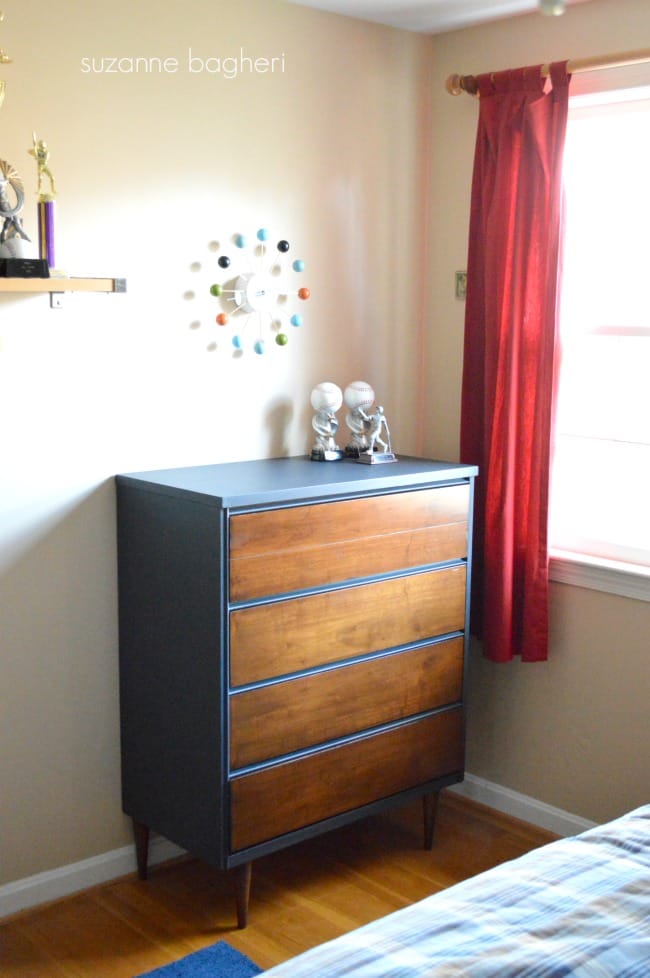 For now, we are sticking with my thrift store trash to treasure mid-century modern chair that I hope to finish soon!
And honestly, he would love the
Chesterfield Sofa
in there as well but then he may never leave lol!  I hope you all have a great weekend and I will share the Hampton's Desk makeover next week!