I just finished up painting and antiquing 4 large doors for a church library. Each door had 8 windows and so it was actually a pretty immense project!
Here are the brand new doors before I got started: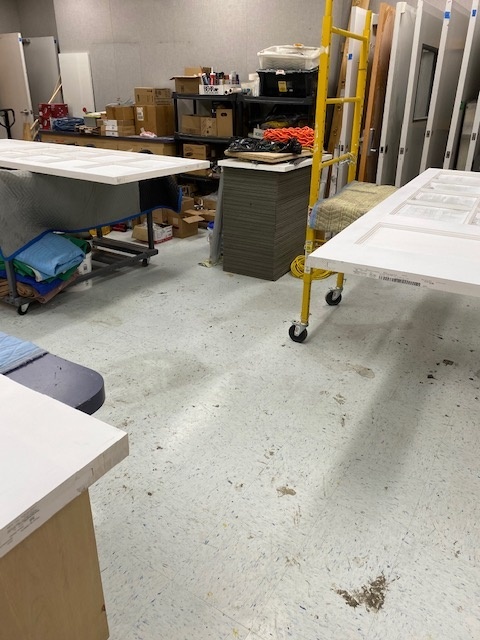 I used Behr Chalk Decorative Paint in the color Gingham and applied two coats on both sides. Using 150 grit sandpaper, I lightly sanded back the edges. Behr dark wax was applied to the door edges and inside around the perimeter of the panels. Behr clear wax was applied over the dark wax and buffed in. A coat of General Finishes High Performance sealer in flat was applied for a super strong finish. It was a very, very long project!
Here are a few "after" pics and a quick Instagram Live video we made while working. Please forgive the video "professionalism"! You can fast forward until the actual tutorial begins 🙂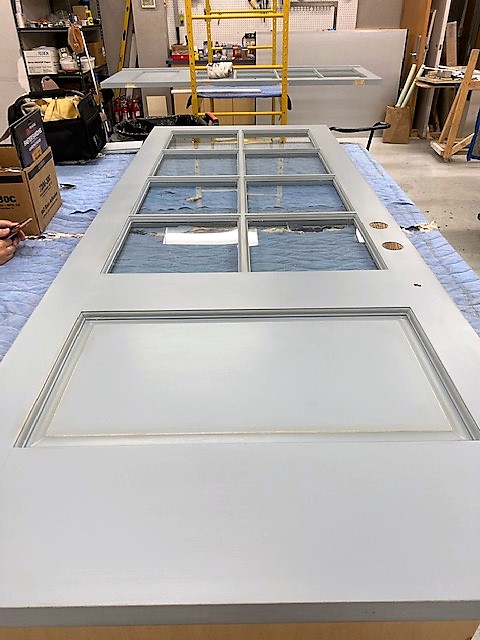 ---
How to Save Money Renovating Your Home
Image via Pexels – CC0 Licence
Do renovating your home and saving money have to be mutually exclusive? Many of us like the idea of upgrading our homes, improving their kerb appeal, adding more living space and making the most of the house we have – but these things don't usually come cheap. Although it's true that you do need to spend on some things, it is also possible to remodel your home for less. And it's one of the most rewarding activities, as not only do you get the benefit of living in an improved environment, but it can also improve what's likely your biggest financial asset and help to make you more when you come to sell.
Plan Out Your Budget
Before you start booking in contractors, or getting carried away looking at bathroom remodelling boards on Pinterest, you need to begin with the financial facts. Any work you do to your home will have some sort of cost attached, and you need to know upfront what that cost will be, how you will be paying for it and exactly what you can afford to have done without incurring debt. So it all begins with a solid home remodelling budget plan. The key here is capturing the detail, because it's the small things that tend to add up. $10 for one beautiful drawer pull for your kitchen cabinets may not seem too bad, but when you have to multiply that by 30, it starts to be a significant cost. These are the areas where you can really save or go over budget, so make that spreadsheet your best friend and capture every single planned expense to avoid costs spiralling.
Never Pay Full Price
Make it your mission to never pay full price for anything on your build. This is actually easier than you might think, and can be done in a variety of ways. Begin by flexing your negotiating skills with contractors. Get a minimum of three quotes for every piece of work you need doing and don't be afraid to question the details and exactly what is covered. Secondly, sign up to any websites and newsletters you can find from suppliers, furniture companies and any Local Offers to get money-off coupons and early notifications of seasonal sales. Lastly, consider buying preloved. Upcycling furniture is surprisingly easy, and often means you just get something better made, completely custom to your taste and decor and totally unique. Look for finds in consignment stores, yard sales and friends or family who are getting rid of things, or use local listings to pick up a bargain. This even goes with tiles and cans of paint – very often people over-order and sell off the excess for a lot less than they paid.
Know What To Compromise On
Life is about compromise and home renovations are no different. Work out in advance what your 'must have' items are and what you could compromise on. For some people they may be happy to use a wood-effect laminate flooring rather than expensive solid wood, but know that they want solid quartz worktops. Work out what you really need to spend on to achieve your vision and what could be done to save more money – simple tricks like replacing kitchen cabinet doors rather than the whole unit are a tried and tested way to bring a project in on budget.

Please note that some of the links above and below are affiliate links, and at no additional cost to you. All opinions are my own.
---