Farmhouse Glam Console Cabinet
My friend and neighbor, Christin decided she wanted a change and is in the process of giving her home a new look.  Starting in her foyer, she is going from her traditional decor to a lighter, more current vibe.  She's in the process of having her foyer painted in a lovely gray paint (I'll share pics later).  She also is having new flooring installed in her family room and guest room, as well as having those spaces painted.
Christin has a console cabinet, mirror and bench in her foyer.  Part of the foyer makeover is giving these pieces a makeover for the new space.  Today, I'm sharing the console cabinet.  Here is where it began.  It was black against the darker walls.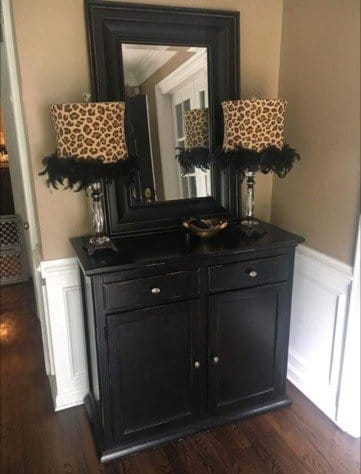 We went for a lighter, farmhouse glam vibe.  What exactly is Farmhouse Glam?  Honestly, I just made it up!  In this case, it is a distressed piece with farmhouse charm that has a touch of glam.  To created this look we decided on Annie Sloan Paris Grey with gorgeous new shiny glass pulls.  After applying three coats of paint, Annie Sloan wax was used to give the piece a gorgeous, hand rubbed finish.
I'm really happy with the result!  
Farmhouse-Glam!  I'll share the other pieces soon as well as her "before and after" foyer pics!  Design is so much fun!
A little added craziness to our home!  Meet our newest foster pup, Rusty!  He was in a South Carolina shelter and brought to Maryland by PetConnect Rescue to make way in that shelter for the displaced Hurricane Irma dogs.  At only 5.8lbs, he is a sweet doll baby.  Such a cutie and I'm sure he will be adopted out soon!