Warning! Long post ahead!
We have a "sitting room" that leads into our master bedroom. I think it's a pretty funny name because we never have time in the day to actually sit around in that room or any other in our house but hey, it does sound nice!
I had our old TV cabinet in the corner of the room. This was actually my first painted furniture redo that I did about 18 years ago, when I painted it white. However, we no longer need it for our tv and I was using it for storage. It was basically full of old photos in frames and other "junk" that I had accumulated and didn't know where else to store. I decided to finally bite the bullet and empty it out. We were then able to move it out into the hallway. This is where it will stay until my mover comes by and takes it downstairs because it weighs a ton and we are not about to attempt it 🙂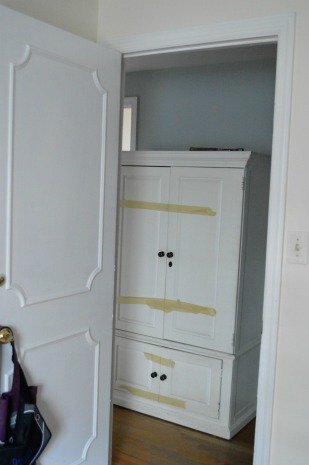 I do love to organize but do not want to just throw everything away. After taking the photos out of the frames, I placed them into these great storage boxes that I purchased from Ikea and am donating the frames. This alone saved a ton of space.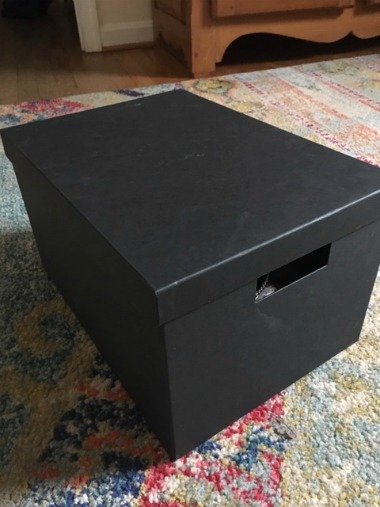 I did throw away/donate a bunch of random items but kept my vintage dolls and dollhouse furniture in boxes. I just can't discard those and I have a feeling they will follow me wherever I go!
The organizing didn't stop there! I decided to organize my son's closet now that he is away at school. I organized his trophies and other items to keep for him but also got rid of "stuff" that I know he no longer wants or needs. So, any leftover items from the white cabinet are now housed properly in his closet. Very organized! And yes, this took all day!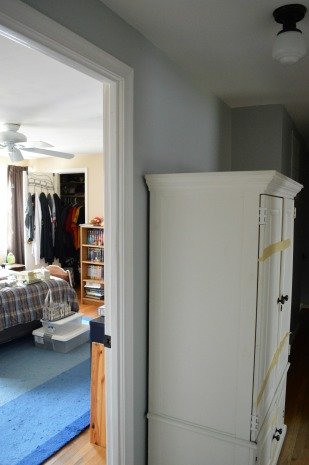 I decided to add shelving onto the wall where the white cabinet used to sit. I went to World Market and found these gorgeous wooden shelves with white marble inlays. They are so fun and perfect for the space. I paired them with these brackets (they have mix and match brackets to choose from for their shelves). They were super easy to install and I did it in a half hour. I used plugs in the wall and each shelf holds up to 50lbs, which is pretty great.
Along with my little cart (Makeover Here), the shelves house my art supplies. I also moved our family room rug (Safevieh that I ordered from Wayfair on sale) upstairs. It fits the room perfectly and really looks a lot better in this room than the family room. My vintage glass collection is sparkly and clean and the whole room feels fresh.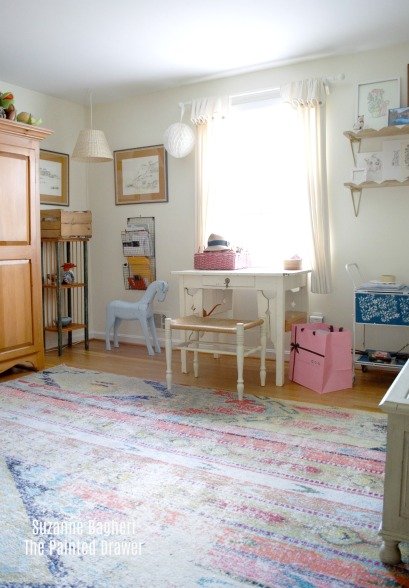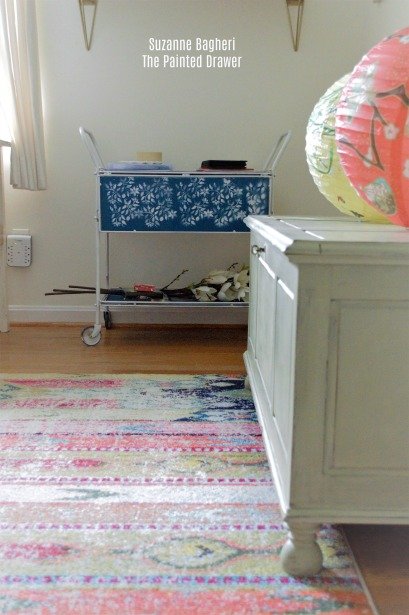 [envira-gallery id='31906′]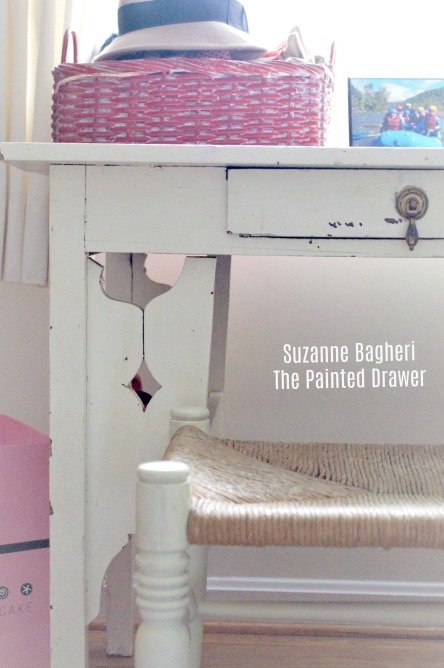 Colorful and pretty and the perfect place to sketch and paint. Especially once I get my easel in there 🙂 Now I'm off to shop for dryers because ours decided to give up the ghost a few days ago. $$$$!