English Christmas Dinner Recipe Share / Roast Potatoes
The Thanksgiving Recipe Share was fun and I had quite a few of you email to say that the recipes were a success! With that encouragement, we are on to a Christmas Recipe Share!  These recipes are for a typical English Christmas dinner.  However, for those of you who do not celebrate Christmas, the recipes are great year round and for any occasion!
Enjoy and please share! If you have your own recipe please add it in the comments below.  I will post it the following week!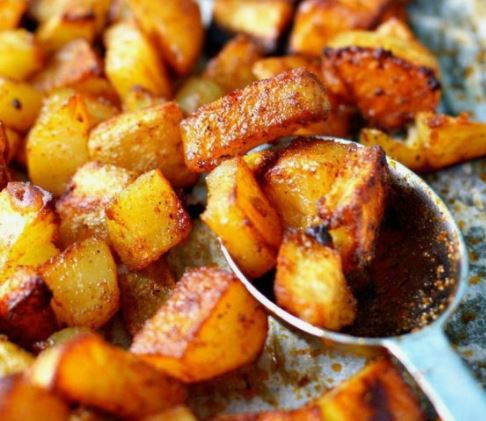 Last week I shared the ever popular 
Yorkshire Pudding
.  Today it is yummy English roast potatoes.  I personally love to find the crispiest ones and add those onto my plate!
English Roast Potatoes
Ingredients:
1 bag of Yukon Gold or white roasting potatoes (Russet or Idaho baking potatoes are not good for this recipe)
Salt to taste
Oil/Fat  (Cooking oil – I use olive oil. But you can use canola oil or any other healthy oil.  You can also use half Crisco solid shortening if you wish.  In England they use goose fat, but it is either unavailable here or extremely expensive.)
Directions:
Preheat oven to 375 degrees
Cut potatoes into small, uniform pieces
Place potatoes in large pot and cover with water
Add salt (about 1 tablespoon)
Bring to a boil
Simmer for 5 minutes
Remove and drain
In roasting pan, add enough oil to just cover the bottom of pan and place pan in hot oven to heat oil
Carefully remove hot pan and place pre-boiled potatoes into pan
Take a spatula and rotate potatoes to make sure they are covered in the fat/oil
Sprinkle a dash of salt over potatoes
Roast for 30 minutes
Take out of oven and turn over
Roast for another 30 minutes until they are crisp and deep golden in color

Potatoes are best when hot and crispy so try and serve right out of the oven
 Make plenty as they are very popular!