Here is a double reveal 🙂  I painted over my stenciled foyer because, well, I just got really tired of it.  It was starting to hurt my head when I walked down the stairs (okay that is an exaggeration but it was bothering me).  I decided on the 2017 Sherwin Williams Color of the Year, Poised Taupe.  I am SO happy with it!  I just painted my living room in Sherwin Williams Accessible Beige and this really looks fabulous next to it.
Here is the foyer before (with stenciled walls), as well as a before shot of the armoire: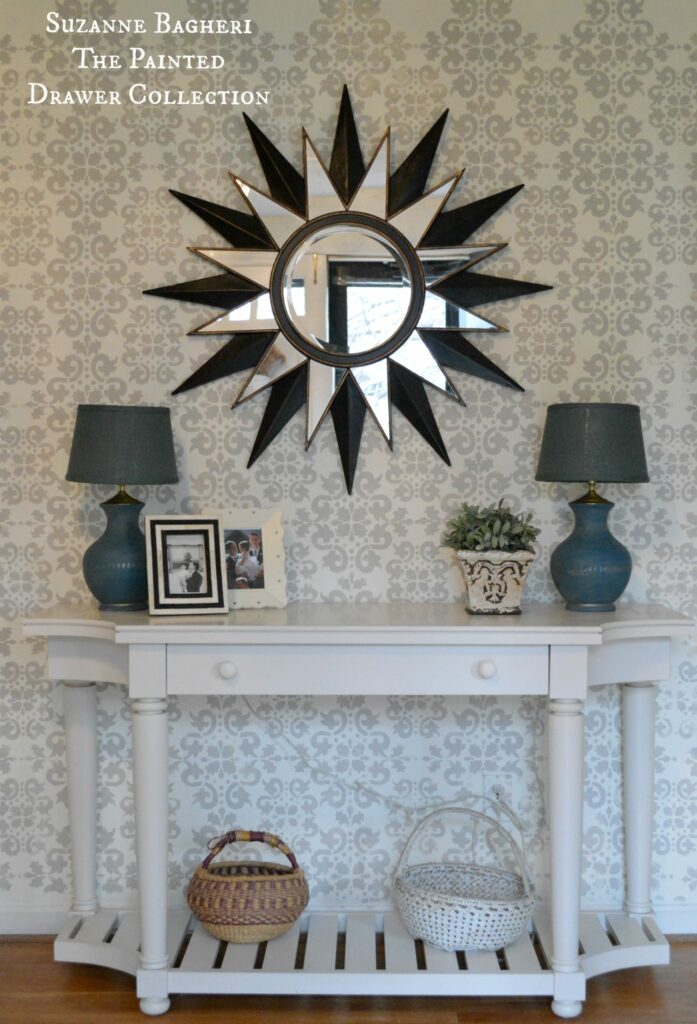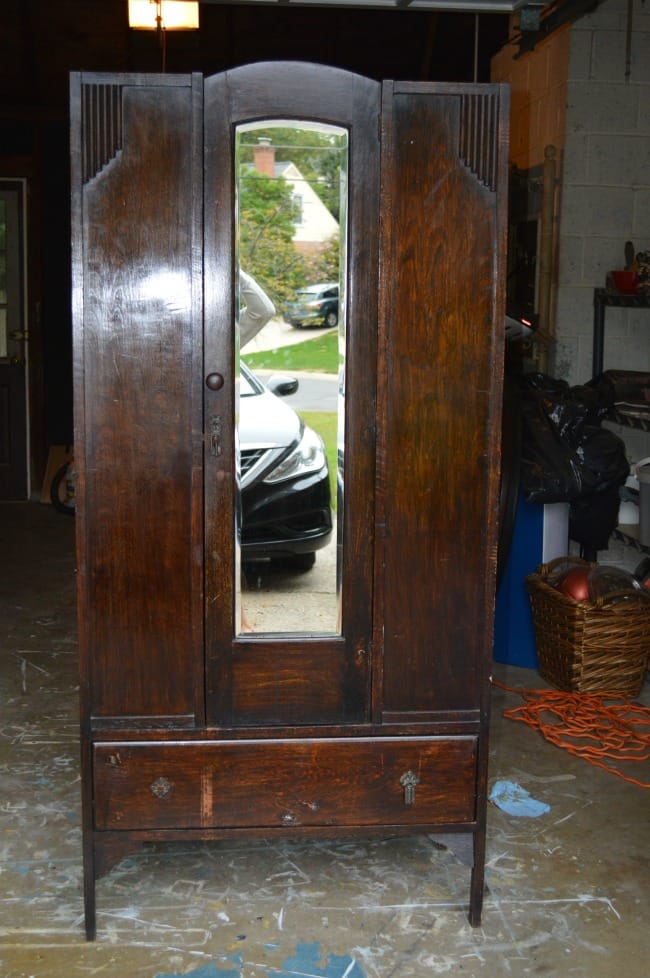 Here they are now!  The walls are clean and fresh and the armoire looks fantastic against the walls.  After all of that work stenciling, it actually felt fantastic painting over them!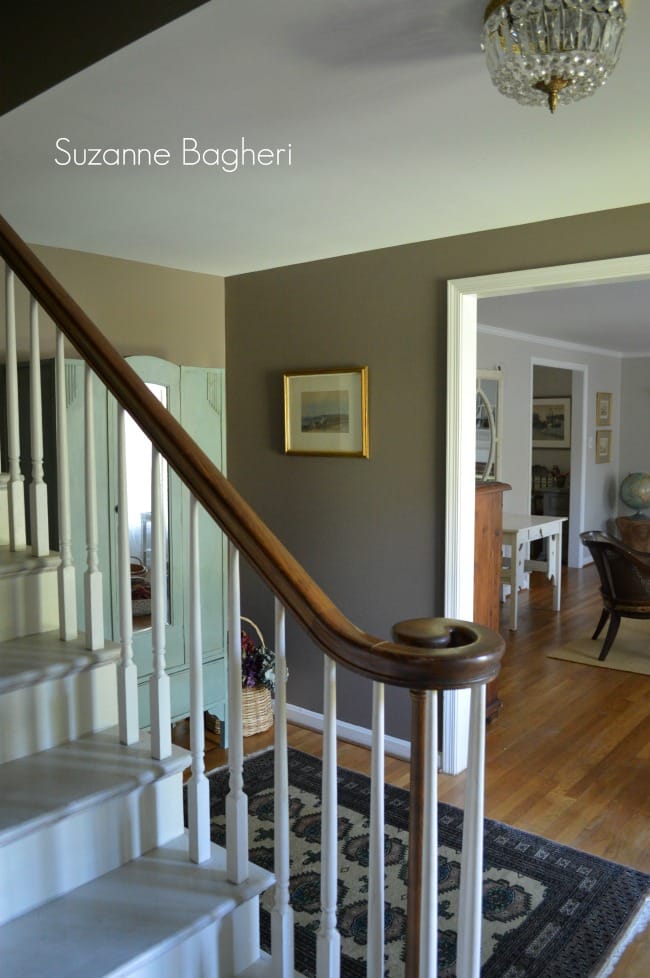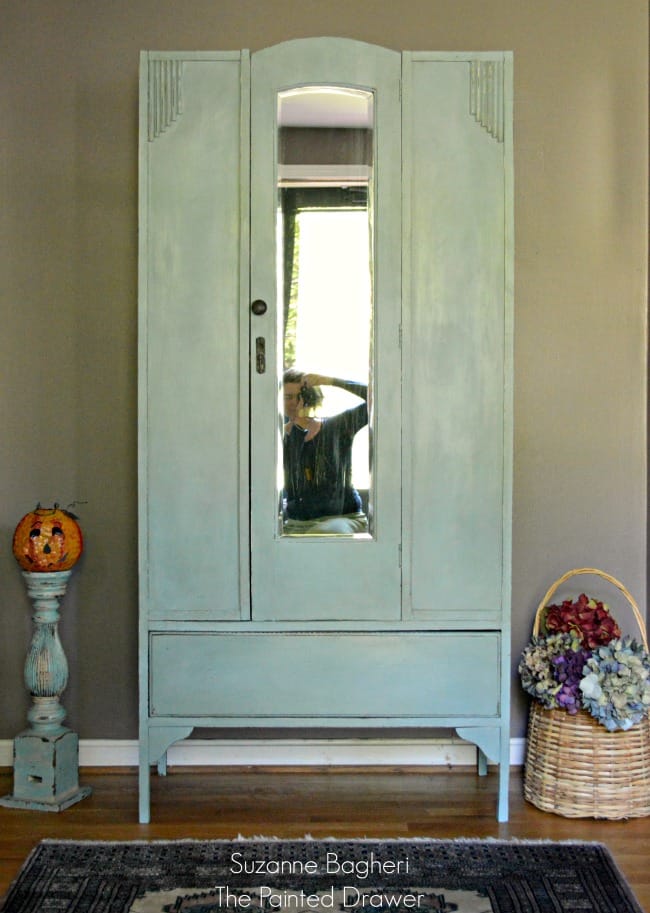 I used Annie Sloan Duck Egg Blue on the armoire.  I did a base coat of General Finishes Antique White, then two coats of AS Duck Egg before sanding with 200 grit.  I then clear waxed before applying Maison Blanch Dark Brown wax.  The Duck Egg paint was mixed into the clear wax and I used it to wax over in places.
The walls are Sherwin Williams Poised Taupe in an eggshell finish.  Sherwin Williams say that if Gray and Brown had a baby, it would be Poised Taupe.  It is warmer than the now very popular gray.  I actually had Home Depot do a color match and the paint I used was Behr paint and primer in one.  It only took one coat to cover all of that stenciling which is pretty impressive.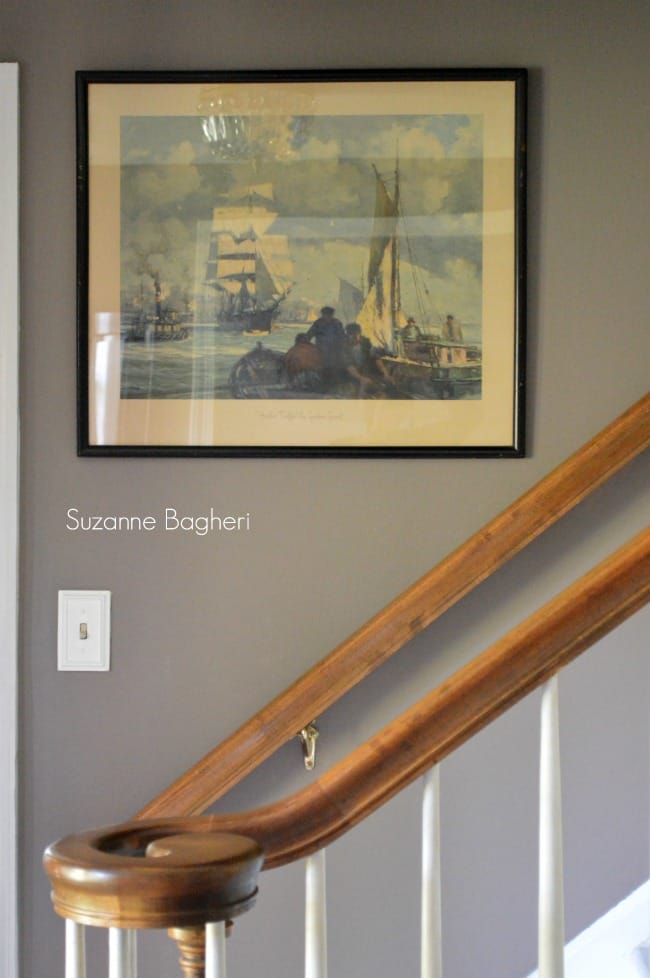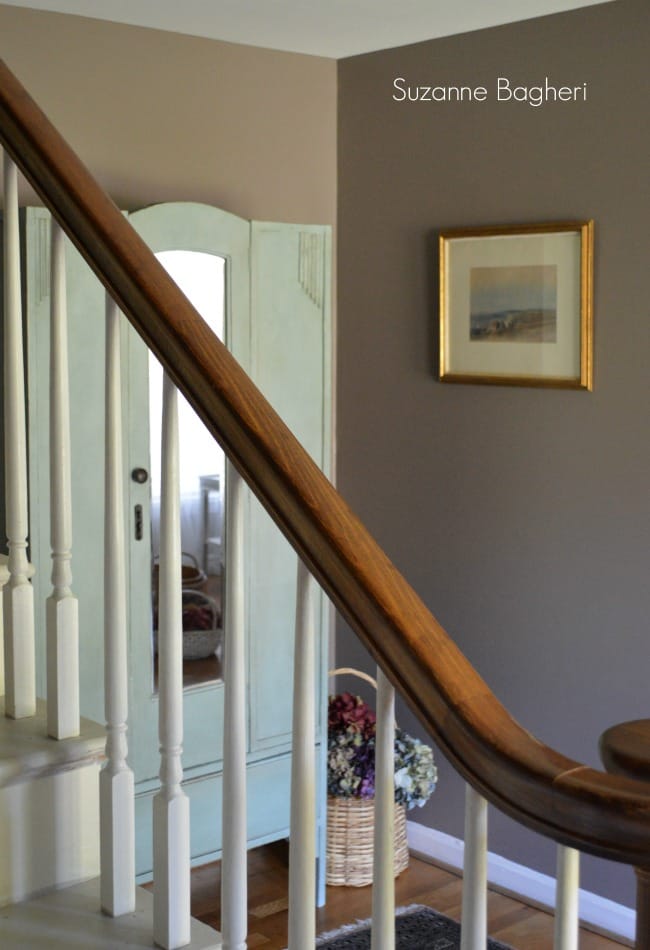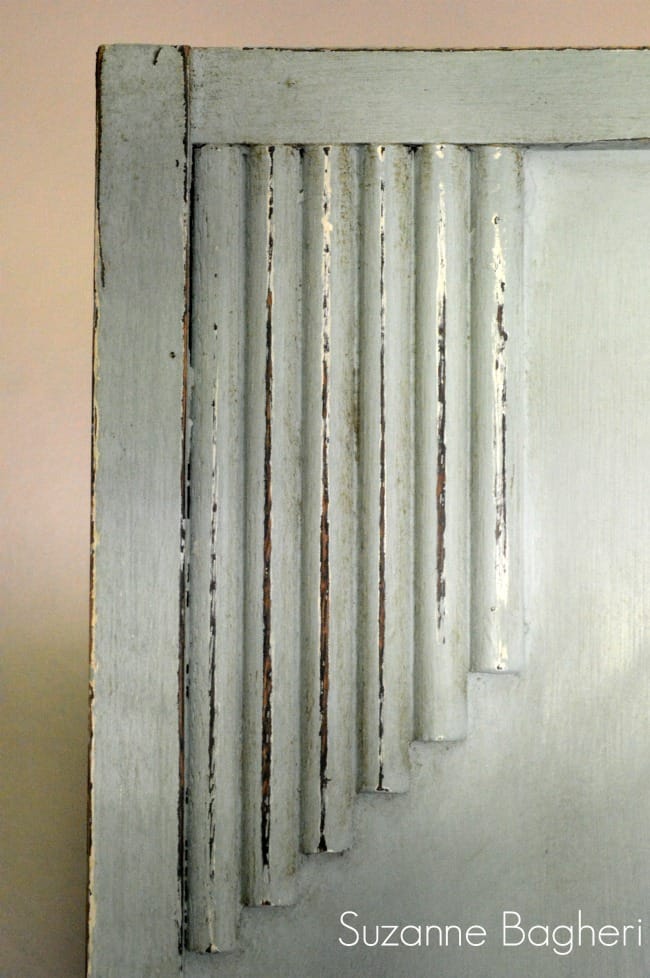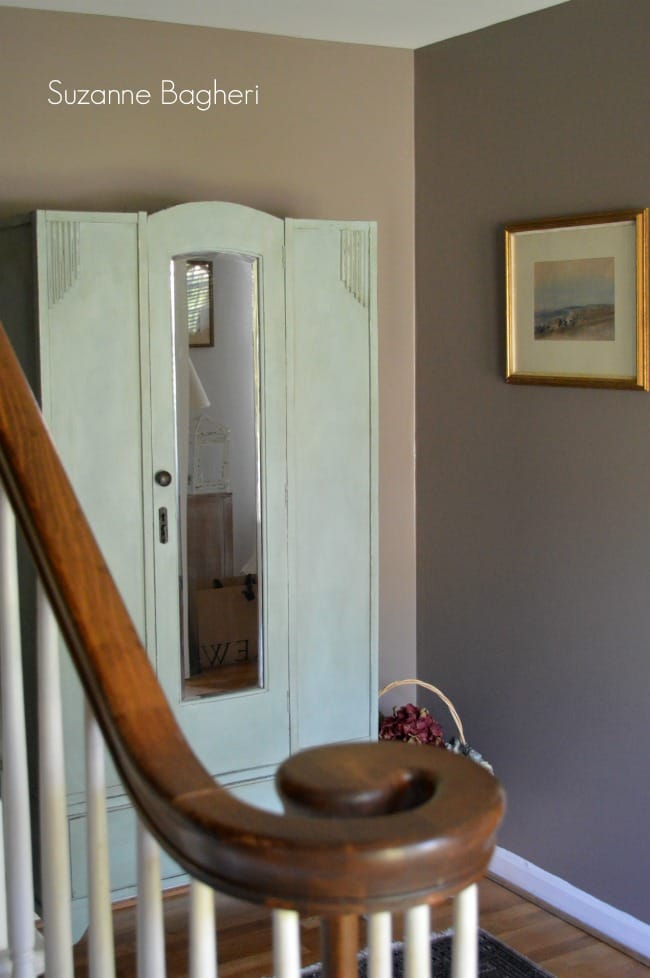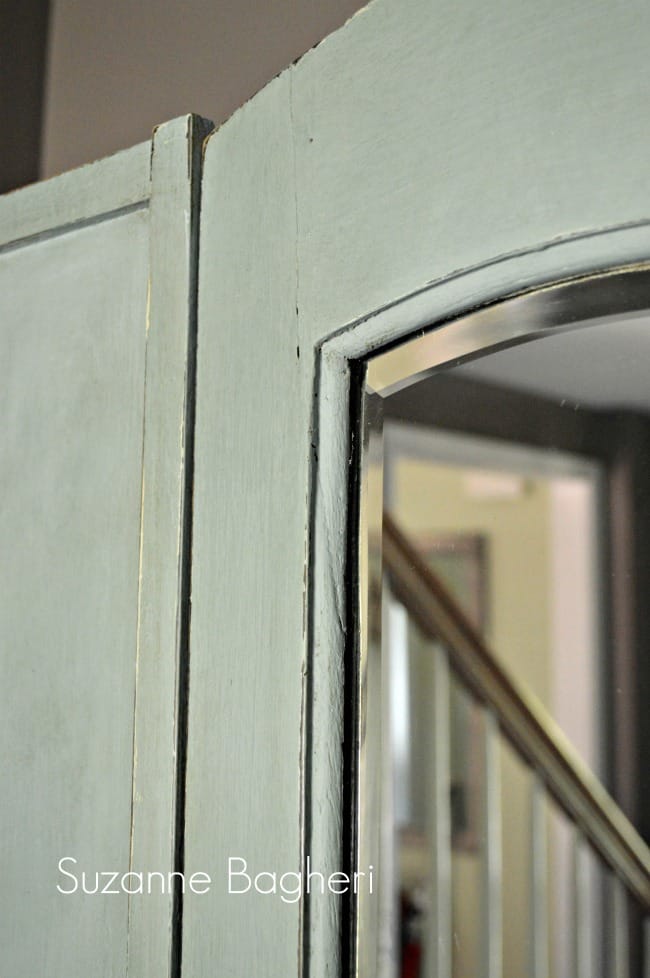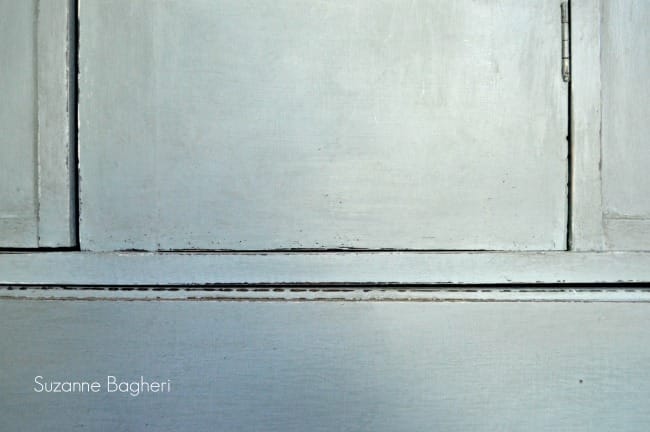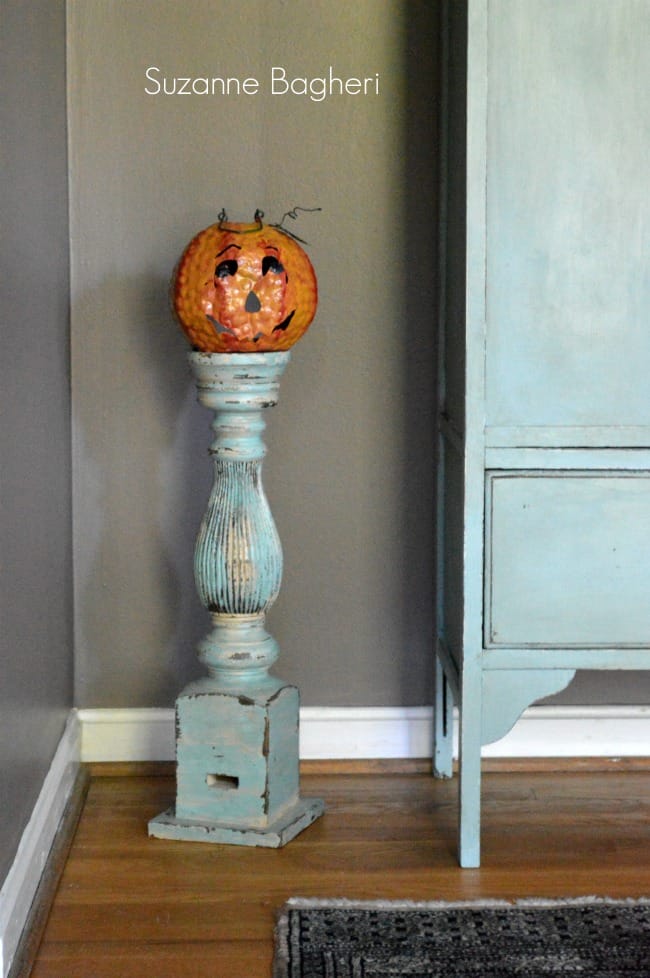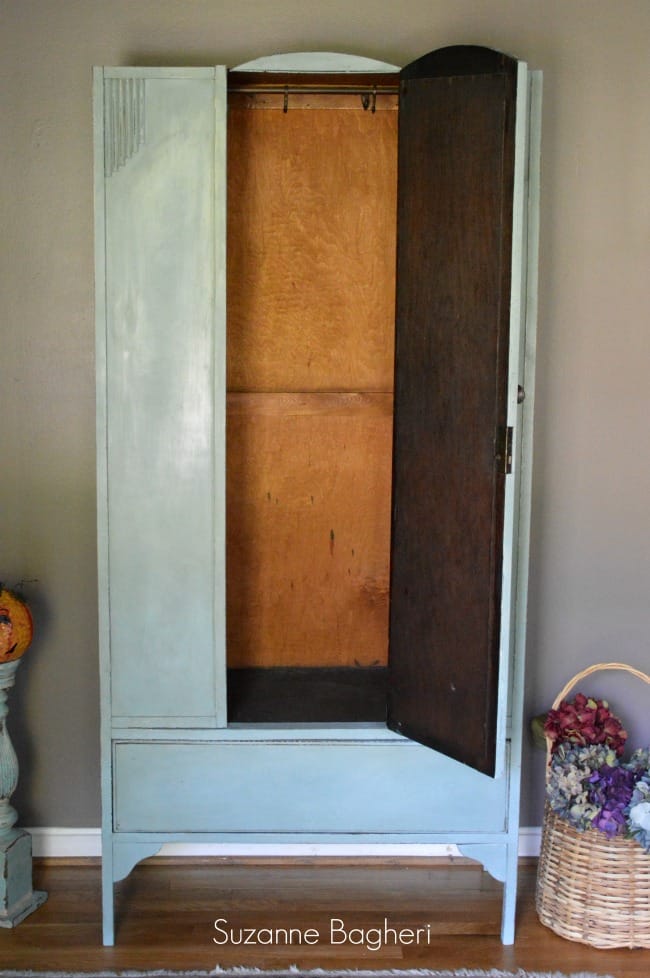 I left the interior in its existing condition because it is lovely and old.  Plus, it's a lot of work to paint it lol!  Can you believe that I already had the large candle pillar?  It's from Pottery Barn and I purchased it a few years ago.  It just happened to match the armoire perfectly!
Here is a peek at my living room.  I'm in search of a rug and I'll share it when I find one.  You can see how Sherwin Williams Accessible Beige works well next to Poised Taupe.  I purchased a pair of these fun clear plastic chairs the other day at HomeGoods and love them!
I'm painting my dining room next.  I'm on a painting rampage in my home and changing it all up.  Getting rid of a ton of stuff and paring it down to create a more soothing environment.  At least that is the goal, but it likely will remain crazy and cluttered!