English Christmas Dinner Recipe Share / Yorkshire Pudding
The Thanksgiving Recipe Share was fun and I had quite a few of you email to say that the recipes were a success! With that encouragement, we are on to a weekly Christmas Recipe Share!  These recipes are for a typical English Christmas dinner.  However, for those of you who do not celebrate Christmas, the recipes are great year round and for any occasion!
Enjoy and please share! If you have your own recipe please add it in the comments below.  I will post it the following week!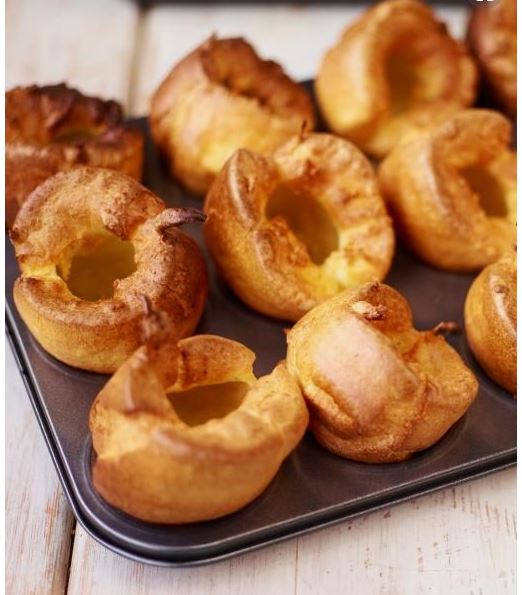 My parents are both British and we grew up with Christmas crackers, trifle, Christmas puddings being lit on fire and a lot of good drinks to go around!  Yorkshire pudding is such a standard English recipe and we always make it with a roast. It is so simple and delish with hot gravy poured on top!
Yorkshire Pudding
Ingredients:
1 cup sifted flour
2 eggs
pinch of salt
1/2 cup milk
1/2 cup cold water
vegetable oil
Directions:
Preheat oven to 425 degrees
Take a nonstick (preferable) cupcake tin and add a splash of vegetable oil into each compartment (just to cover bottoms)
Place cupcake tin in oven to get super hot while you make the pudding mixture
Take a mixing bowl and sift flour into it
Add eggs
Take a one cup measuring cup and fill half with cold water and half with milk and add into mixture
Add a pinch of salt
Whisk together mixture until you see little bubbles forming on top
Put aside
Carefully take out hot tin from oven
Add a very small dash of very cold water into mix and give it one last whisk
Pour mixture evenly into each compartment
Bake at 425 for 20 to 30 minutes (until the yorkies have risen and are golden as pictured above)
Enjoy!