Help!  As you may know, we are fostering puppies.  Well, it has been two weeks and still no end in sight.  We love the pups but our schnauzer, Lucky does not.  He is really stressed and stays in another room when the pups are out playing.  Yesterday, I left the pups in their crates and went out to run a few errands.  When I came home, the smell in the house was overpowering.  I assumed it was the puppies and that one had had an accident in their shared crate.  Well, it wasn't the puppies or Harper.  It was Lucky,.  He had gone into my newly decorated dining room – the one room in my house that is actually all done and that I love – and messed all over my new rug.  Yes, my only rug in the entire house that I actually care about.  He is unhappy and stressed out and that morning he must not have gone out as we were so busy watching the puppies and we lost track of when the other two had been let outside.
I've put Resolve on the stain and even dish soap and tried to clean it but it still looks like this.  I apologize for the super gross photo.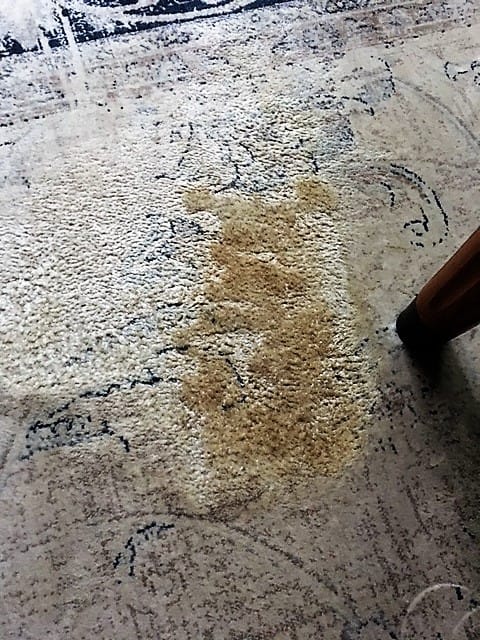 Does anyone have any suggestions on how to get the stain out?  I need help and am so upset!