Blue Velvet perfectly describes this lovely, vintage dresser.  The finish is soft and the muted play of color from dark to light that resembles velvet.  I will add here that this now happens to be one of my all time favorite pieces!
The before (below) was a plain and rather used and abused dresser that I found shoved behind other pieces at a thrift store.  It called my name and into the back of the mivivan (aka Bessie) it went.
The drawer pulls were missing and as I described in the POST HERE I drilled new holes for new pulls.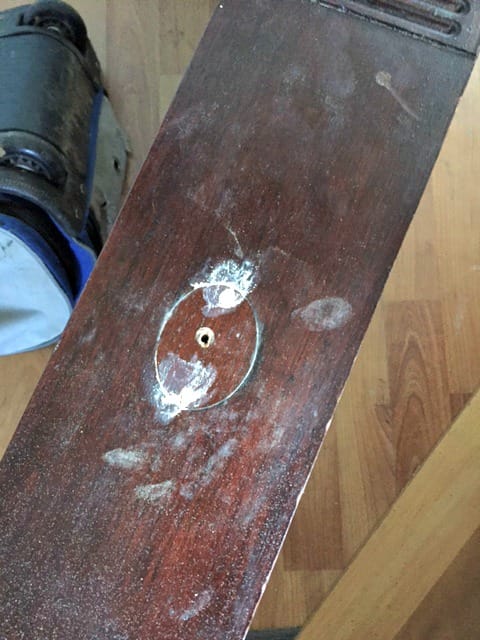 I had fun choosing the new pulls and actually found them at Home Depot.  I also used wood filler and glue on the top of the piece where some of the veneer had peeled off and in places on the drawers. I don't fill and sand all of the imperfections as I happen to love most – just the ones that are sharp to the touch or really need it.
I used DecoArt's Chalky Finish Paint in this gorgeous blue – Preservation.  I also used this color on the Trash to Treasure Vintage Cart last week.  I applied two coats of paint and then used 100 grit sandpaper all over it.  Using the sandpaper, I distressed it and made the paint super smooth to the touch.  For a sealer, I used Annie Sloan clear wax for that lovely, hand rubbed finish.  Using my Annie Sloan wax brush, I applied the wax and let it set for an hour. I then went back with my cloth (btw, I use washcloths from Target that come in packs of 8 for only about a few dollars) and buffed it.  I let it dry for a day and buffed it again in the places that still felt a little tacky to the touch.
Here is the After!