Painted Kitchen Reveal  I'm finally done with my kitchen – just in time for Thanksgiving!  I had already painted the bottom cabinets in General Finishes Milk Paint in the color Millstone.  I decided to paint the top cabinets in their Antique White to lighten them up and give a bit of contrast.  I painted the top walls in Sherwin Williams Accessible Beige and under the chair rail in in Benjamin Moore Cloud White.  I also touched up the trim.  I'm having the ceiling patched and painted on Monday and then the whole room will be complete!
The cabinets were originally a yellow based cream.  The General Finishes Antique White was a subtle change but it really makes quite a difference.  You can see it here as I was applying the paint.  The paint adheres beautifully.  I painted two coats, each time using my brush in an opposite direction.  This keeps any brush marks to a minimum.  I applied General Finishes Flat Out Flat topcoat for a durable finish.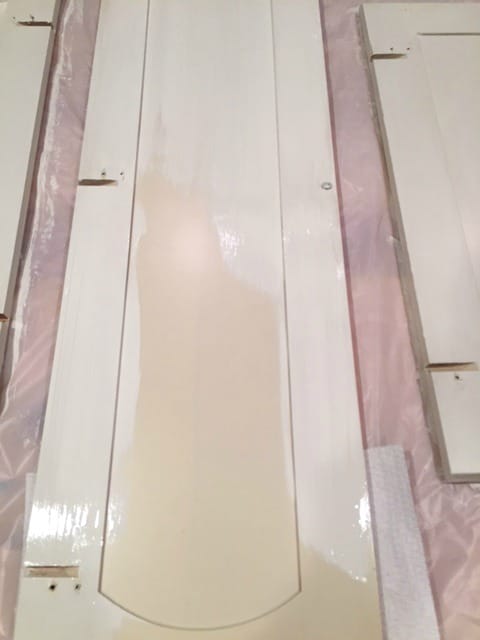 And here is the kitchen now!  I am very happy and love how it flows through into my newly painted dining room in Sherwin Williams Rainstorm.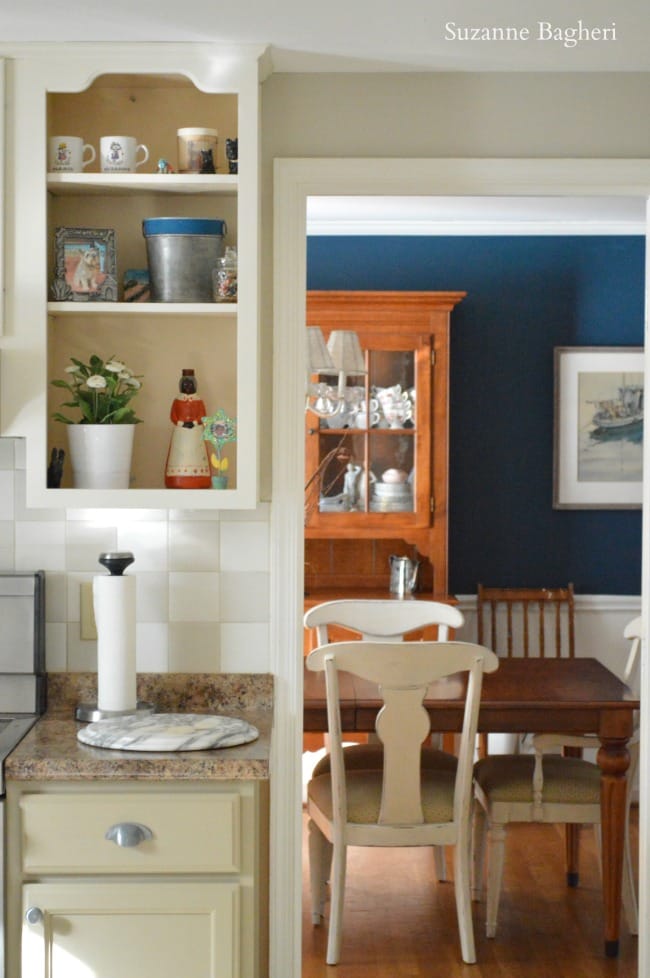 I placed the farmhouse cabinet in Midnight Blue into the kitchen and it's the perfect place for the telephone, dog biscuits, etc.  I moved the Driftwood Secretary into my living room.
My mother brought this vintage breadbox back from England a long time ago.  It was originally my great aunts and now it has a home in my kitchen.  Speaking of England and totally off topic, I just finished the Netflix series, The Crown and highly recommend it!  I have been walking around my house speaking in a highbrow British accent 🙂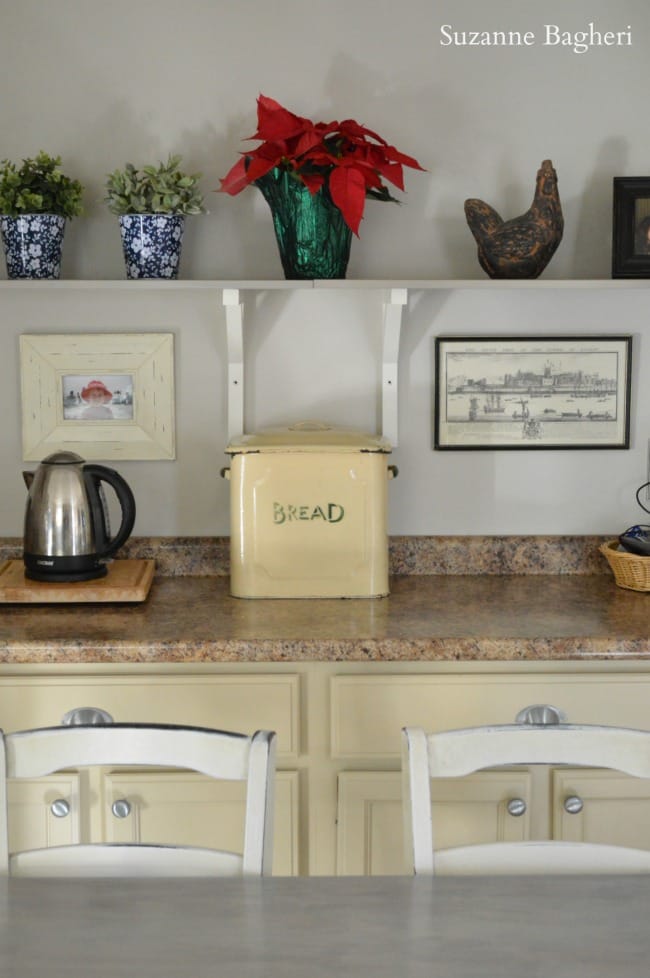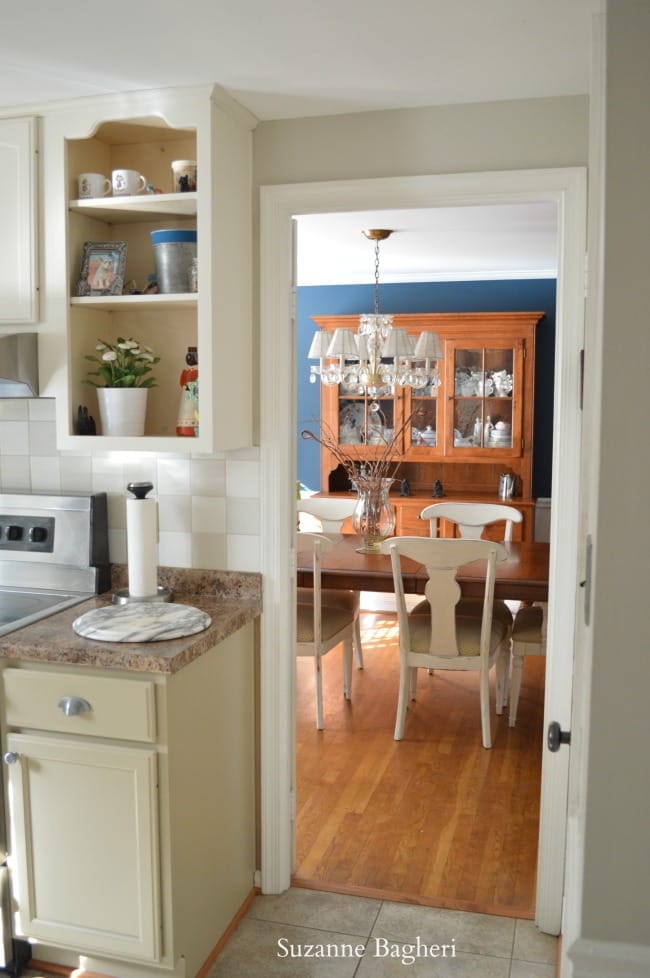 The Ikea shelves are still up and extremely useful.  One day I may try to find a thicker, more rustic shelf but these work well for now.
The farmhouse table has had yet another makeover.  I wasn't happy with how white the top looked and wanted to warm it up.  I added General Finishes gel stain in mahogany, then java, then another coat of whitewash and then a final coat of gray stain.  It was quite the process and truly trial and error on this one.
The table was missing its original two pieces of wood that fit on either end of the bottom rail to stabilize the base.  I made a few trips to Home Depot and found a round wooden dowel rod. I cut it down to size and made a miter cut on the end for it to fit through the opening.  This is a round peg in a square hole but hey, it works!
Oh, my goodness…I finally like it 🙂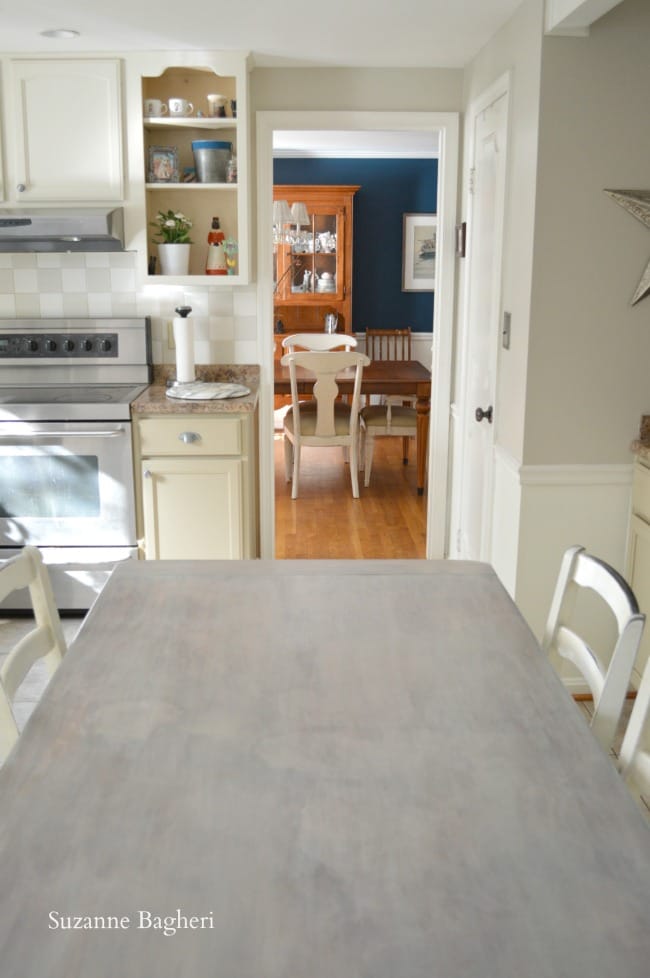 I'm almost done with the easy updates on my house.  My next project will be installing new flooring in our hallway and I still really want to remove part of my kitchen wall that leads into our family room.  I'll keep you posted!