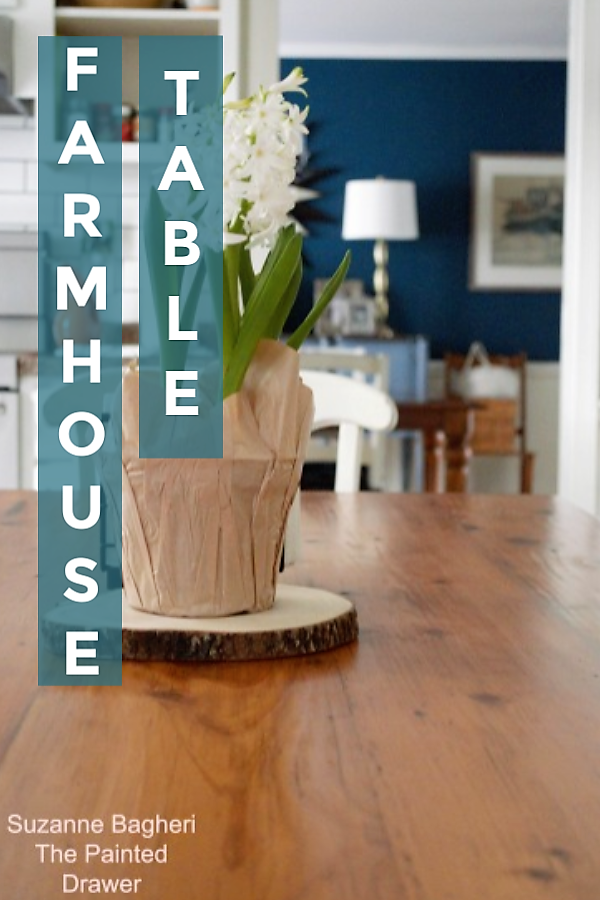 It is a cold, snowy morning here in Maryland and we are all snug inside and enjoying a lazy snow day! I kind of need the rest as I'm recovering from a very nasty cold and also from finally finishing this massive job – the Hampton's Farmhouse Table 🙂
The table was originally purchased by my sister at a shop in the Hamptons (hence the name!). It is handmade and honestly, was pretty pricey.
She had it in her home in Brooklyn for years but when they moved to their new house, it didn't fit the space properly. They've opted for a more modern table that extends for large family dinners. She asked if I wanted it and so (of course) I said yes.
I quickly emailed my shipper, Bill and he picked it up for me and delivered it a few weeks ago. Here it is in my kitchen the day it arrived.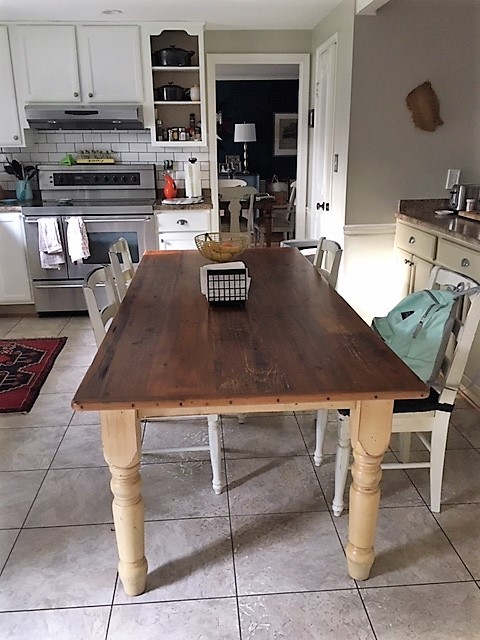 The table had been used and abused by small kids and just life in general. Nothing major, but the finish was wearing off in places and there was a lot of marks from the kids artwork over the years.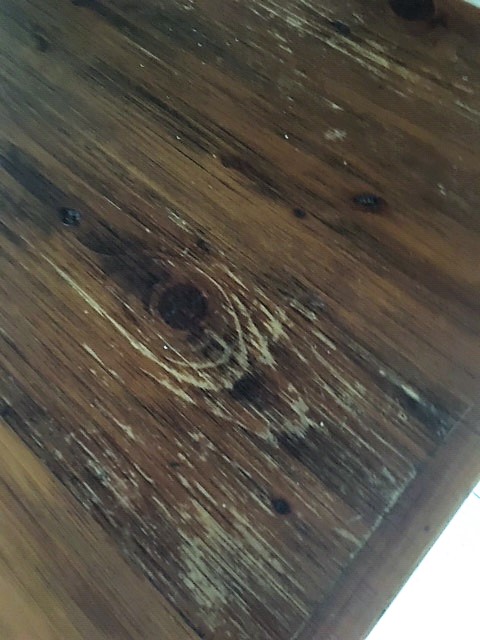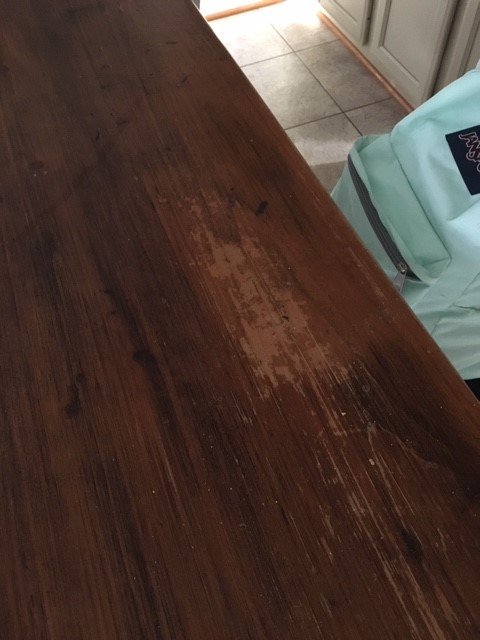 I decided to see what was underneath that aged and dark finish. My husband helped me take it outside to the garage. Using my orbital sander, it took hour and hours and hours and hours of sanding the top with a 80 grit sandpaper to get the finish off. And then, after all of that effort, it looked terrible!
I kept going and next used 120 grit sandpaper. It still looked bad but I was done with sanding. Just. Done. It just wasn't going to get any better with any more sanding. I used Mineral Spirits and using a paper towel, wiped it all down. That had to dry overnight. Here it is – told you it looked terrible!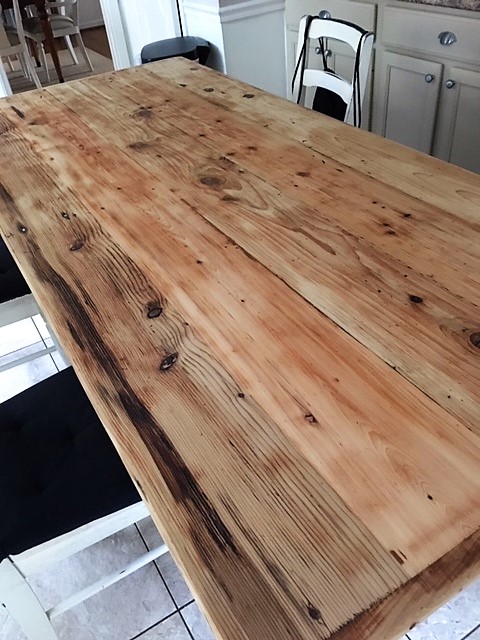 The next day I took a quick drive to my local Woodworkers Club for advice. The older gentleman there was great. He helped me with the following steps.
Taking a stain pad, I first applied General Finishes Gel Stain in Pine by wiping it generously over the top. After that dried for a day, I used 220 grit sandpaper and gently sanded it all over and wiped it down with a soft cloth. I then applied one more coat of the stain and finally, it looked great!
After the second application of gel stain dried overnight, I applied a coat of General Finishes Arm R Seal on top. Letting that dry overnight, the next morning I took a Norton, Non-Woven Sanding pad and used it to gently sand the top. It is basically a soft sanding pad that is used instead of steel wool, so no mess!
This was wiped down and I then repeated the process (sealer/Norton sanding pad) three times.
Here is the finished table!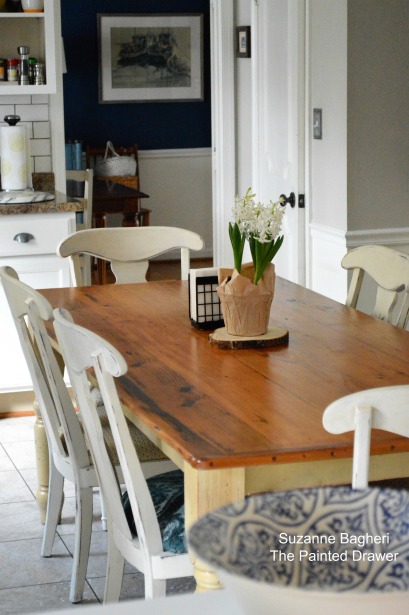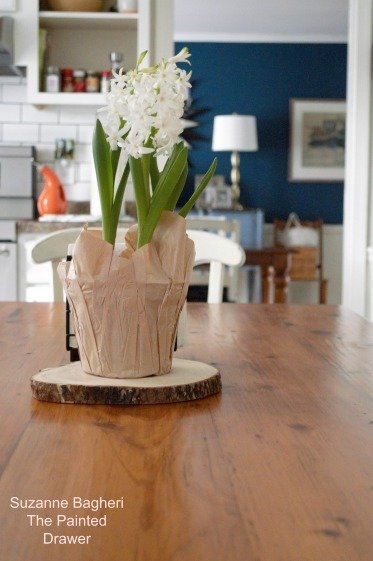 [envira-gallery id='31824′]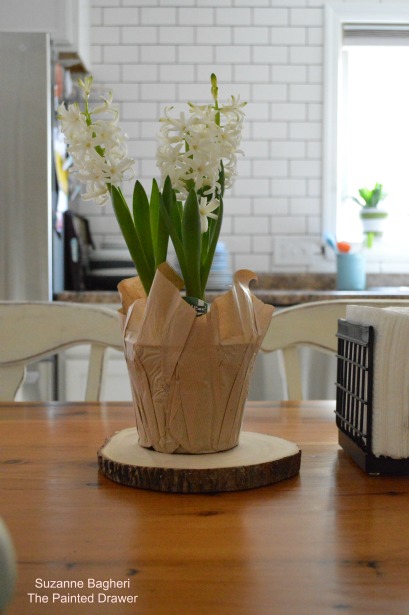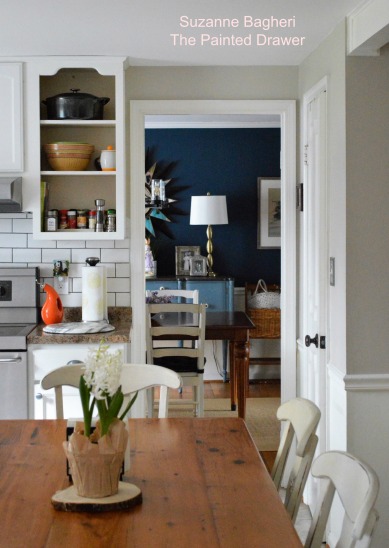 I'm still working on getting those shelves ordered and installed! I also need to paint the base of the table. I'm thinking a creamy white to match the chairs that I swapped out from my dining room.
Oh, do you prefer the blue or the cream fabric for the chairs?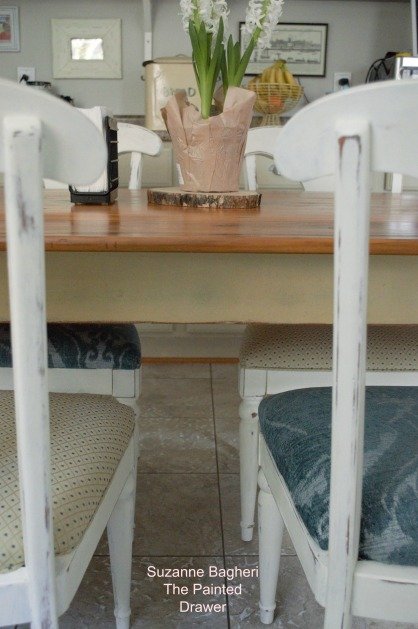 Thanks!
Product List: