Crate Centerpiece  I am still working on my kitchen!  I finally finished painting the kitchen cabinets and then moved on to painting the walls (even though I only painted them a few years ago).  I know…I am insane.  Then I decided to touch up the paint on the trim.  I also added gray to the farmhouse table top and that ended up a disaster that I am still trying to fix.  Okay, whew, I hope to share it all tomorrow if I can get some good pics!
Instead of sharing my kitchen, I'll share a crate centerpiece for my holiday table.  I don't know about you but I find decorating my table for a holiday dinner to be very pretty but also highly impractical.  As soon as the meal begins, it all needs to come off the table to allow room for the food.  I often wonder when I see these gorgeous tables choc a bloc full with decor, where does the food go?  Anyway, I digress.
I decided to create a very simple centerpiece that I can easily lift off the table when the meal is served.  I took a few galvanized tins from the craft store, painted the tops in chalk paint colors, added some fall mums and placed them in an old crate that I found years ago by the side of the road.  It is very basic and I need to add a bit more to it but you can get the gist of it.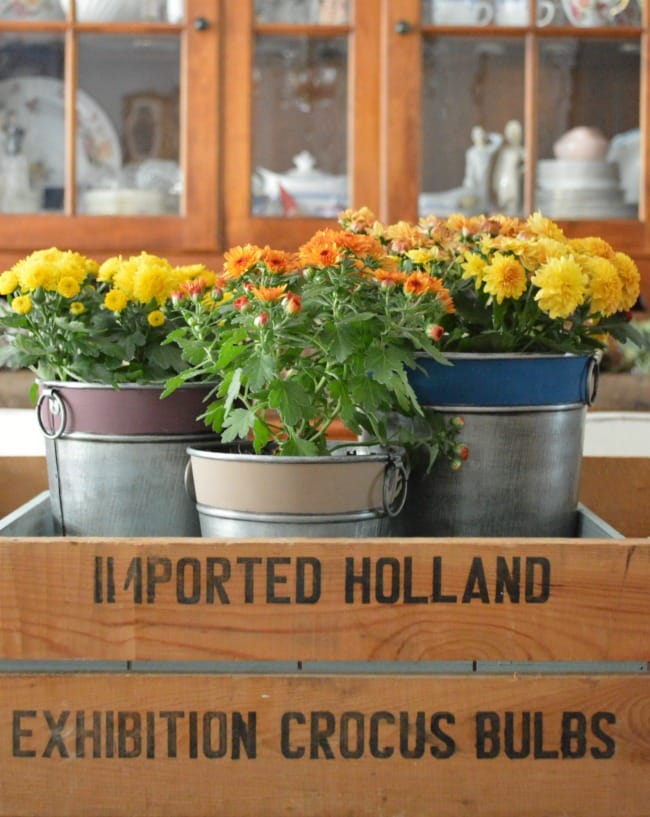 Obviously, this can all be switched out for Christmas and I will add a few little pumpkins and other fall decor into the crate for Thanksgiving dinner.
Here are more crate centerpieces (with a lot more imagination than mine) for inspiration.  They are lovely and don't clutter up the table.
Speaking of Thanksgiving, I have 26 coming over for dinner and am starting to get the process going.  The following week we have my daughter's Sweet 16.  I will have nothing left in me for Christmas!