Remember the post where I told you how I suffered bodily injury (healing nicely, thanks!), put my children in peril, and drove home in danger, all for a farmhouse chest?  (https://thepainteddrawer.com/2013/08/where-there-is-a-will.html)
I thought I would share a few pics with you of the chest that caused so much commotion!  I decided – gasp – to not paint it.  The warm, aged wood is too lovely.
Look at this.  Someone inscribed the back of the drawer.  It's in a foreign language and when I searched on Google, turns out it's Hungarian (say, what?!).  It is dated 1910 and then again inscribed the year 1936.
How the heck did an extremely old, ginormous, hand made, Hungarian chest end up in Maryland in the wayyyyyy back of a sketchy thrift store?  It should be here, in this farmhouse in Hungary.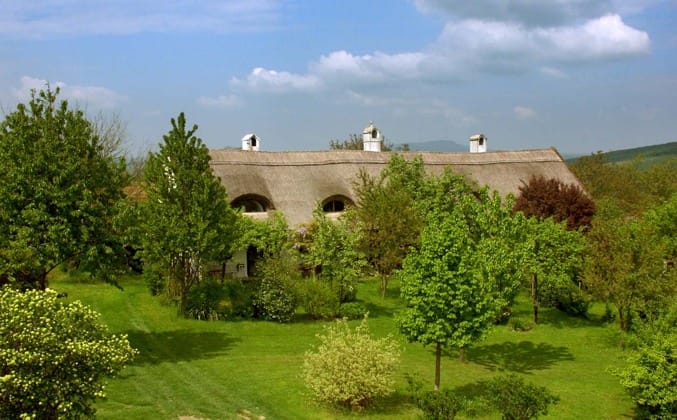 Instead, it is in my living room being admired and adored!
 This is why I couldn't paint it – the golden and dark tones that show its age.
What wonderful dings and worn edges!  They certainly tell a story and I am sure we added a few on its journey to my house tied onto my minivan with string 🙂
 Love the detail work including the keyhole drawers and old pulls.
Faded Hungarian Farmhouse Charm!
Another quick update – Ella wrapped up her Save the Koala fundraiser.  Thank you to everyone who wrote such kind words for her.  She is a hardworking kid and when she gets an idea in her head, well, watch out because she will get it done! (Kind of reminds me of someone, hummm).
We took all of her hard earned change to the bank.  Her bake sale and constant fundraising raised $234!  So proud of my koala gal!  We sent it off to the Australian Koala Foundation. 
Another task checked off my list – now off to the beach!
linking to: