When I found this gorgeous dresser it was in need of a little love. The top's veneer was missing large pieces and it was covered in scratches.  However, it had a bow front with drawers that opened and closed seamlessly and I just LOVED the pineapple carvings and the little medallions on the bottom. So, into the back of the minivan it went! This is one heavy piece of furniture so getting it out of the minivan was not as fun 🙂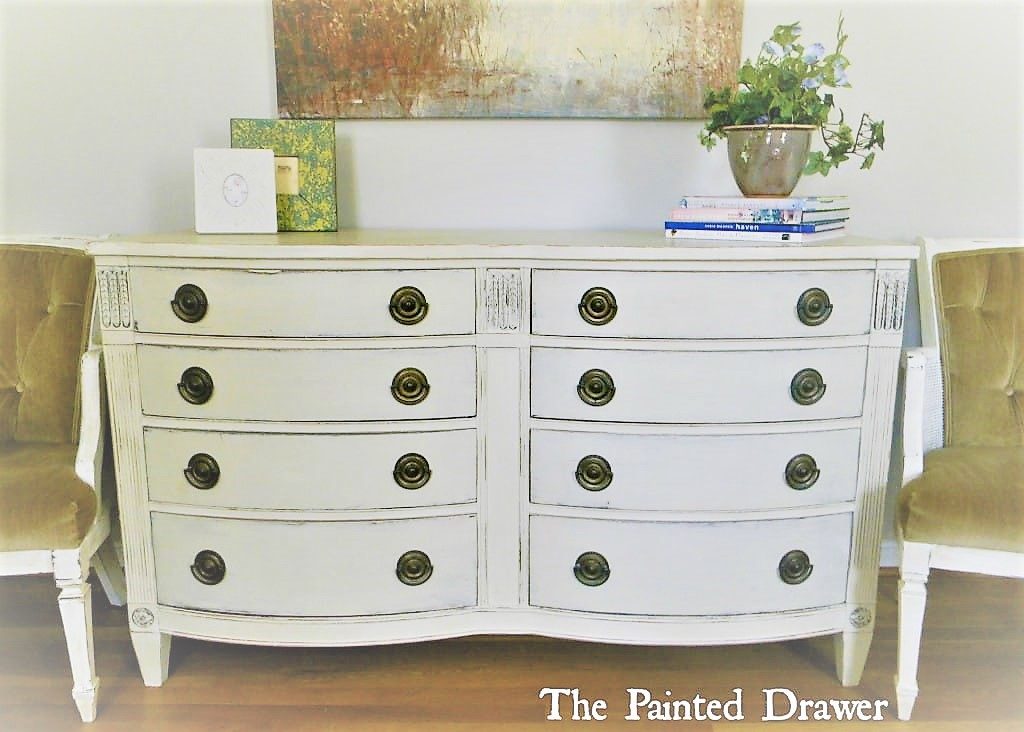 After much TLC – including a lot of filler, sanding, more sanding and then more sanding (whew!) and multiple coats of paint – the top is now in fantastic condition.  It is gleaming and super smooth after being waxed and buffed.
Vintage pieces have such neat details and I always love how they pop with paint.  This was painted in chalk paint and I had fun mixing up my own color and am very happy with the outcome.  The inside of the drawers have all been painted in my signature french blue and the top drawer has its divider intact.  A pineapple signifies "welcome" in many cultures which makes this dresser one happy, welcoming piece!
It will look amazing in someone's bedroom or in a dining room to use as a sideboard – adding vintage charm to any modern home!
linking to: http://missmustardseed.com/2013/04/furniture-feature-friday-kathleens-favorites-a-link-party/, http://shabbynest.blogspot.com/2013/04/frugal-friday_11.html