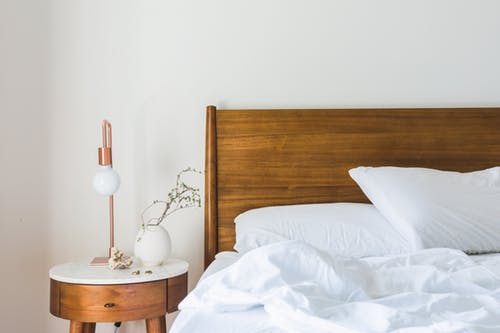 Image suggestions: https://www.pexels.com/search/bed/

Ahh, bed. The most comfy, cosy place in the world. When you've had a long day and you're tired, chances are the only thing you can think of is going upstairs and climbing into your bed, where it's soft and warm and you're safe from the world. If your bed isn't up to scratch, it's important to do something about it. It's crucial for good sleep and relaxation, and is a cosy spot that all of us need to just relax and hide away in at times. Here's how you can make your bed extra comfy.

Buy a new mattress
It doesn't matter if you get everything else right, if your mattress needs replacing then your bed is never going to be comfortable. Anything sagging, dipping, lumpy or springy should be replaced, it's something you should do for the sake of your health. Buy the best mattress you can afford, and go and lie on lots of different models before you choose the one you want. It will allow you to work out if you prefer a softer or a firmer mattress. Any bed bug exterminator will tell you to avoid the temptation of purchasing second hand, as even a lightly used mattress could be harbouring bed bugs and spread them to the rest of your home.

Choose the right duvet
The right duvet depends on the time of year. It's recommended to own two- one for the warmer months of summer and autumn, and another for the cooler months of spring and winter. The right tog rating will ensure you're neither too cold or too warm, plus a new duvet feels fluffy and comfortable. If yours is old, flat and you're not sure of the tog rating, sling it in th bin and treat yourself to a new one- they're not that expensive and make a huge difference.

Invest in Egyptian cotton
To cover your nice new duvet you'll want some high quality sheets, and Egyption cotton is about as luxurious as you can get. Soft with a high thread count they'll feel amazing against your skin and add that extra boost of comfort to your bed. Alternatively, 'teddy' fleece style bedding is popular at this time of year, this ultra soft bedding keeps you warm too. Whatever you choose, go with a high quality duvet cover and sheet, and go into a shop where you can feel the quality before you buy.

Consider a heated blanketIf your house is especially cold or you struggle getting warm when you first get into bed, a heated blanket can make you extra cosy. Pop it on for a few minutes before you climb in, and no more cold sheets! A hot water bottle is another alternative if you don't like the idea of an electric blanket.
Please note that some of the links above and below are affiliate links, and at no additional cost to you. All opinions are my own.