It's hard to pinpoint the exact moment when you fell in love with craft hobbies again. Maybe, you were tired and stressed out after a long day at work. Perhaps, you were wondering how to make ends meet on a tiny budget. Or, maybe you bought your first home and suddenly realized that you needed to make it work – and by it, we mean you needed to fix, polish, repair, and embellish things. Regardless of what brought you to the creative world of crafts, you've now reached a point where it's time to build your own craft workshop. After all, the only way to keep your hobby under control is to make sure that it doesn't take over your entire home, aka you need a dedicated space for crafting.

What do you do in your workshop?
Defining where your workshop lives starts by determining what your craft hobby consists of. Indeed, it's fair to say that if you enjoy knitting, you're unlikely to need the same kind of workshop design than if you prefer to recycle old furniture. Ideally, you want a storage area where you can keep your projects in process. Typically, the size of your craft projects serves as a baseline to figure out where your workshop should be. Knitters, for instance, can keep their needles and balls of wool in a small basket – which means it can go anywhere inside your home. On the other hand, painters, builders, or enthusiastic woodworkers require a storage and work area outside of your living space. You don't want to fill your home with wood dust or paint smells!
I actually took over our home office and used it for years as my paint studio. However, it wasn't a great solution because the fumes, etc. from sanding, staining or waxing would creep into our whole house. We are now about to totally clean that office out and make it into a usable room in our house again.
Ideally, you don't want it to be INSIDE your home
While it might be tempting to convert your home office into a craft workshop, you should consider solutions that bring your workshop outside of your house. Indeed, enthusiastic crafters are likely to manage a handful of projects at the same time, switching from one thing to another as they work their way through. It's easy to understand how even your knitting hobby could rapidly take over your interior. Turning your garden shed into a craft office is a practical and effective solution, for instance, as it keeps your equipment and creation in a limited space. You're less likely to clutter your home!
Alternatively, you can also move your workshop into the garage.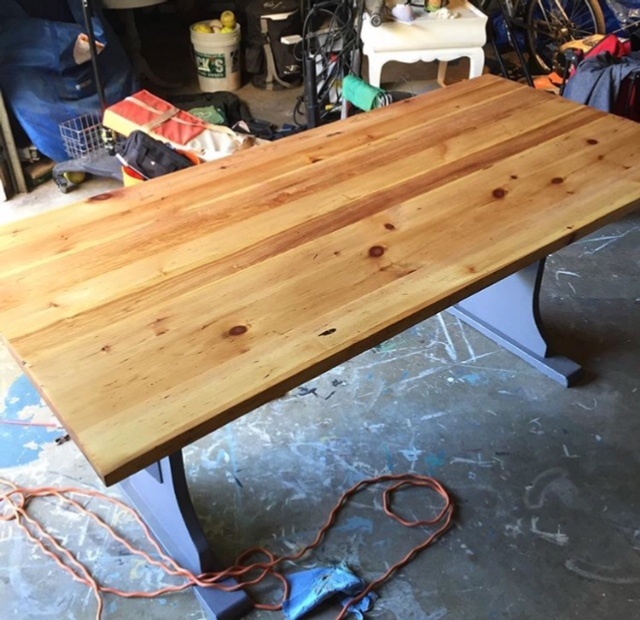 You may need to add some improvements first, such as changing the garage doors and adding electricity and heating. This is key because it is impossible to work in my garage in the dead of winter or the middle of the hot summer months. However, working in the garage ensures that your interior remains clean and inviting, even when you're handling a tricky and messy project!
Where do you keep your equipment?
How do you keep your craft room organized? If you're new to crafting, you probably only have a handful of tools. However, if you're dedicated to your hobby, you are likely to own dozens of tools, boxes of raw materials, and plenty of plans and manuals. Finding the right shelves can make a significant difference to your workshop! Additionally, it can be helpful to divide your workspace into activity-related zones to stay efficient and tidy.
Every crafter needs to plan and design a workshop room that protects both their creative works and their homes. Indeed, crafting can be messy at times. You don't want to spoil your beautiful interior with dust, paint, and clutter that don't belong in there. Besides, having a room dedicated to your creative hobby is the best way to improve your crafting skills.
Please note that some of the links above and below are affiliate links, and at no additional cost to you. All opinions are my own.