When summer hits, our homes can become uncomfortably hot and air conditioning is a must, especially if you live somewhere with an unusually warm climate. But a large ac unit can look quite cumbersome and ugly. If it is inside your home, you'll have to have a large unit fitted and if outside, an even more prominent fixture needs installing. They're not the prettiest things in the world, so how do you get the function without ruining the aesthetic of your home?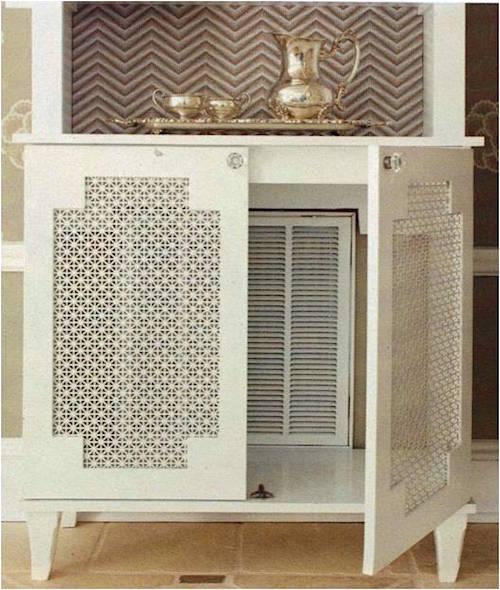 Inside the Home
However you have decorated your home, there is a way of working your air-conditioning unit into the look and style of your room. You just to make sure that you don't block any vents and allow easy access for the HVAC maintenance contractor for when they come to service your equipment. Our unit is in the unfinished part of our basement and easy to access and hide. If it is not in a basement and is somehow visible inside your home, here are a few solutions to hide the unit.
Sliding Doors.
If you don't like clutter in your home, why not kill two birds with one stone? Create a sliding door which covers the entirety of one wall that conceals both shelving for storage and your AC unit is an excellent idea. The doors would need to be designed in a way to allow airflow from the unit into your room, With this in mind, you might want to consider thin slats of wood with gaps between them to allow to pass. Or, possibly a cut of design on the outside of the door.
Iron Railings
Hiding your air-conditioning unit behind some interesting metal work will create an elegant look. You can pick up iron grates and railings at your local reclamation yard pretty easily, a lick of paint in the color of your choice and then it's ready to fit. Build around the unit, but don't forget to include hinges and a latch to be able to get inside.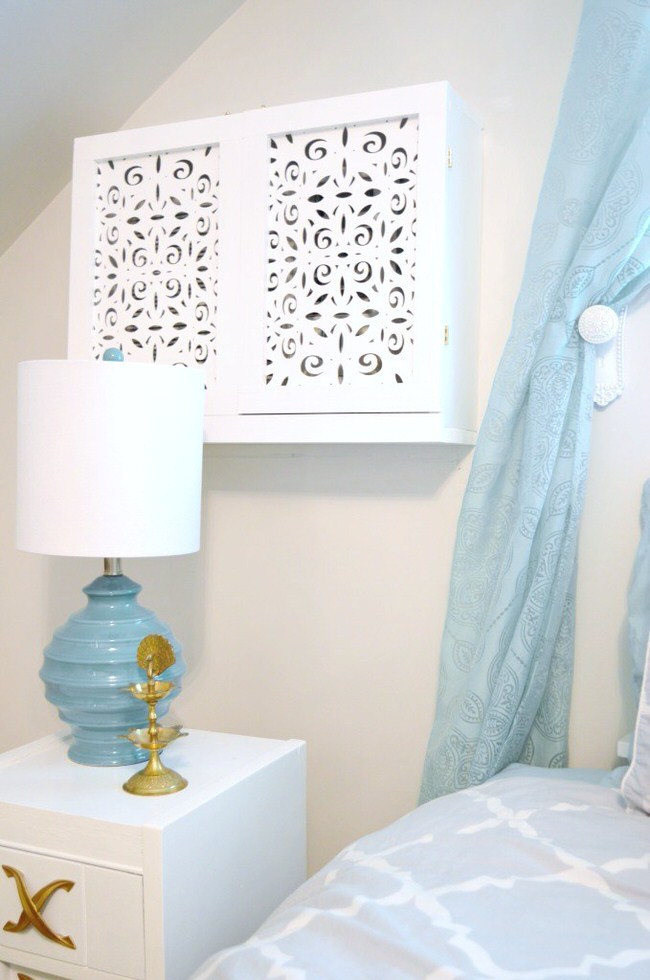 Die Cut Cabinet
Wall mounted die cut cabinets make for simple and elegant ways to hide your air cooling system. Having doors on the cabinet allows for servicing. These would look particularly good painted with chalk paint to create a shabby chic look.
Decorative Paneling
Having your unit hidden behind a large decorative panel that covers the entire wall would not only serve to conceal the equipment, it will also create a feature of that wall. The panel could be painted in any color you like, to fit in with the theme of your room.
In the Garden
Having a massive appliance visible in your garden is not ideal. You more than likely want your outside space to be relaxing and inviting, and pieces of machinery are neither of these things. Here are a few ideas on how to hide that ugly AC unit. These solutions also work for hiding outdoor trash cans, etc. Again, as with your indoor units, make sure you can access the unit should it need servicing, and don't obstruct the vents. If you have plants near the fixture, don't let them get too close as the heat from the unit might cause them to wither.
Lattices
Lattices are quite lightweight and easy to erect. Placing one a couple of feet in front of your unit should mask it quite nicely while allowing breathing space. Encourage vines to grow, or think about planting some runner beans if you would like a more practical garden.
Wooden Structures
Reclaimed pallets make great garden features, build a box around your unit with broken down pallets and paint it bright, vibrant colors. This will stand out in a really good way. There are lots of climbing plants that you could plant around the installation too to give it that little bit of extra charm.
Bamboo Wall
Bamboo walls are a very simple and cheap option for hiding air conditioning units. These can be painted, and again, planting the right flowers and shrubs around it will really give it some more appeal.
Potted Plants
The simplest solution for the garden would be to get some large potted plants or bushes and place them surrounding the unit. This will detract away from the unit and focus attention on the foliage.
However you decide to hide your unit, remember to consult the manufacturer's advice on how best to avoid blocking air flow. Get your air-conditioning regularly serviced to ensure that it is running efficiently and that you always have the freshest flow of air possible. And stay cool!
Please note that some of the links above are affiliate links, and at no additional cost to you. All opinions are my own.