Kitchen design often leans on the side of practicality rather than personality, but that doesn't need to be the case. The kitchen is often thought of as the hub of the average home, so why not inject a little personality into a room where you're probably spending a lot of your time? The easiest way to do that is to bring in some color into a room that is often overtaken with neutrals and silver appliances.
Choose A Dramatic Worktop
A dramatic countertop is a great way to immediately inject unexpected color and pattern. A worktop in a material like stone or quartz can add beautiful, natural color in a striking pattern. Precision Stone Design Quartz Countertops are a visually impressive addition to any kitchen. Just because a countertop has to be practical for food preparation, that doesn't mean it can't be pretty too!
Embrace Some Indoor Nature
Many households are now finding the mind-boosting power of indoor houseplants to be a beneficial thing to have around the home, so why not put some in your kitchen. There are lots of different types out there that even the most forgetful of individuals won't be able to kill some of them. It's worth looking out for some of the top hydroponics suppliers in order to get some houseplants to not only breathe in some color to the space but also some fresh air! Indoor plants have some great health benefits, so it's worth it for your health to incorporate them into your home.
Paint The Cabinets
Replacing your entire cabinetry just for some color may be a little dramatic, but the cabinet can be a great way to add interest. Paint your existing cabinets instead of replacing them. Prime the cabinet doors, and choose a color that appeals to you that goes with your color scheme. Go for a bright color for a bohemian vibe, or a soft pastel for a classic country feel. I've painted my cabinets multiple times and finally settled on bright white. I'm going to add a darker color on my cabinets along my long wall (to be executed and decided on in the fall!)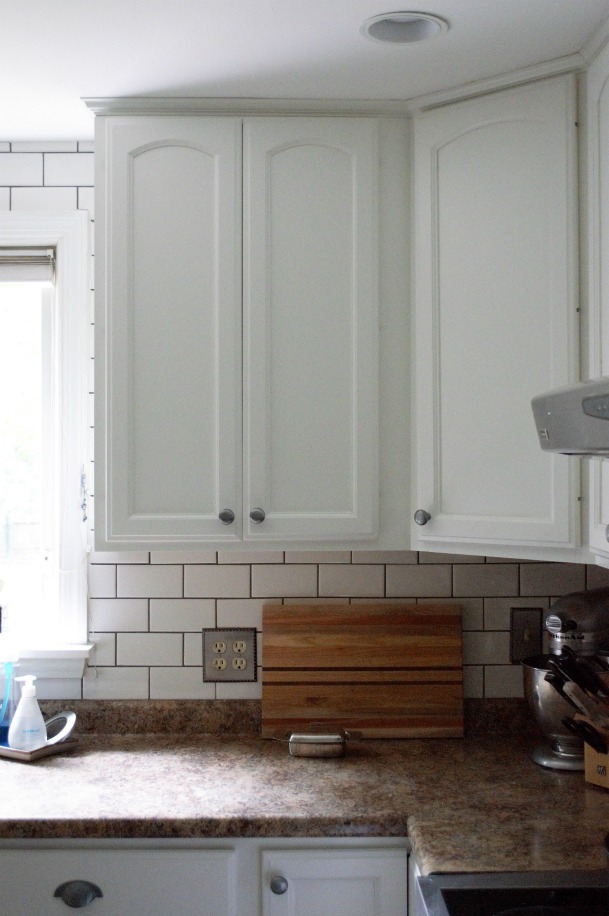 Display A Collection
Personal belongings add color in a meaningful way. Do you collect anything that could belong in a kitchen? Perhaps you buy fridge magnets when you travel that can be put all over your fridge. Maybe you love to grow succulents, which would be a pretty green addition to a deep windowsill by the sink. You could create a gallery wall with favorite pieces of art or posters. Maybe you have a vintage tea set that can be shown off on some custom built shelving. I have vintage mixing bowls that I like to have out on my shelves.
Enjoying your personal collections of things you love will make you enjoy the space even more, and it can be a great talking point when you have friends over to eat.
Add Colorful Curtains
Window treatments are an easy way to add color. Choose a hard-wearing fabric that won't be impacted too much by cooking smells or splashes, but choose one in a favorite color or a striking pattern. Use curtains or blinds that pick out accent colors from around the kitchen, such as the tiles, or any appliances.
Buy Bright Appliances
Appliances don't have to be basic and boring to look at. If you are daring, you can steer away from standard silver, white or black and buy colored appliances. Range style ovens often come in a wide range of shades that can be incorporated into your kitchen design. I also just love the ovens with bright colored dials on the front.
Small appliances are easy to find in lots of colors too. Choose a microwave, coffee machine or a pretty stand mixer in anything other than boring silver to bring in an easy pop of color. Colored appliances can work in any style kitchen; soft pastels work well in a country kitchen, whereas brights can add to a retro or modern character, and heritage tones are ideal for a traditional kitchen. We used to have a bright red microwave from Target and it lasted for years – now that was a pop of color!
Choose A Mix Of Chairs
Who says that all your kitchen chairs need to match? Mixing and matching kitchen chairs or bar stools is an easy way to add some fun to your kitchen design. You could choose the same chair in a variety of colors, or for a more eclectic feel, pick a range of complementary designs and colors. If you enjoy thrifting, this is a fantastic way to bring in your personality. Find chairs or stools that you love in second stores or markets, and add them as you go, for the ideal mix and match style. I found these blue chairs in a thrift store and someone had already painted them! Grabbed those up quickly!
Colored Walls
The walls are the most obvious way to add color. Of course painting is easy to do, and you could choose any color you like, but there are some more interesting ways to make your walls pop.
Use wallpaper to create a feature wall in the back of the breakfast nook, or cover one wall in cork to use as a pin board. On your new giant pin board, you can display postcards, photographs, events tickets and lots of other memorabilia. This is instant color and personality.
The material you choose for your backsplash can be colorful too. Mosaic tiles are becoming more popular and can be used to create a whole dramatic backsplash, or as a more subtle accent piece when used as a trim. There are also many more unusual backsplash available in a rainbow of shades, such as glass or acrylic pieces. Honestly, there is so much to choose from!
Treat Yourself To Dinnerware
If you're on a budget can't afford much in the way of major kitchen remodeling, you can add color more cheaply by updating your dinnerware. Buy a set of cool, patterned plates and display them in a glass fronted cabinet.
If you drink a lot of tea or coffee, collect a mugs that show off your personality. Buy them on your travels, or just pick up cute ones that appeal to you as you find them. Hang them on a mug tree near the coffee machine to show them off and add a little color pop. You could also keep them in open shelving if you have a larger collection. I have collected all of my coffee mugs from thrift stores over the years.
Place settings, like coasters and placemats, can add some color to the dining table, as can bright cutlery. Think beyond the kitchen's fittings for an easy color addition.
Small Details
There are lots of easy, small ways to bring in some color. Lay down a colorful rug, or hang a pretty apron on the kitchen door. Put a big vase full of flowers on the kitchen table for natural color. Cover the lights with shades in an interesting hue and buy bright cushions for the kitchen chairs to add color that's comfy. A bowl of fruit is another way to bring in natural shades; you could even choose fruits that give off a tasty smell too to really boost your enjoyment of your kitchen.
Have fun with it!
Please note that some of the links above are affiliate links, and at no additional cost to you. All opinions are my own.