Here are a few great tips on how to get your home sparkling clean with natural and homemade methods that will not break the bank!
Memorial Day is literally right around the cornier and we are all starting to look forward to the summer. Now that the weather has cleared up a little and it is much more mild, it is the ideal time for us to think about cleaning our home from top to bottom. Spring cleaning can be a great way to make your home feel fresh and new, and today we are going to have a look at some of the easiest tips and tricks and home remedies you can use this weekend.
1. Baking Soda for the oven

For those of you that do not have a self cleaning oven, if you have ever used oven cleaner before, you will know how the chemicals have a very strong smell and the nasty fumes can release into the air during the process of cleaning your oven. If you want to avoid these fumes and instead enjoy a simple home remedy, baking soda is exactly what you need. To use this for your oven, simply create a paste from baking soda and water and place in the oven, leaving to soak for a few hours, before wiping off for a shiny new surface. It is less dangerous for your family and it is cheaper too!
2. Cleaning the shower head

One of the parts of the bathroom which can sometimes be a little neglected is our shower head. After a while due to water building up in the shower head, mould can form and this can have an impact on your water quality. For a super simple way to clean your showerhead overnight, you can simply mix a cup of white vinegar and some water in a food bag, wrap this around your shower head and let it soak overnight. The next day, wipe it and run the shower for a few minutes and it should be as good as new in no time!

3. Microfiber

Microfiber wipes will be the best thing you use for your cleaning in the home if you want to save money. Microfiber cloths can be great because the texture of them makes them ideal for cleaning every part of the house,and most of the time you won't need anything more than a little water to keep your house spick and span! You can buy them in bulk from Amazon and it will save you a lot of money and effort in the long term. Plus, they can be reused and are better for the environment that paper towels.

4. Scouring Powder

Over time you will notice that no matter how clean you keep your bath and your shower, there will form a grey ring around the surface. This isn't a sign of your home being unclean as such, it is however the residue and staining left from using shower gels and bath products. To get rid of this darkened color and allow your bath to shine bright and white once more, you can use 2 parts baking soda, 1 part salt, and 1 part borax to create a scouring powder. When you clean your bathtub with this it will be bright as new in no time at all.
5. Citrus Infused Vinegar

One of the easiest cleaning supplies you can create for the home is a mixture of vinegar and citrus fruits. As both of these are acidic, it is the ideal tool to fight through tough stains and grease, and it will kill any bacteria which may otherwise grow and harm you. To create this simple multi-purpose house cleaner, you need to fill a jar with white vinegar and then add the peels of a whole lemon or orange. Leave this for 2 weeks or so and after this time you will have an acidic natural cleaner which will work wonders on almost every surface of the home.
6. Make a list
When it comes to cleaning the home there are a lot of different steps you will need to take and there will also be a lot of jobs which can easily be forgotten if you don't write them down. Make a list room by room of everything you need to clean such as this for a living room:

Use vacuum cleaners attachments for the walls, curtains, etc.
Vacuum the floor
Polish shelves
Clean the TV and appliances
Tidy cables (I used the plastic zip ties – they are awesome)
Clean light fittings/ceiling fans
Wash the windows
And once you have a list like this for each room of the house you will be able to break it down into sections and make sure that you don't miss anything when you are cleaning your home.
7. Treating stains

There is a whole world of staining which can occur on your clothes, on the floor, on furniture and everywhere else. You could spill some tomato sauce on the floor, red wine, mud, paint… the list goes on. The best way to deal with stains is in a natural manner and it is important for you to use simple tricks for each and every one. There are different remedies for each type of stain such as white wine for red wine stains and vinegar for green tea. Take a look online and create a cheat sheet for yourself for the future. I realize that this is not a natural cleaner, but I posted before how I really like the spray cleaner, Folex for pet stains on rugs or upholstery. Always test it out first on a small spot.

8. Clean the Dishwasher

If you have a dishwasher in your home you will know that after a while the dishwasher can become groggy and clogged up with food waste and oils. To clean your dishwasher in a natural way, it can be a good idea for you to fill a jar or bowl with white vinegar and place this in the top tray of the dishwasher. This means that the acid in the vinegar will almost steam clean the dishwasher and eliminate grime during the cycle. Run on a hot cycle with no other dishes in the washer to clean effectively and safely.

9. Clean the Garbage Disposal

If you have a garbage disposal, one of the things you will want to do every few weeks is clean it to unclog the pipes and make sure that it is able to wash away your food waste. The method for this is super simple. Start by pouring a kettle full of boiling water into the drain. After this, pour 1 cup of baking soda into the plug, pour on a mixture of 1 cup of white vinegar and 1 cup of boiling water, and plug shut. Leave for 15 minutes, then pour another kettle full of boiling water into the sink.
10. Freshen the air

When it comes to making your home smell fresh, you don't need to fork out on a ton of candles or expensive air fresheners. It is a good idea for you to boil some water in a saucepan and add in some of your favorite natural ingredients to allow for a fresh smell all over the home. An example could be water boiling with lemon and lime peels and juice; or even water boiling with a mix of lime and ginger. There are many different combinations for you to use and you will be able to place this around the house and let it evaporate over time for a fresh smell all over.

11. Homemade detergent

Did you know that you can make your own detergent to wash your clothes? It's super simple and is a great option for people who have sensitive skin and who struggle with using regular detergent. Here's the recipe:

hot water
1 cup borax
1 cup washing soda
1/2 cup baking soda
1-2 castile soap bars, grated
10-20 drops essential oil (optional)
12. Remove Urine Stains

If you live in a house with children or pets (as I do), this is a tip you will need to know in order to help you keep your home clean and sanitary. A simple mixture of baking soda, hydrogen peroxide and dish soap will tackle this easily and make sure that your home stays clean.

13. The toilet

No one truly enjoys cleaning the toilet, and it will often be the job you leave until the last possible minute when you are cleaning the house. To clean the toilet easily, start by dumping 1 cup of baking soda into the bowl, letting it soak for an hour. Pour a cup of white vinegar over the top and let the reaction take force, then flush the toilet after around 5-10 minutes.

14. The shower curtains
If you have shower curtains, you will be very familiar with the fact that over time mould will grow on the bottom of them from contact with water. Cleaning your shower curtains is actually a lot easier than you think; and you can do this in two stages. Most shower curtains can be washed in your machine on a low heat, but you will want to prepare them beforehand to get rid of dirt and grease. Fill the sink with warm water and bleach and soak your curtains for at least an hour. Wash in your machine and you should end up with clean and shiny curtains for the next few weeks!
Have a great weekend, everyone and don't work too hard 🙂 Here is a link to the Beach Chic Vintage Bench, Before and After that I posted yesterday!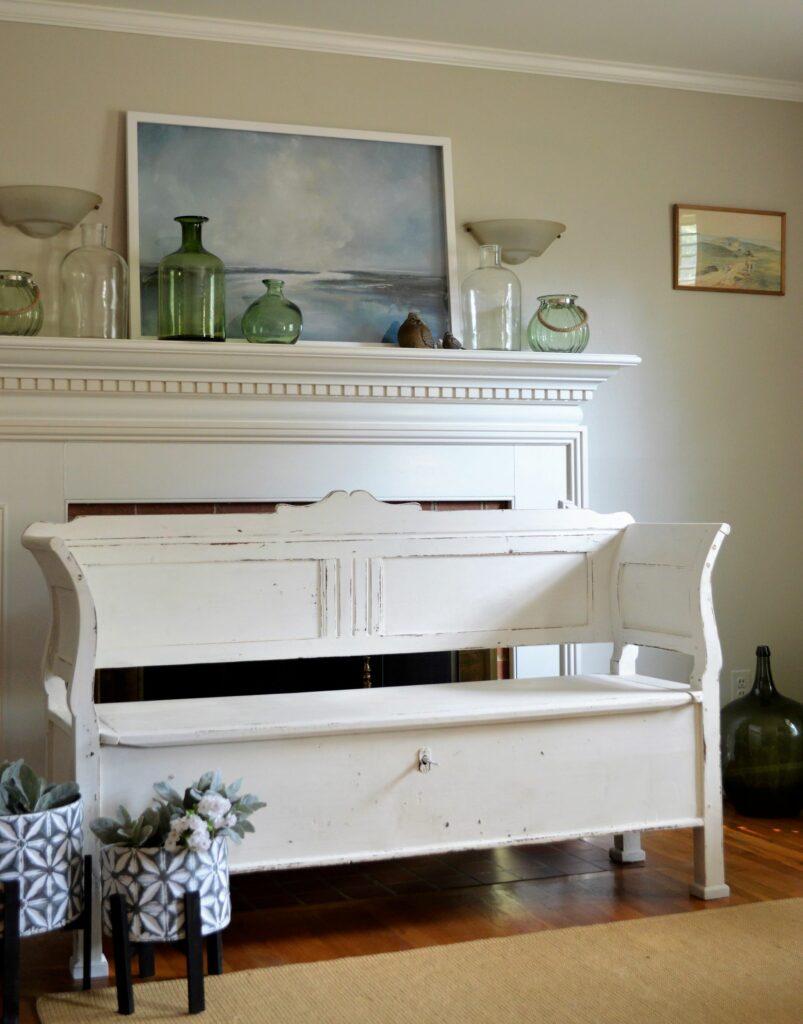 Please note that some of the links above are affiliate links, and at no additional cost to you. All opinions are my own.