My blog is back! After being hacked last week, it is back in business thanks to GoDaddy and their great team! I had their website security team work on it and they removed the malware and have made my blog in general a lot safer from attack. So sorry for the redirect links that you all encountered.
Image via Pixabay
We have recently enjoyed a decor domino effect in our family! My parents purchased a new sofa, we received their old sofa and my son will soon receive our living room sofa for his new rental house away at school. After the old sofa was removed and the room emptied, I cleaned it completely – top to bottom. I decided to clear out some old furniture pieces and other knickknacks and fill the room back up from scratch. Well, actually with other items I found in my own home (its always great to shop your own home!) and a new indoor/outdoor rug from HomeGoods.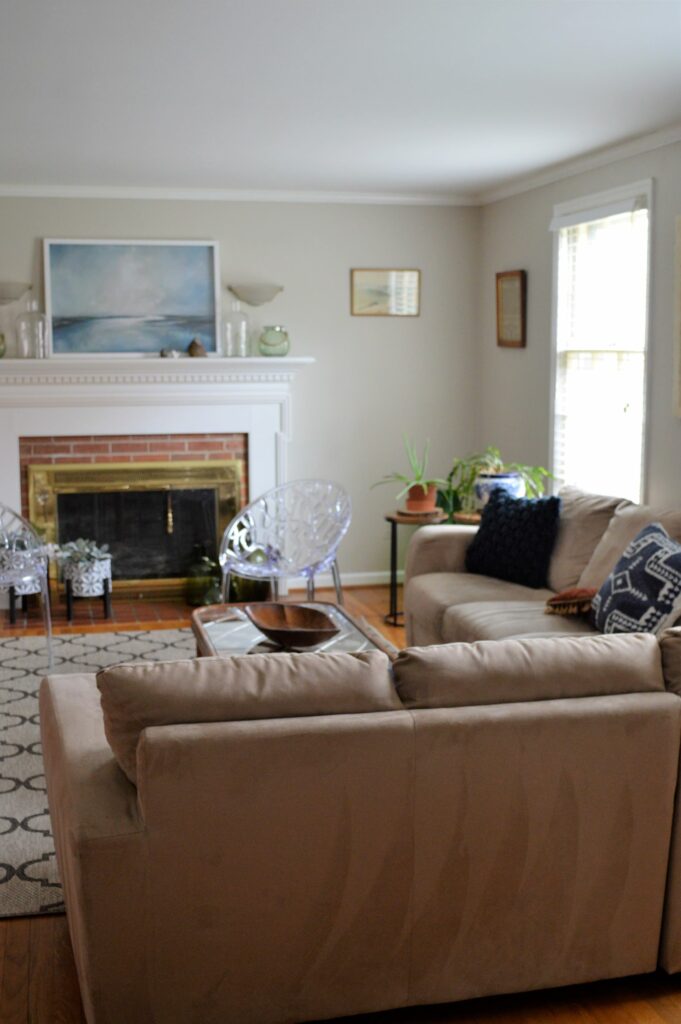 I also just finished clearing and cleaning my upstairs (here) and donated our old tv armoire and tons of picture frames. I am actually now feeling pretty organized upstairs in my office space.
I find that when my home starts to feel overwhelmingly "full" of stuff, it truly stresses me out. A clean and organized home is better for your health, and also for your sense of well-being. Chronically messy home environments are inevitably going to be a source of stress, no matter how you choose to cut it. I know this to definitely be the case with myself.
And so, I like to keep a tidy home but with a large family and three (yes, three) dogs it is hard. I find their fur needs to be swept up at least two or three times a week and don't even get me started on my teenage daughters' rooms! But both the pups and the kids are super cute and worth the effort 🙂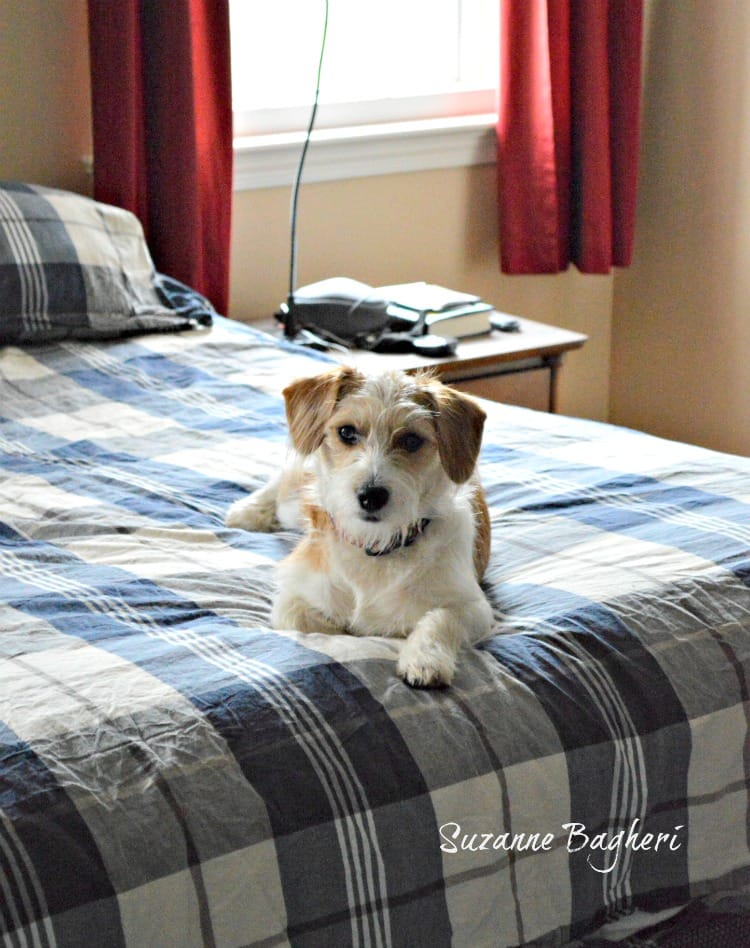 I'm sure you are all aware of the Marie Kondo method for cleaning and organizing your home. Marie Kondo is a Japanese cleaning guru who has been attracting an international following for some years now, as a result of her "Konmari Method" for decluttering and home organization. She's gained an even larger platform thanks to her Netflix show, "Tidying Up With Marie Kondo" (I enjoy the show but my husband is not such a fan!)
The fundamental idea behind the Konmari Method is that you should only hold onto items that cause you to feel a "spark of joy" when you handle them physically. According to this method, you should handle each item of clothing you own directly, and hold onto only those that cause you to feel a little bit of bliss, and then do that with the various other categories of your belongings in a particular, systematic order, that includes papers, miscellaneous items, books, and so on.
Honestly, it seems a little over the top for me. I just am not about to empty all of my closets and dump all of our clothing out on beds and go through it. I just don't have the time. However, you do need to start somewhere. If you just assume that you're going to tackle it indiscriminately, you'll probably become severely disheartened. I tend to work from room to room, or it really is overwhelming.
It's likely that a good deal of the clutter in your home will be stuff that is clearly junk, and that you know automatically should be thrown away or recycled, but that you've just been ignoring for too long. I find it best to start the process by creating a pile of this junk, the things that I know for a fact I will want to get rid of.
Once I start creating a pile of the items that I know for a fact I want to get rid of, it starts to feel good. It definitely becomes an easier process as you go along and items that you once were on the fence about keeping are put into the throw away pile pretty easily. I ended up donating an old desk and tables and replaced them with this pair from Ross. They were both under $20. I'm finding that discount stores like Marshalls, TJMaxx and Ross really have some great deals on home decor. The coffee tables was a thrift store purchase.
After all that can be donated has been taken out of the house and the other items organized and put back in their place, I like to get my vacuum out, and go over the room. Then, I get out a duster and attack the dusty nooks and crannies and the Windex for any glass or frames. I really am lazy about cleaning our windows though. That honestly is such a huge job!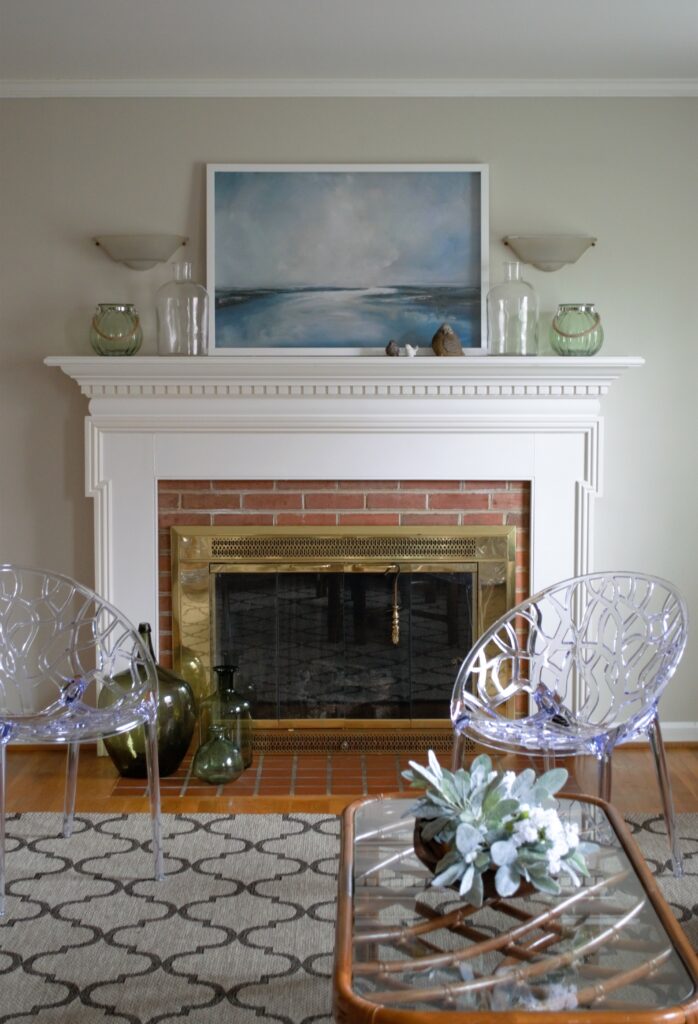 My rugs always need a good clean because of our pets. Going over them with green environmentally friendly carpet cleaners and also using our new little steam cleaner is my way of keeping the rugs looking good. This new HomeGoods rug is an outdoor/indoor rug. For now it's in my living room but I may move it outside later in the season. I really like these rugs. They hold up with all of the action in our house and are less than half the cost of a wool rug.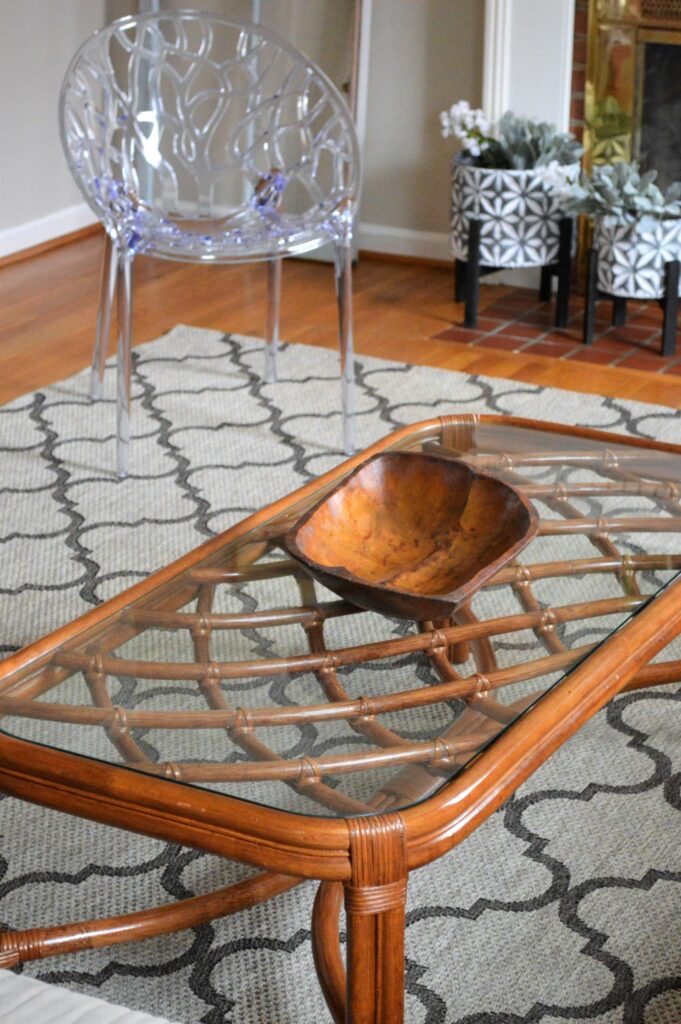 And, now my living room is pretty clean and tidy and I took a huge load of items to our local thrift store. My Spring clean felt good! I'll share a Pop of Red Cabinet Makeover tomorrow! Sneak peek below!
Please note that some of the links above are affiliate links, and at no additional cost to you. All opinions are my own.