I'm sorry that I don't have a Tell Us Tuesday to share with you this week.  I'm waiting on a few submissions to make their way through the pipeline.
Instead, I'm going to share with you a little story about Craigslist and Karma.  Do you remember this vintage desk that I finished a few months ago?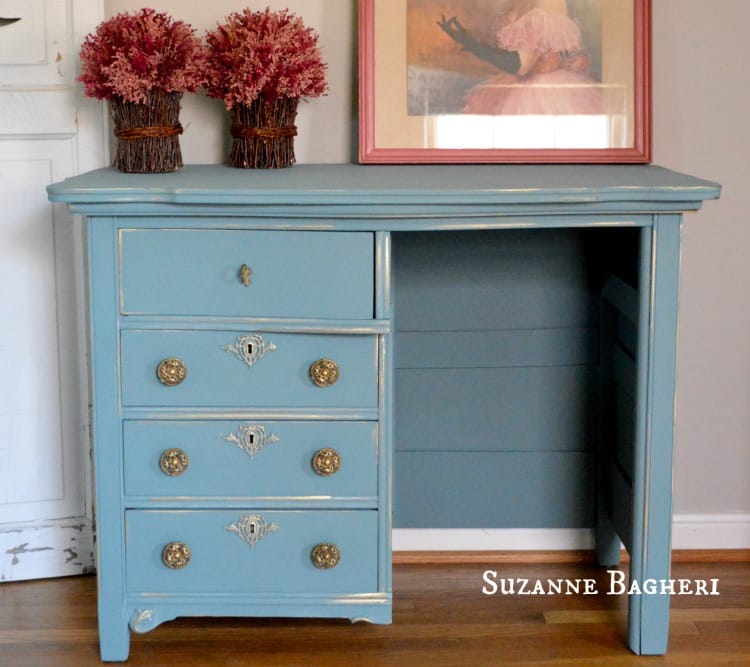 It needed the right buyer and as the desk is quite small, it was best for a child.  I had listed it on Etsy and also on my site but after a few inquiries, it just sat there.  I find when a piece takes too long to sell, the best option is Craigslist.  I don't have a lot of room to store pieces and I have to turn them over to make room for new.  Honestly, I'm lucky that I don't have to use Craigslist too often but it is a great way to reduce the price for (hopefully) a quick sale.
I decided to list the little desk on Craigslist at a bargain price of $180.  The piece is vintage and the hardware alone is worth quite a bit on Ebay.  It is solid wood and I worked hard on it.  The paint is Classico Pure and Original Paint.  I had received it for free as part of a contest that I participated in.  I used gold gilding wax and applied a topcoat.  The cost of materials alone was quite steep and adding in the original cost of the desk, I wasn't making much.
I had an email from a woman who wished to purchase it.  She told me that she would be over on Friday to pick it up.  I gave her my address.  Friday rolls around and I never hear from her.  I emailed her later that afternoon and asked if she was still interested.  She responded that she now wanted to pick it up on Saturday.  Okay, I answered, but when?  No response.  On Saturday morning I was at the gym on the treadmill when my phone rang.  It was the Craigslist lady.  She was leaving and would be at my house in half an hour and was that OK?  Sure, I told her.  I cut my workout short and raced home to quickly shower.  Rude.
She sent me this email:

I hunted through my workroom and found the paint.  As I said, it is Classico Pure and Original Paint and retails for $38 per quart and that doesn't include shipping.  I thought that I would charge her $20.  A pretty decent price for almost a full quart.
And then she arrived.  Oh. My. God.  She pulls up in a brand new Mercedes SUV and brought two young girls.  The desk was for one of their rooms and the little girl loves it.  The mom wants to know if her daughter's legs fit inside the opening.  I return with a kitchen chair and of course, her daughter's legs easily fit.  She wants to know if I have the paint.  Why yes, I say, and explain that it is expensive paint and I would ask $20 for it.  Suddenly her phone rings and she says, "Oh, it's my husband" and proceeds to answer it.  She screams, "Oh, my God, no!" and races outside.  I'm left inside with the two girls and we start chatting as I'm wondering if someone just died.  The front door opens and the mother reappears and acts as if nothing had happened.  So. Weird.  She wants to know if I have a bookcase for her daughter's room.  I show her one in my garage and in the process, one of my flower pots falls and smashes into pieces.
Then she turns to me and says, "I will take the desk if you throw in the paint."
Wow.  Seriously?  I had explained that the paint was expensive.  Sure, I had received it for free but she didn't know that.  It was rude.  She was rude.  I am used to bargaining on Craigslist with customers but this one bothered me.  I was selling her this very sweet desk for a bargain price.  She had said in her message that she would purchase the paint.  If I had known that she would rip me off, I would have told her that I didn't have the paint.  But there I was.  Totally put on the spot.  I say, "Sure".  She tells her daughter that she would use the paint herself to paint the daughter's existing bookcase at home.  How flippin' wonderful.
She wants help to load the desk into her Mercedes.  But wait!  Oh, no!  She can't find her keys!  She proceeds to race outside and puts her huge leather purse on the wet pavement (it was raining) and hunts through it.  She then runs back inside and dumps her huge – now soaking wet – leather purse smack on top of the painted desk.  Picks it up and wonders if the top of the desk was okay because it looks like it has damage (seriously?!).  She found her keys after explaining that she has a hole in her purse that items fall into.  SO not surprising.  I quickly grab one end of the desk.  We get it to her car.  Finally, she was gone.
Sophie had been sitting in the family room the entire time, unseen but listening to the whole ordeal.  We look at each other.  She says, "What a nightmare".  From the mouths of babes.
I Googled this woman.  Turns out she is a well known author.  She is very, very well off.  I really hope that there is karma in this world.  Yes, what a nightmare.