I showed you all the video on the progress of the Heritage Tables.  Two coats of General Finishes chalk style paint in Chapin Gray and a quick sand and application of General Finishes Java Gel stain on the tops.  Here's what else was done to the tables.
I applied General Finishes Flat Out Flat topcoat over the chalk style paint and let it dry.  I then used General Finishes Burnt Umber glaze by using a sponge brush to wipe it on and a paper towel to wipe it off.  This highlighted the detail nicely.  I also added a teeny bit of gold gilding wax in a few places on the drawer fronts.
I let the Java Gel stain sit for a day and then decided to use General Finishes wipe-on urethane to seal them.  This is where a happy mistake happened.  I don't know if it is because the gel stain hadn't totally cured, or if it was my inexperience and I shouldn't really have used the urethane over the gel stain, but as I wiped on the urethane it took some of the dark gel stain off.  At first I was upset but as I kept wiping it on (and in the process wiping off the dark stain) I really liked how it looked.  It allowed the lighter wood tone to come through and gave them a warm finish.  The tops are now glossy and super durable as well.  I learned a new trick 🙂
From 1970's drab: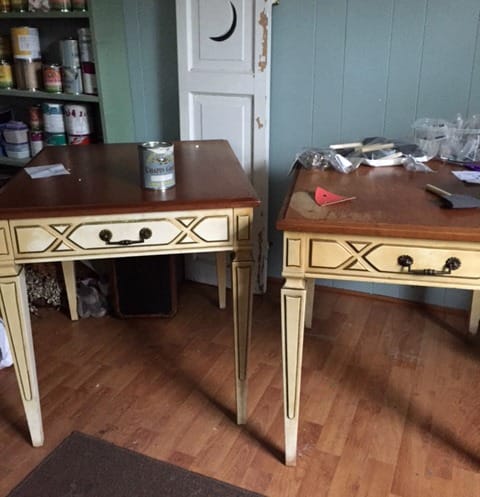 To today's fab.  No distressing!  Quite a traditional look for me!