A quick note – you all really came through for Laurie!  She received so many fantastic suggestions for her dining room set and her room in general and was thrilled.  Do any of you want to participate in What Would YOU Do?  Shoot me an email at [email protected] and a pic!  That was a lot of fun!
---
A great way to design on a dime is to find an accent chair with style and give it a coat of paint for a new look.  I have yet to tackle a huge upholstery project but love to find pieces that actually don't require it.
I find that if the upholstery doesn't smell (gross) or isn't torn, that a good upholstery cleaner will do the trick. I have used both the Target brand as well as Resolve and they both work very well.  A tip – spray the cleaner on a surface first, then scoop it up with a damp sponge and apply.  If you spray directly, you can cause streaking on the fabric.
Here is a green velvet chair that I purchased and shared a few years ago.  It was less than $20.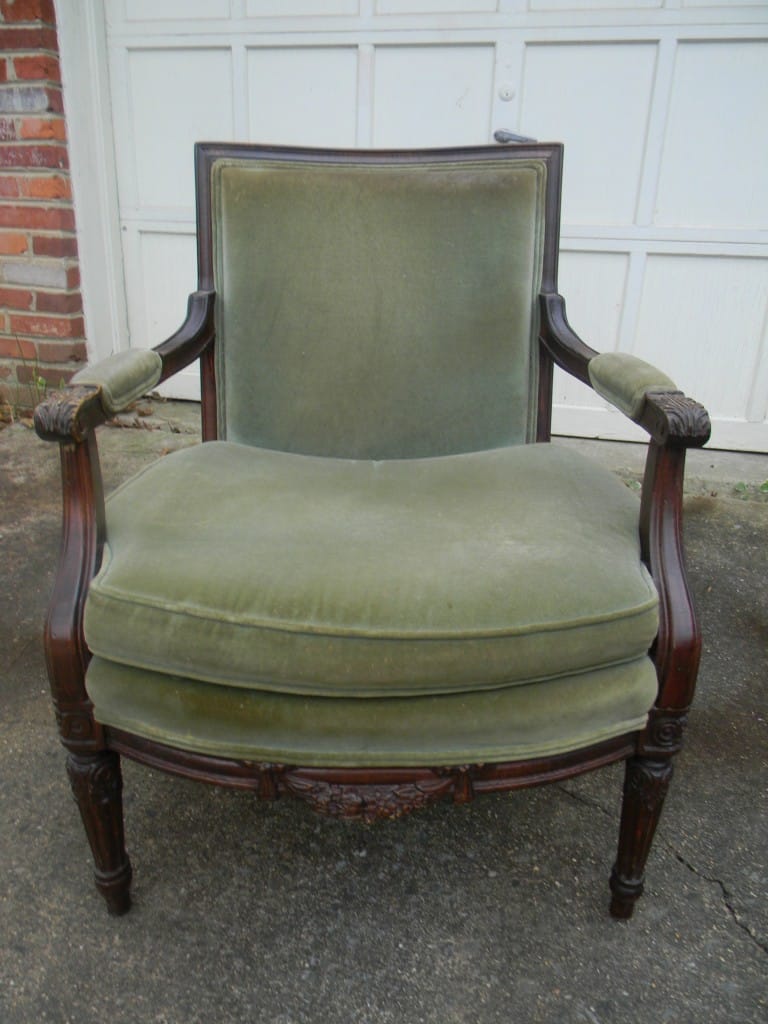 The chair was full of vintage style and I really liked the green velvet.  It was pretty dirty so I cleaned it with my spray cleaner.  I then applied Annie Sloan Old White on the dark wood and distressed.  Both clear and dark wax (Annie Sloan) were used to really make the detail pop.  A tip: when painting around fabric, take a piece of paper and jam it down in between the fabric and the wood to protect the fabric while painting.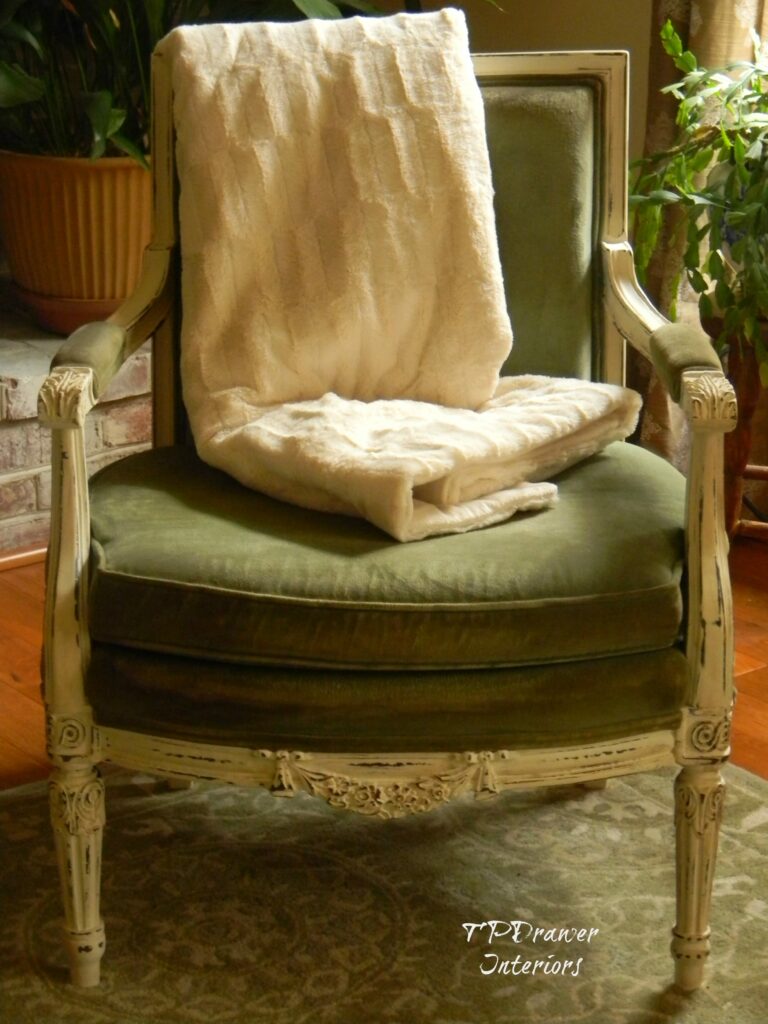 The chair is now upstairs in my bedroom – the perfect accent chair for a bedroom corner.
Another dirty upholstery piece was the English Settee.  At around $30 it was a good find, but filthy.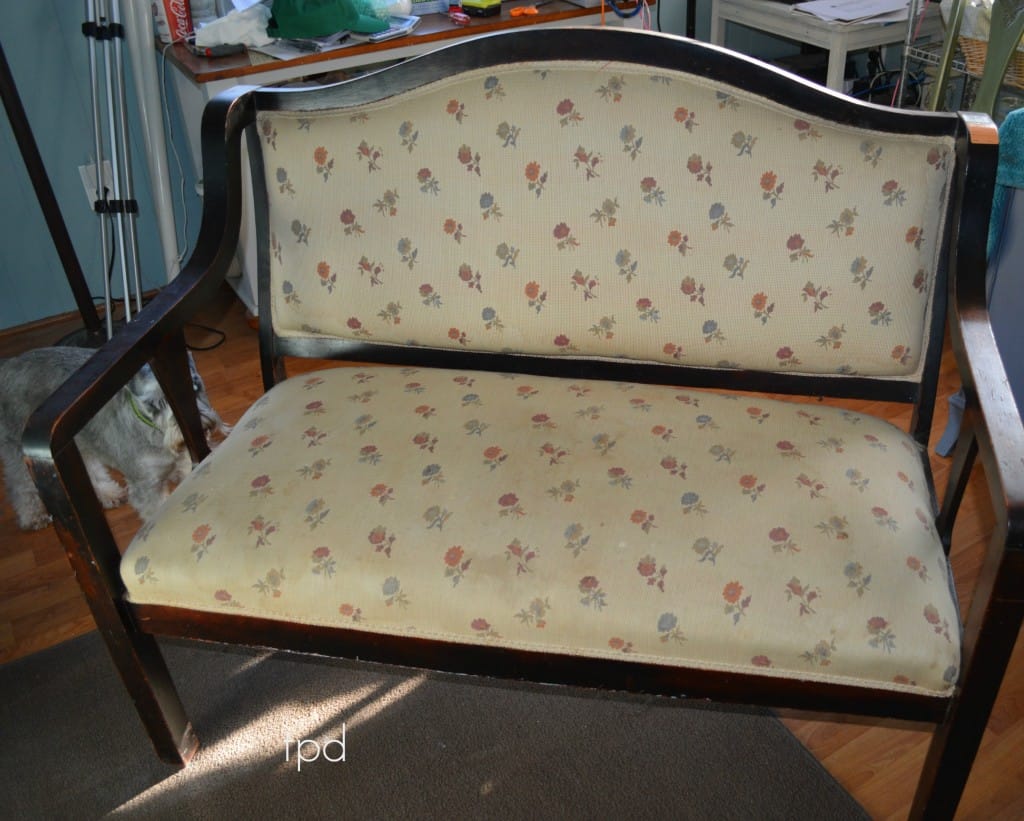 After a very good scrub, and again a coat of Annie Sloan Old White, it came out clean and fresh.  The color is lighter but I don't mind.  Here it is next to the green velvet chair.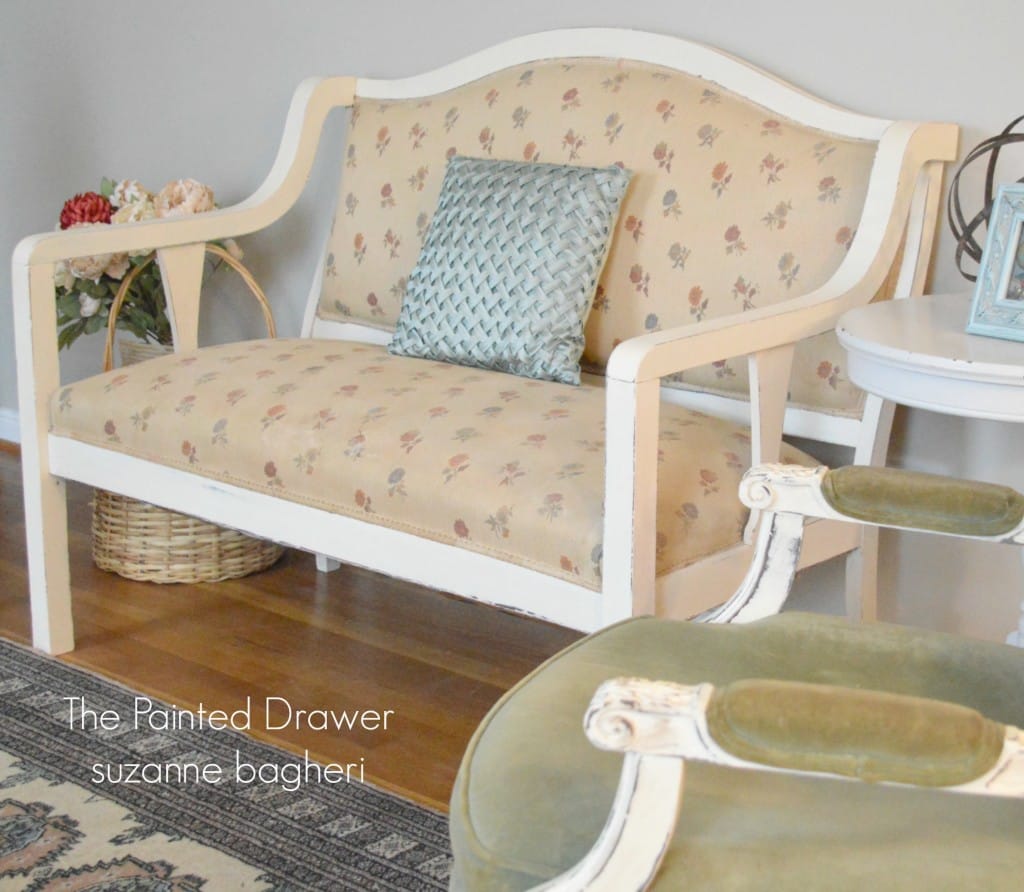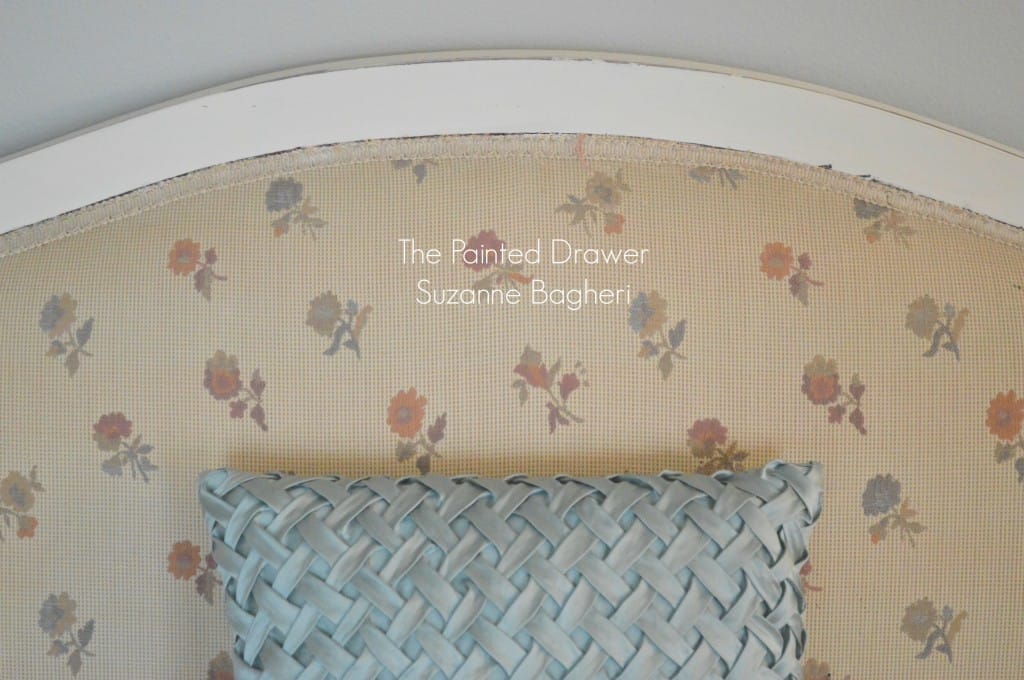 This settee has now made its home in my sitting room upstairs.
One more to share!  This pair of caned chairs were each about $12.00.  Out with the cleaner and AS Old White (seems to be my go-to paint on chairs!) and they were transformed.  I wish I had a "before" pic but couldn't find it.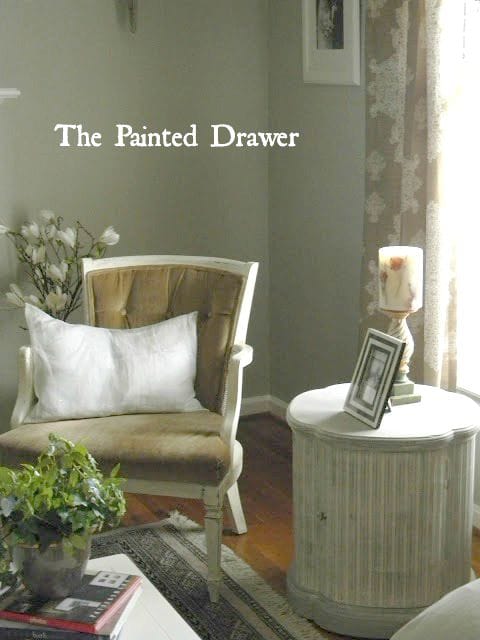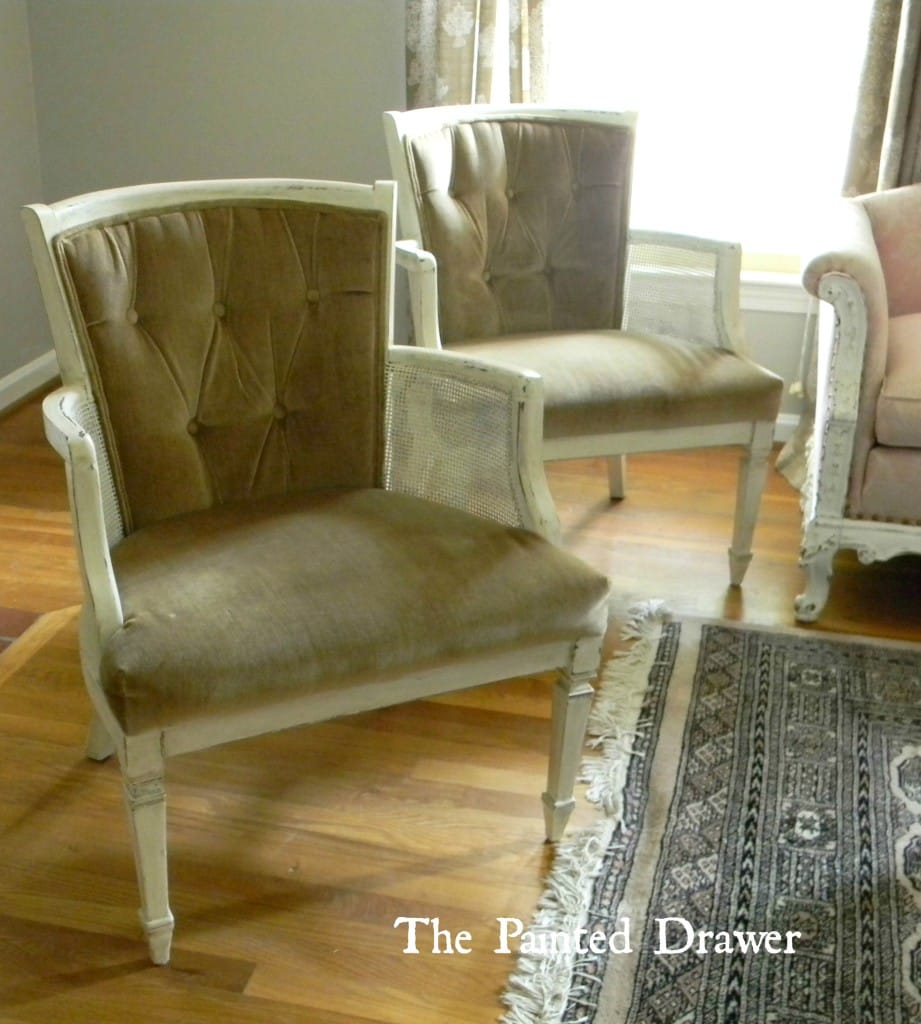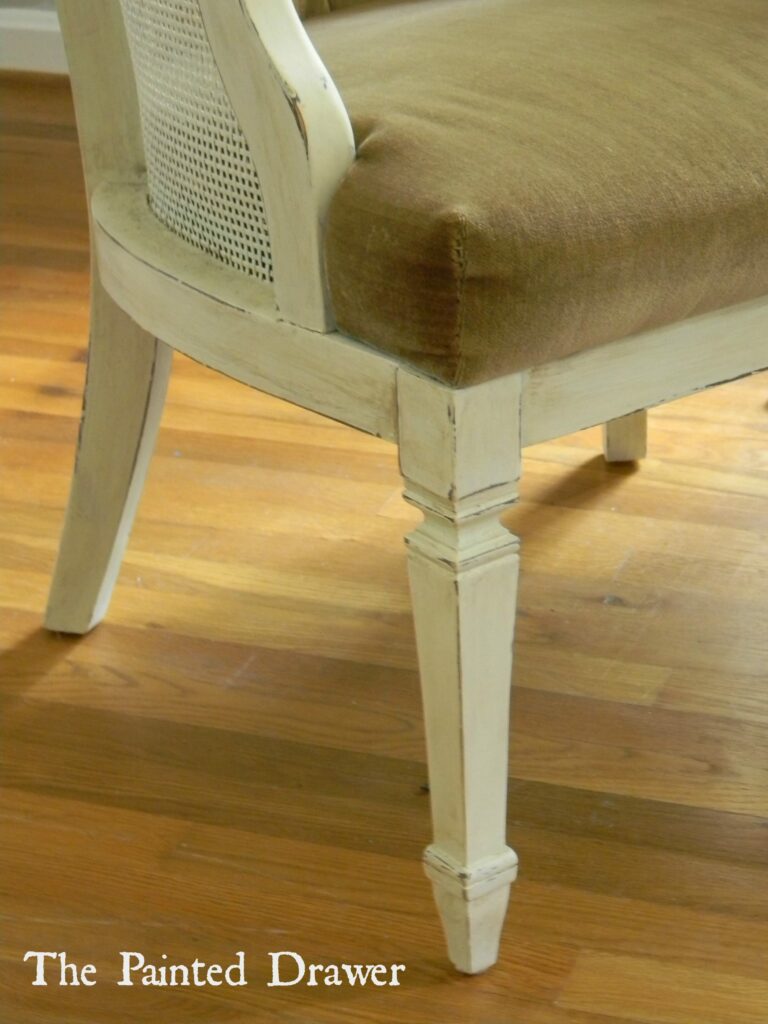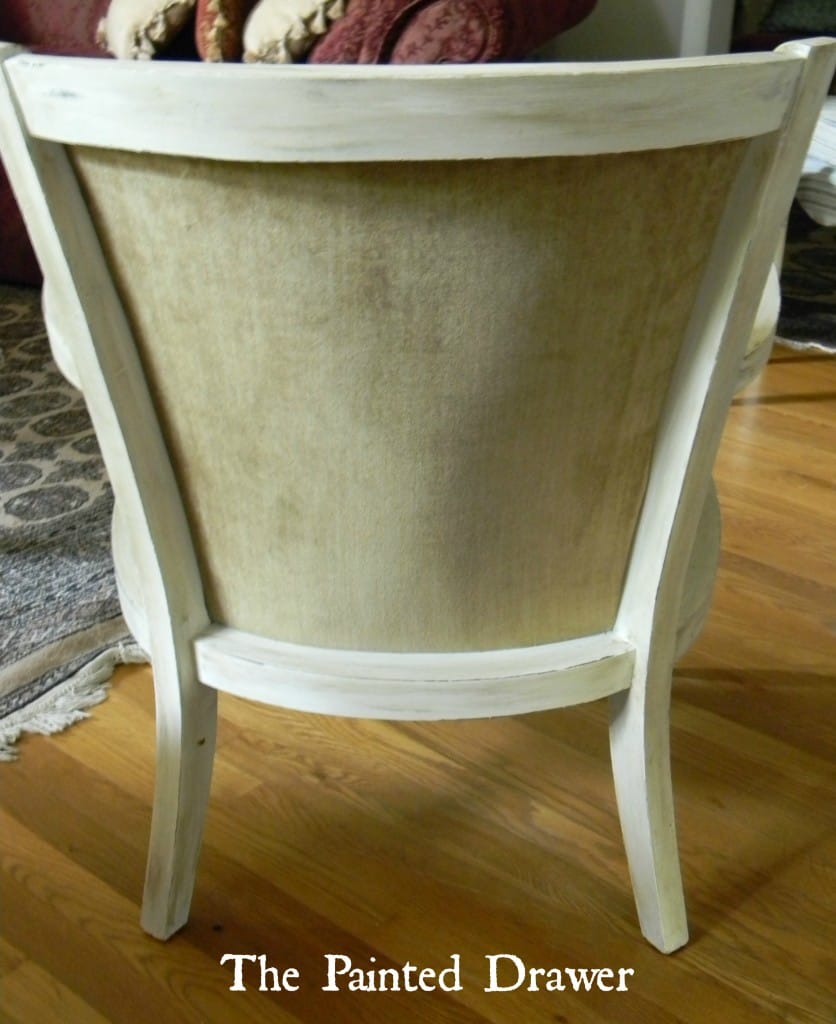 I sold the caned chairs a few years ago and kind of regret it. Having to sell my "finds" is hard!
Design on a Dime – rescue, redesign and reinvent!  A good chair can find a home in any corner of any room in the house.  The best part is that it's one of a kind!