You may have noticed Archie the Bear in my family room pics over the past year or so.  He deserves a quick blog feature.  His story is quite special…
If Archie could speak, it would be in a Scottish brogue.  He is, in fact, from Scotland.  He was found by my father's Scottish cousin in an antiques store outside Edinburgh about 40 years ago.  She bought him for my mother.  You see, my mother used to have a little business called Noble Bears.  She spent hours constructing beautiful, fully jointed teddy bears out of mohair and sold them at craft shows.  I grew up surrounded by bears.  They were literally in every room of our house and had names like Cuthburt and Edward.  Oh, and she collected Steiff bears and they also stared at us from every corner.  My sister and I would tag along and help at the shows.  Sorry, I digress from Archie's story!
My father's cousin in Scotland learned of my mother's love/obsession of teddy bears.  When she spotted Archie in her local shop, she knew my mother would love him.  She bought him and took him home and figured that eventually she would be able to give him to my mother.  Unfortunately, her husband was not very fond of large, old bears and poor Archie was banished to a closet where he sat for many years.  Until, finally the cousin divorced the mean, teddy bear-hating man.  She decided to take a much deserved trip to the USA to visit her cousin and brought Archie along with her on the plane.  After all those years, she finally was able to give him to my mother –  Archie was home!  If he could smile, he would have.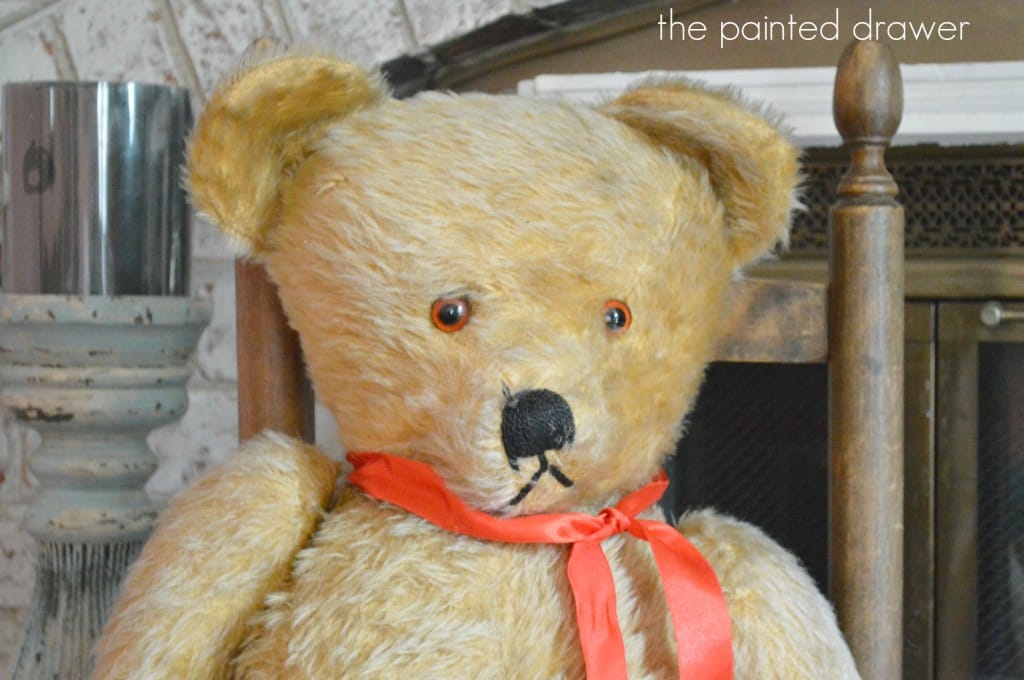 He now sits in a chair in my family room.  He is very old and his joints are literally held together by strings.  However, surprisingly, my 16 year old son has grown quite attached to Archie.  When my two year old niece visits, she makes a beeline for Archie but Matthew has learned to hide him before she arrives.  Actually, it is the first thing he does when he learns of her impending arrival (she is akin to a very adorable hurricane descending ;))  He doesn't want Archie to be destroyed as the bear is so delicate in his old age.  I believe Matthew's loyalty has deemed him the next rightful owner of the Scottish bear.  Let's hope Matthew's future wife likes the very old, very large and very beautiful teddy bear!
The Painted Drawer Inspiration Link Party will be up and running this evening for all who wish to link their latest creativity!