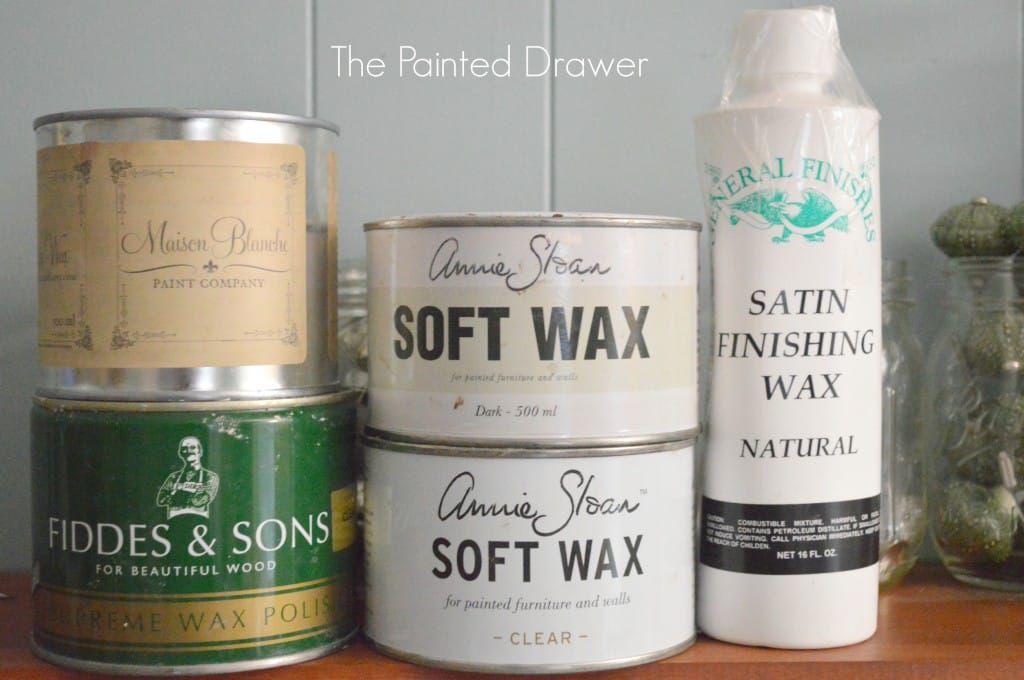 This post is all about waxes and sealers because I get a lot of questions about this.  How to apply it, which brand to use, clear vs. dark, etc.
I use the following sealers over chalk based paint – Annie Sloan Clear Wax, Annie Sloan Dark Wax, Maison Blanche Dark Brown Wax and – my favorite – Fiddes & Sons Supreme Wax Polish.
Tip One.:  All waxes can be applied easily with an old t-shirt.  I see no reason to go out and buy an expensive wax brush that will need cleaning.  It's much easier to throw out an old t-shirt when you're done.  I do recommend a brush for Annie Sloan Dark Wax as the bristles get into a piece's nooks and crannies better.  I use a stencil brush I bought from AC Moore that was pretty inexpensive.
Tip Two:  I sand all of my pieces with a super fine sanding sponge prior to waxing.  I take the sponge and go over the entire piece in a circular motion until smooth and there are no sanding lines left.  You can sand after waxing but I prefer prior.  I also do all of my distressing prior to waxing.  This way, my distressed bits are sealed nicely and the finish of my piece is super smooth.  I have heard from other bloggers that there is no way to get around brush marks when using chalk paint.  This is not true.  Follow my advice and sand prior to waxing and all brush marks will disappear.  Beware that it is messy and I use a mask while I do it.
Tip Three:  After I sand, I use a damp paper towel to wipe off the chalk dust before I apply my wax, or (my secret) I use a handy leaf blower in my garage that I bought for this purpose ($40 at HomeDepot) and it blows all of the dust away.  I also use the blower to blow away all of the debris when I sand back the wood on top of a piece to refinish it.
Waxes:
Annie Sloan Clear Wax goes on well and doesn't have too much odor.  However, it is thick when applying and you really need some elbow grease to rub it in.  Apply it section by section onto your piece.  It will stain your piece if you leave it sitting too long on one section without rubbing it in.  I have to really stress the fact that you should only put on a thin layer and do not glob it on.  I apply it in a circular motion and really buff it in.  After it cures, I go over it again with a soft, clean cloth to give it more sheen.
Fiddes & Sons Supreme Wax Polish is super easy to apply.  It goes on like butter – super smooth – but it does have a strong odor.  I actually open the door or window if I'm inside while applying and it takes a few hours for the smell to dissipate.  However, it is so easy to apply that it is worth dealing with the smell.  It gives a great sheen and smoothness to a piece.
Annie Sloan Dark Wax always needs to be applied on top of a dried/cured coat of clear wax.  If you apply the dark directly onto your paint, it will stain and smear.  This wax is super dark and you need only a tiny bit to create an aged look.  I tend to use it only in crevices or detailing that I want to look aged.  In my opinion, it is a tricky product.  Used sparingly, it can create a fantastic finish – really beautiful.  Use too much and your piece will just look dirty. If too much dark is applied, you can take clear wax and wipe it off.  However, it will not totally come off and will have darkened the piece.  I've heard of mixing the dark wax with mineral spirits to create a mixture that can be applied with a paint brush.  I will try this soon and let you all know the results.
Maison Blanch Dark Wax does not need to be applied on top of clear first.  However, it is not the same look at all as the Annie Sloan.  It does not give the same aged look.  It is more of a stain than a wax and as you apply, your piece will turn a deeper hue.  It does not streak and goes on easily.  Not much odor.
General Finishes just sent me a product to try – Satin Finishing Wax.  As soon as I give it a try, I will tell you all about it.  I hope to use it next week on a dresser.
There you have it!  My go-to products and a few little tips.  I hope you all have a wonderful Thanksgiving!  I will reveal the winner of the Color Inspiration Notebook on Friday!  Thanks to all who entered!