I mentioned yesterday that this week I am working on my daughter's room.  Ella is about to turn 13 and has outgrown her bunkbeds and sweet pink walls.
We spent some time together on Pinterest and came up with the following:
The main inspiration –
a bed along these lines –
 and, for the walls, the stenciling in this pic –
Sweet child…she has a lot of confidence in her mother's abilities!  She also wants to paint the floor (above) but I'm still a bit undecided.
We went to Home Depot with a tin of Annie Sloan's Provence
and had them color match it.  After painting the walls in the Provence and Behr's Gentle Rain (a soft grey), we are happy with the colors.  Ella chose Martha Stewart's metallic gold paint for the stencil color and we decided it would look better on the Provence versus the grey.
I've spent the afternoon stenciling and here are a few tips.  The glue to hold the stencil in place is critical in this process – it would be pretty impossible without it.  Another tip – start from the middle of the wall and work outwards. 
I started in the middle, then added another stencil to the right of the center stencil and then one to the left.  This allowed the paint to slightly dry in between and there was less smearing.  If you just continue in one direction – say, down – the edge of the stencil will cover the wet paint and it can smear.  I did this in the beginning (see pic below) and learned from my mistake.
The gold looks amazing and I am sure that Ella will be pleased when she gets home.  It is a long process and I'm heading back upstairs to have a go at it again!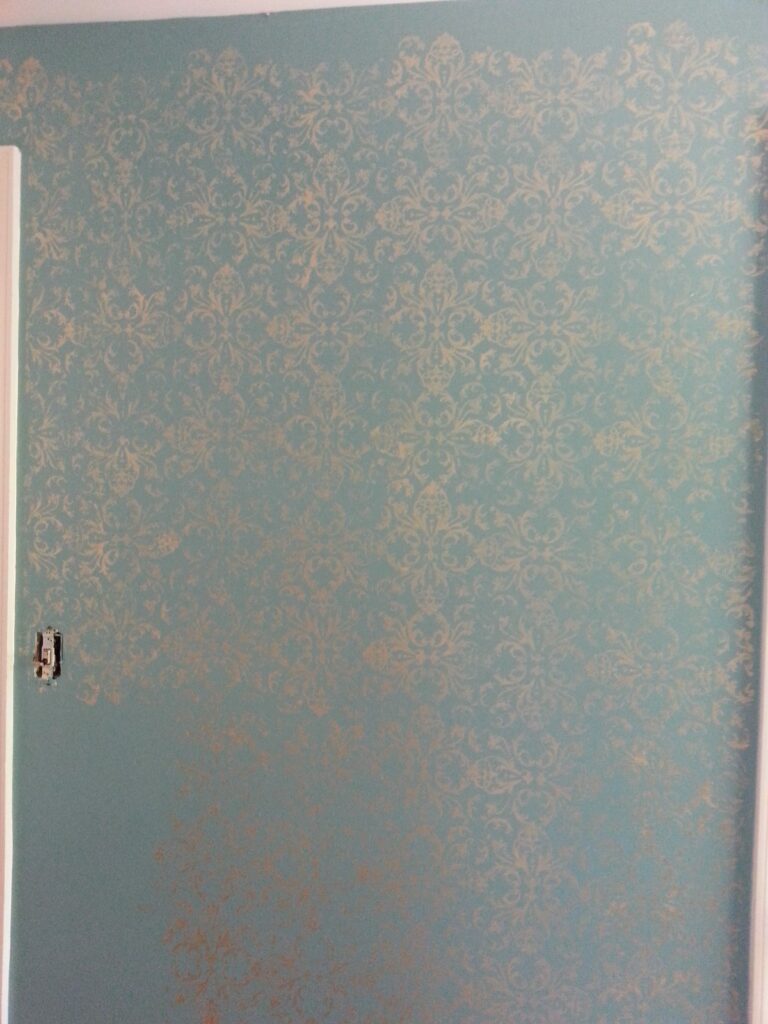 Wish me luck to finish this before she heads off to college 🙂
Join the Fun! I Always Love More Subscribers!