Okay, well it isn't really a secret but it is a hidden space deep in the depths of our basement that has been in horrible condition for years! Our basement bathroom that does actually have a story attached to it.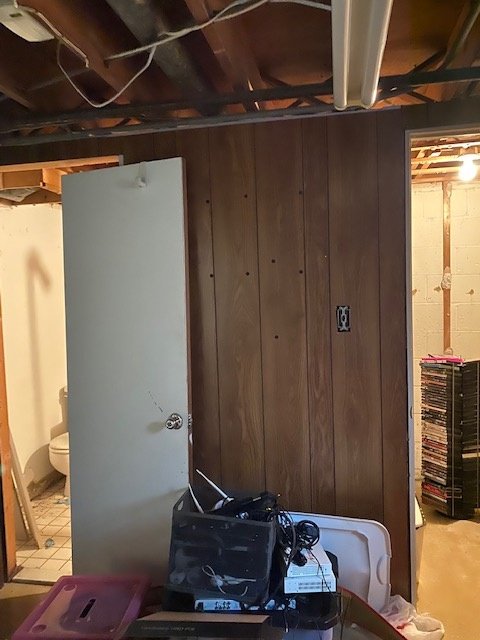 We had a working bathroom there initially (to the left was a bathroom and to the right a closet) but my daughter, Sophie became very ill when she was around 6 years old. She had asthma and developed a staph infection that spread like wildfire up and down her skin and would not go away. My husband and I were desperate to find out what was wrong with her. We took her to SO many doctors…allergist/asthma, general, dermatologists, you name it, we had her there. It spread inside her nose, down her legs, omg it was awful.
One day, in the midst of not knowing what was causing Sophie's illness and how to stop it, my husband noticed mold in the corner of the basement bathroom shower. He took a hammer and I have no idea what other tools and demolished the bathroom in seriously like an hour. I think it was also therapeutic and he took out all of his stress on the poor bathroom. The mold turned out to be absolutely nothing and we were left without a bathroom or closet. For years.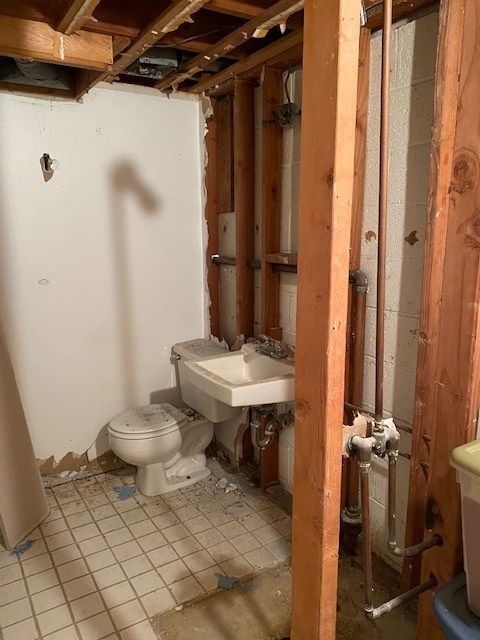 We took Sophie to the Children's National Hospital in DC and she was admitted to their infectious disease department where we were seen by an amazing doctor and they were finally able to cure the staph infection. It had been caused by the "top notch" pediatric dermatologist who had burned her leg with his treatment for another skin ailment, which compromised her skin and allowed the staph in. Yes, I am still furious about it.
Not to digress from the bathroom…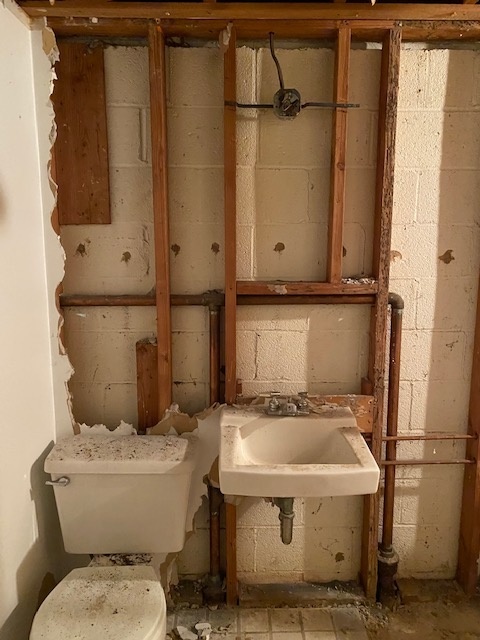 So, one decade later (I know, we move fast around here) we are finally putting that poor bathroom back together! And, here is my inspiration pic to share that I found on Pinterest. Except we do not want a bath, just a shower.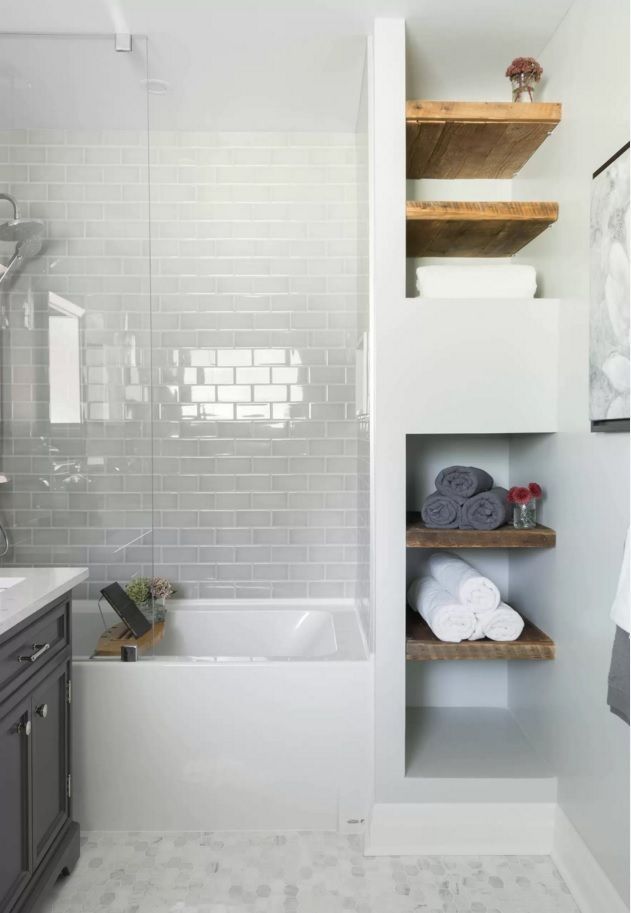 I'm also including the following tips:
3 Simple Ways to Give Your Bathroom a Makeover!
The bathrooms within our homes are often the smallest rooms in the house. When we long to embark on some renovation plans, we tend to neglect the bathroom in favor of the living room or kitchen. However, this small room can be a haven of tranquility to help us unwind from our busy and stressful lives. You want a room that you can relax in as you take a long hot soak in the tub while listening to some chilled out tunes surrounded by scented candles. Take a look at these three simple ways you can give your bathroom a makeover.
Suite
If you have an avocado or shocking pink 1980s bathroom suite, it's time to bring your room into the twenty first century. White is the way to go in 2020. There really is little alternative to a classic white suite that oozes cleanliness and is bright and light. You will have options to choose the style of the suite you choose. If you have the space, opt for a separate shower cubicle and wood stained vanity unit to add a touch of glamor to your room. Don't go for the old school seashell effect and instead choose clean lines and an angular design. These are more space saving than the curvier alternatives.
Before you install a new suite, contact a company like Evolution Plumbing, and get a specialist to check your pipework. You need to check for leaks and any corrosion, especially if you haven't inspected your pipes for years. You don't want to be in for a shock after you have exquisitely finished installing your new suite only to have to rip it all out again.
Flooring
Carpet is a massive no-no when it comes to bathrooms. It's unhygienic and can retain moisture. Instead, you need a sleek lino for your bathroom. Even the highest quality lino is cheap to buy and install. Ensure you go for a dark design that pops against your white suite. You could select a tile effect lino or you may prefer something that looks like floorboards. Consider the interior of your home and try to match the same sort of vibe in your bathroom. Ensure that any flooring you choose is moisture resistant and easy to wipe clean.
Walls
You could choose to go floor to ceiling tiles or opt for a mix of painted walls and tiles behind the bath and shower. The mix of the two may appeal to those individuals who hate the thought of moldy grout developing. However, for a more boutique hotel bathroom look, full tiled decor can look classy and add sophistication to a small room. The mosaic style tiles are great for those smaller rooms who can't take a big tile. Alternatively, you could opt for the sandstone look, the ornate Victorian pattern tiles, Moroccan terracotta tiles, or you could go brickwork monotone. The choices are endless. Pop to a showroom to take a look at the tiles in staged settings before you make your choice.
Follow this guide and you can be inspired by a range of decor ideas for your bathroom makeover.
Please note that some of the links above and below are affiliate links, and at no additional cost to you. All opinions are my own.