https://unsplash.com/photos/561igiTyvSk
While there are a variety of unforeseen issues that can strike your home at any time, it's essential to know the most common and how to make sure you are ready for them. This will ensure your safety and comfort in your home. 
Critters 
Even if you live in the city, critters can find a way into your home, damage the walls, and generally make the whole house unpleasant to live in if they are not dealt with. They are dangerous as they can cause fires and clog your air ducts. The obvious solution to critters in the home is to call in pest control, but there are steps you can take to avoid them from getting in to begin with. 
As these critters will usually look for refuge in your house when the temperature drops, go around the house and look for any gaps or holes that could allow access. This is especially essential for the attic or basement, while window frames could also be a way for smaller insects to find their way inside.  We have just had an infestation of stink bugs and it turns out they were entering our house through a living room window that needed caulking.
Natural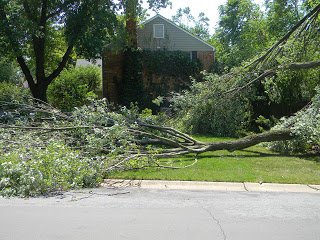 There is not much you can do to prevent natural disasters. Whether it is a flood, a massive storm, lightning, or a tornado, you often need to just hope that it won't pass through where you live.  The pic above was taken in June of 2012 when the Derecho storm passed through our neighborhood and we were without power for over a week.
This doesn't mean you should resign yourself to the potential of your home being destroyed, especially if you live in a region that frequently experiences such disasters. Reinforcing the house is an excellent way to try and keep your home from being severely damaged. You can also protect the most at-risk parts of the home while also giving you and your family space where you can protect yourself from the disaster. You should also get house insurance that adequately covers natural disasters. 
Appliances
Although appliances are in the house, they can be much like natural disasters in that you never know when something will go wrong. Your water heater, pipes, or refrigerator could work correctly for years, and then one day decide to stop working.
Again, insurance can ease the financial impact, but you should also take proper measures to prevent appliances from malfunctioning. Check the water heater regularly to make sure that it doesn't become over-pressurized, and don't allow grease, food parts, or hair to clog the drains. This will prevent a blocked or burst pipe and save you from substantial damage to the home.  Get your appliances serviced before each season of use to insure they are in good working order to avoid much more expense and trouble later on.
By being a little proactive instead of reactive, and understanding the right steps to take, you can help the odds that you can continue to live comfortably in your home for years to come.
Please note that some of the links above and below are affiliate links, and at no additional cost to you. All opinions are my own.