When you're looking to get on the property ladder, you've got to get serious about saving. Of course, when you've got lots of monthly expenses, saving money can be a little difficult. The good news is there is plenty you can do to improve your financial health, and source the deposit you'll need.
1 . Try budgeting apps
Financial apps are the best way to create a budget and stick to it, there are several choices available. PocketGuard is a neat tool to help you make wiser spending choices. Using the app you can connect your accounts, savings and bills to get a clearer picture of your financial health. The app tags your transactions and then offers you a budget which is personalized to your habits. Budgets are separated into relevant categories such as 'transport', 'bills' etc. PocketGuard lets you know how much you can save, and helps you to reach this goal. Albert is another great app which tracks your balances and notifies you if you go over your budget. Further options include Mint or Good Budget.
2. Compare providers
When you're keen to save money it's a wise move to compare your providers. You may be able to get a better deal by making a switch. From your internet to your gas provider and car insurance, use money comparison sites to help you find less expensive packages. Check out sites like www.highspeedoptions.com to find out all you need to know about getting a cheaper deal on an essential expense like internet connection. Often, green energy providers have better deals than conventional energy providers. There are also plenty of discounts you can look out for when it comes to your car insurance.
3. Essential purchases only
Make a decision to only buy essential items for a few months, see how long you can go without buying a luxury item! Make a few changes to your habits to save where you can. Invite friends over instead of going out; reuse your old summer clothes from last year; and give up take- out for home cooking. When you only buy the items that you actually need, it makes a world of difference to your bank balance. While you're at it, declutter your home and sell your old items. This will make it easier when you move, plus you'll make a bit of extra cash.
4. Organize your spending
Organizing your spending is the best way to save yourself money on your monthly outgoings. One easy way to do this is to carefully plan your groceries. You should also plan ahead for one off expenses, by saving a little toward these each month. Examples of one-off expenses might be yearly medical insurance bills, or getting your car serviced.
5. Passive income streams
Making a little bit of extra money gives you more room to save, with this in mind consider setting up a passive income stream. A few examples of passive income streams include affiliate marketing, investing in stocks or renting a spare room on Airbnb. With income streams like this, you can earn money fast with a hands off approach.
When you are looking to buy a house for the first time, it's important to shop around for the best mortgage rates. Altrua Financial is a great company for the first time buyer, offering some attractive mortgage packages at low rates.
Calculate Everything!
While you are thinking about your budget for your new home, think about using MortgageCalculator.Org. There are calculators out there that will help you to work out what you need for your deposit, how much you can afford based on your salary and current incoming and outgoings, where you can save cash to build your deposit – anything you can think of.
You need to get the budget part of your saving absolutely correct so that you can afford the new house you are thinking of buying. Are you planning to build a home instead of buy one? Well, you'll still need to know how much you can afford, but you can also look into what grants and programs there are to support you in your efforts to build. The more you can get your finances in order, the better off you will be when it comes to applying for your mortgage for your new home.
Here is a pic of our very first house (I got this image from Google Maps!). It was 21 years ago that we lived there and it basically looks the same!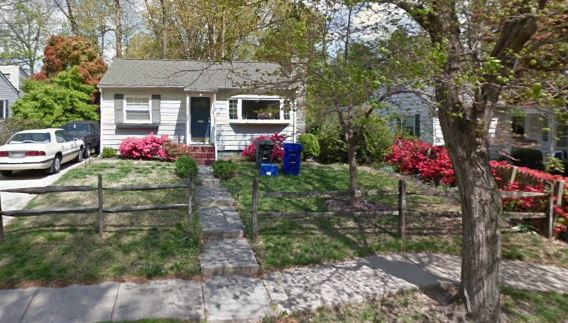 Please note that some of the links above and below are affiliate links, and at no additional cost to you. All opinions are my own.