This post contains affiliate links. All opinions are my own.
Welcome to my new favorite color combo, affiliate link Annie Sloan Giverny and gold!  My inspiration for this rich combo is the Masterpiece Theater show, Victoria.  The show is a (very) dramatized story of Queen Victoria and is full of gorgeous sets, costumes and color!  Oh, the color!  The rich, gorgeous color and texture!  Giverny is s a bright and deep blue – perfect for my Victoria inspiration!  I decided to use it on the rope trim dresser that I shared in last week's Favorite Find Monday.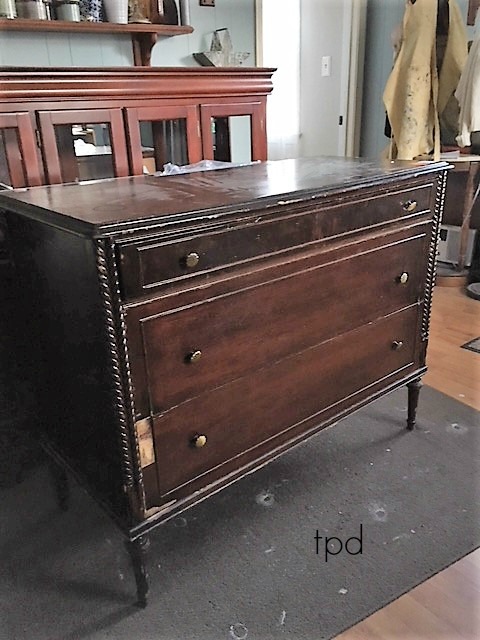 Prior to painting, wood filler had to be applied to the missing and damaged veneer and then sanded back to a smooth finish.
This dresser had an original, very thick shellac topcoat.  After applying two coats of Annie Sloan Giverny, the paint did not adhere as completely in some places due to the original finish being so slick. On another piece I may have added one more coat for full coverage but on this one, the finish was perfect because I wanted that aged look.  Using 220 grit sandpaper wrapped around a sanding sponge, I sanded the entire piece to a very smooth finish.  The color was then toned down with a wash of Annie Sloan Paris Grey.  The grey also gave the chipped places a thin layer of coverage.  It was sanded again and then Annie Sloan clear wax was applied.  After curing for a day or two, I added the Cire-a-Dorer gold gilding wax for a pop of blue.  The new gold pulls from Home Depot were the perfect finishing touch.
Here is the result!
I was able to tour the Victoria and Albert Museum in London last February, as well as Kensington Palace where Victoria was born.  Such a fantastic trip!