After a much needed blogging hiatus over the past four months, my blog is back up and running.  I really did need the "blogging break" after writing content almost daily for seven years!  I felt my creativity had peaked and it became a chore rather than a creative outlet.  I'm not sure how else to describe it but my desire had disappeared.  I dove into my new job at Strathmore with gusto and have made friends, learned a zillion new skills and even took a bow on the stage – amazing.  What an adventure and how lucky I am to have it!
My creative spirit seems to be slowing flowing through my veins again and I am feeling energized.  I woke up the other day and thought, "I miss blogging."  It was the first time in over three months that I felt the need to post and share and connect.  So, I am back!  I hope you all have had a great spring and beginning of summer and that you will forgive my absence.
It has been an eventful few months!   My son is home from school and we are in the middle of long summer days, theater camp, my kids working as lifeguards, morning swim workouts, gardening, beach visits, an upcoming trip to Chicago, a parade to celebrate our Stanley Cup winners the Washington Capitals, watching Netflix movies and going to the National's games!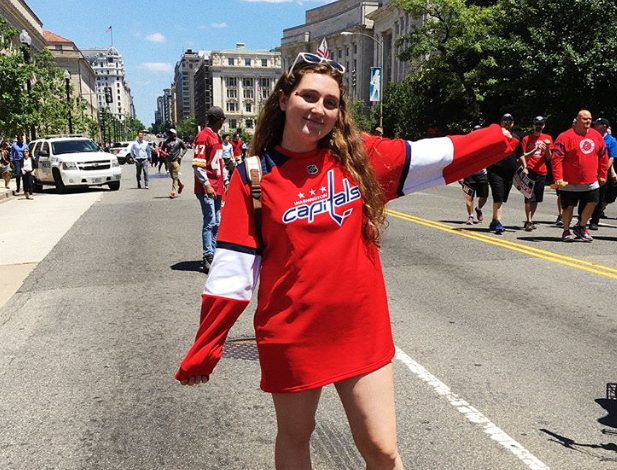 I have a ton to share on home improvements.  We had our front steps redone with flagstone (no more painted concrete), a new sectional sofa and furniture in the family room and we are installing hardwood in the hallway.
I'm still painting custom pieces and just finished a beautiful vintage bedroom set for a little girl named Penny.  I thought to share her desk with you today because it really was transformed into a beauty.
Here is the before – you can just see the desk in the background:   
Little Penny's bedroom set is finished in Annie Sloan Paris Grey.  Such a soft and pretty color.  I added white ceramic pulls which are sweet for a little girl.  They can be changed out to sparkly glass pulls when she is older – easy change!
Have a wonderful weekend!