Welcome to Tell Us Tuesday!  In this series, I'll have a guest artist answer a few questions and wow, I've had a fantastic lineup for you!  I hope that by hearing from such a diverse pool of creative people, we will take away interesting and different perspectives.  This may help in your own endeavors, be it painting furniture for fun, working on your home and creating your own style, or starting a blog or business for profit.  The questions range from the artistic to running a successful creative business.
I consider all of the participants to be my true friends.  We may not have met face to face (yet) but I know that we all support and inspire each other.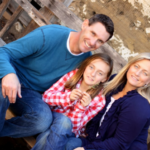 This week we have Darrielle from D.D.'s Cottage and Design!  I can tell if a piece is Darrielle's at first glance.  She has a great sense of color and style and her whole vibe is light and fun.  Her California cottage home by the sea is gorgeous and I love all of her fantastic pics that she posts on Instagram and Facebook.
Interspersed in the questions are pictures of Darrielle's amazing work.  Click on the picture for a link back to her original blog post.  Links also at end of post.
When did you begin to paint furniture and/or create projects for the home?
When I was first married 20 years ago, we had very little money and I liked things that looked old and worn.  I would buy furniture at the Flea market or a yard sale and paint it to feel new to me.  My grandmother both taught me to sew when I was young so I have always sew pillows and things for our house with fabrics I like.  Painting furniture and doing craft/DIY projects to sell at shows or in stores began about 4 years ago.
When and how did you start your website/blog?
I started my blog about 3 years ago and it was such a fun and creative outlet for me.  My husband really encouraged me to go for it, so it did!
What would you consider to be your unique style and what inspires you?
I don't really thing I have a unique style, but I do love color, vintage things, milk paint that creates chippy goodness, rust, imperfections that create character and a good patina, flowers and natural elements.  I like mixing old things together too—gold ornate mirror with a farmhouse dresser, plain barn wood box with pink Hydrangeas or roses, aqua coral lamps with French country console table ………
How do you choose which type of paint or finish to use on a piece?
This might sound crazy, but I let a piece just tell me what color it needs to be.  Sometimes I can look at a dresser and immediately know what the color and finish should be and then other times I will driving home with it in my car and the picture of it completed will pop in my head.  I go for it!  Since painting a piece is fun and a hobby for me, I don't worry about what would sell best or what others would think about it.  I just go with the vision in my head.
Do you consider both writing your blog and working on a project to each be a creative process?  Which do you prefer?
Which do you prefer? For me the fun part is going on the hunt for a great piece, transforming it with paint and sweat and then staging and photographing it.  I really do not like the writing part of blogging at all and recently I have really backed off from my blog because of this.  Writing is not enjoyable for me and by the time I get to the part I am done with the project and ready to move on.  I wish I could just do the work and someone else could write and post for me!!!
What is your favorite part of the creative process?  The initial brainstorming/inspiration, working on the piece, the finishing touches (staging/photography) or writing and publishing the blog post?  Least favorite?
My favorite parts are the hunt for a piece and the the actual work to transform it.  The writing part is my least favorite part for sure.
What do you believe to be the reason for the success of your blog and business?
I am not sure how successful my blog is and I don't have a business.  I do have a great hobby that makes me happy and gives me peace and purpose.  I really like taking something that is old and worn and no one wants any more and transforming it to a thing of beauty that has a purpose again.  I do get rid of my pieces quickly and I think it is because they have been brought back to life and have a function again.  I also tend to use color and I think that is appreciated many times.
What advice do you give other creative people wishing to follow in your footsteps?
My advice would be to follow your vision and your own creativity.  I think it is important to be true to yourself and let a piece talk to you.  That being said, I do what I do as a hobby and to for income.  To make it a business or for income – the approach would be different.  I think you need to be happy with what you are creating.
 Link Backs:
My Home Office Reveal – One Room Challenge

[pt_view id="bb8ffe6rq6″]