Welcome to Tell Us Tuesday!  Each week, I'll have a guest artist answer a few questions and wow, I have a fantastic lineup for you!  I hope that by hearing from such a diverse pool of creative people, we will take away interesting and different perspectives.  This may help in your own endeavors, be it painting furniture for fun, working on your home and creating your own style, or starting a blog or business for profit.  The questions range from the artistic to running a successful creative business.
I consider all of the participants to be my true friends.  We may not have met face to face (yet) but I know that we all support and inspire each other.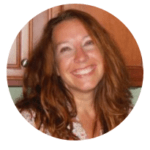 This week we have the fabulous CoCo from The Crowned Goat.  I started following CoCo's work a few years ago and her sense of style and innovative makeovers are inspiring.  Her warmth and spirit come through in her blog.  If you are looking for true farmhouse charm, CoCo is the real deal!  I must add, both her name and her business name are awesome!
Interspersed in the questions are pictures of CoCo's amazing work.  Click on the picture for a link back to her original blog post on the piece.  Links also at end of post.
Thank you so much for inviting me to be a part of this series, Suzanne! I know your readers will agree with me when I say you're an inspiration to so many people. My name is CoCo and I blog over at The Crowned Goat. While I live on a small island in Florida, my heart is definitely on the farm with a yard full of goats. Creating a cozy home filled with painted furniture, cherished family pieces, thrifted finds and layered neutrals are just a few of the things that make my heart sing.
When did you begin to paint furniture and/or create projects for the home?
I began painting furniture a few years ago when I was still a therapist working with inner city kids. I loved those kids so much yet the work was somewhat stressful. I tried my very best to leave work at work but over a period of time I found myself needing a creative outlet. Every afternoon I would pour over  magazines, paint, craft, rearrange furniture or decorate things around the house. I would spend my weekends working on bigger projects in my own home as well as the homes of my friends and family too.
When and how did you start your website/page/blog?
In 2014 with a lot of encouragement from my family, I became a vendor at a local antique mall. I started selling vintage finds, upcycled treasures and painted pieces of furniture. The blog came shortly after as a way to keep customers, family and friends informed of what was happening with the business. I never could have imagined it would blossom into so much more.
What would you consider to be your unique style and what inspires you?
I would definitely say my style is heavily influenced by the South. My family served 45 years in the military and we moved around a lot. One year we'd be beach babes and the next we were living the farm life. A few years later we were living the desert life. While our geography changed pretty frequently with each new house my Mom took extra care to create a home that would nurture our family. She is still my favorite decorating partner to this day. She's also the same woman that was evacuated during hurricane season wearing three strands of pearls and monogrammed navy blue silk pajamas. At the time, it seemed totally normal given we're 6th generation Floridians. I now understand, she probably should have been wearing a completely different kind of Ralph Lauren get up 🙂
How do you decide which paint or technique to apply?
I've probably used Chalk Paint the longest because it's what I started painting with in the beginning. My booth is in a very coastal area and most of my customers request a matte or lightly distressed finish. That being said, I'm always looking to stretch my painting skills. I've recently started using milk paint and mineral based paints and I feel like it's opened up a whole new world.
Do you consider both writing your blog and working on a project to each be a creative process?  Which do you prefer?
Goodness, yes – writing, painting, decorating and designing are all very creative. They're all hard for me to pull off if I don't feel inspired. It's fun to take a project from start to finish and to then be able to share all of the details behind the process. I just finished an ottoman and boy it was a doozie!
What is your favorite part of the creative process?  The initial brainstorming/inspiration, working on the piece, the finishing touches (staging/photography) or writing and publishing the blog post?  Least favorite?
I think each part of the process makes you a better artist and creative. It's fun to dream up a new idea for a makeover yet equally as fun to come up with a fresh paint color. I love putting together the final details and then sharing how all of those details came together. There are times when every step of the makeover journey works out flawlessly and other times I feel like a crazy pants because that amazing plan in my head didn't translate in real life. Every decision good or bad helps to build confidence for the next project and that part of the process is important even if you're not a blogger or business owner.
What do you believe to be the reason for the success of your blog and business?
Gosh this is a hard one, Suzanne! I truly believe everyone deserves a home that nurtures their spirit no matter the size of their home or bank account. It's my goal to have different price points in my booth space so that single moms, couples getting their first apartment or a design client that needs help with a retreat space all have affordable options. I work to run the blog the same way. I try to have relatable ideas that can be achieved with a little DIY skill and creativity. Above all, I want the people that visit the website and shop my space to feel encouraged in giving their best gifts whatever those gifts may be.
What advice do you give other creative people wishing to follow in your footsteps?  
I would say start small, get a plan of action together then dream big. When I decided to run the booth and the blog as a business full time I had a good amount of money saved up. I had a great support system and had already worked to establish relationships with fellow vendors and business owners. It was SO scary to step out in faith even with those things in place but I'm so glad I did. This experience has been more than I could have ever imagined. I've learned a few really tough lessons along the way but those same lessons have made me a better person in other areas of my life. It's competitive, exhausting, exhilarating, passion filled, so much fun and so much work all at the same time. Always remember to celebrate the big victories and the small ones; begin each day with a grateful heart; work to create a home and a life you love; put your best gifts out into the world. The journey won't always be easy but living a life you're proud of will always be worth it.
Thank you again to Suzanne for asking me to be a part of this series! It's been fun to encourage and be encouraged by so many strong and creative women throughout this process. You're a treasure!
Link Backs:
We're constantly working to create effortless Southern charm around this little island cottage.  You can find more information about the office makeover HERE, the bedroom makeover HERE, the bathroom makeover HERE and the pantry makeover HERE.
Up next week, the uber talented Denise from Salvaged Inspirations!  I cannot wait share her work and hear her story.  I am very honored that so many of my amazing blogging friends have agreed to take part in Tell Us Tuesday!