Five Delightful Outdoor Seating Options to Plan for Spring
Photo by Brett Sayles from Pexels.
It's never too early to start thinking about, and planning for, those lovely long summer days and gorgeous evenings. And, if you have even a little bit of outdoor space to call your own, you want to be ready to maximize your use when winter turns to spring. There is nothing more relaxing than sitting out on a patio or lawn, or in a garden, enjoying a cocktail, letting yourself steep in nature.
And that means seating. You have lots of options when it comes to outdoor seating for your outdoor space. In this post we'll talk about some options, but don't be afraid to get creative. It's your space, and it will look its best and be at its most enjoyable with your personal touches.
Recycling and Upcycling
Take a look at your local thrift store. Check out Craigslist and Facebook Marketplace. You can almost always find a hidden treasure, which you can bring to light with a little TLC. If you are open to a more funky, offbeat feeling in your space, don't worry about finding matching pieces. You can unify a pretty diverse seating area with new coats of paint and decorative motifs.
If you're feeling ambitious and excited about a more significant DIY project, check out the multitude of YouTube tutorials on building your patio furniture from old pallets, like this one.
Using bright yellow paint, I once took a very dilapidated old rocker and turned it from this…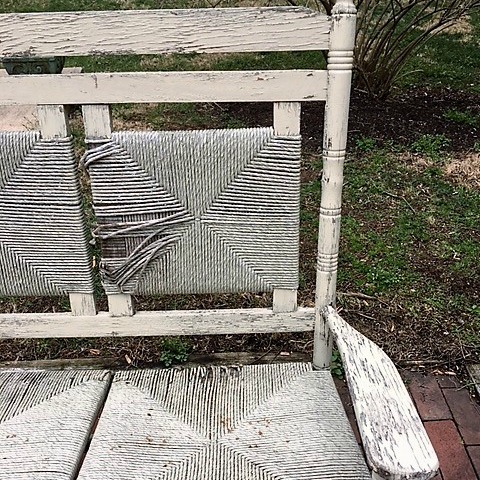 to this!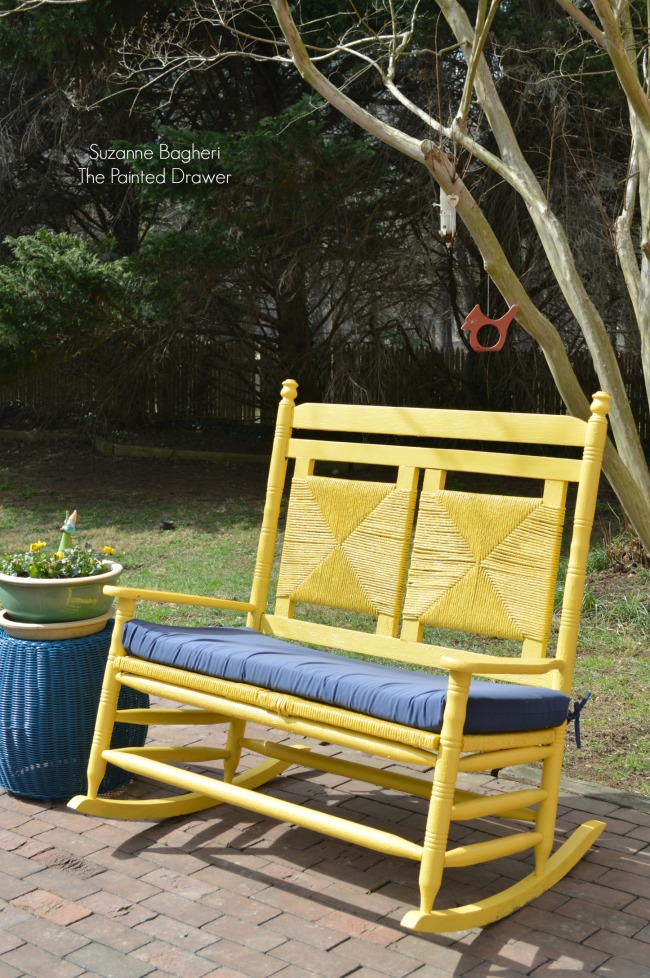 Here is another old bench makeover for a client. You can see in the video how easy it is!
Adirondack Chairs
It's hard to go wrong with such a classic option. Adirondack chairs are available in lots of wonderful configurations, with and without ottomans. And if you don't want to break the bank, some plastic Adirondack chairs are quite attractive. Capture the rustic feeling of mountain life in your own backyard!
Photo by James Wheeler from Pexels.
Benches Around a Firepit or Against a Wall
Bench seating works well around a central area. When you gather your friends and family in your outdoor space, a circle of benches allows everyone to see one another. If you have a central attraction, like a firepit, so much the better. Imagine yourself toasting marshmallows with friends right at home.
Remember that a bench can be a space-saving option, too, placed against a wall. And it can be the perfect refuge for a one-on-one chat. Again, check out your local thrift stores and online marketplaces. There are lots of great finds. Or you can build bench seating yourself, from pallets or other materials.
Hanging Chairs and Hammocks
These are another comfortable option for your outdoor space and another chance to get creative and potentially upcycle or recycle. Hanging chairs are excellent if you have seating space under the eves of a home or under a balcony. But don't be discouraged if you need something freestanding. There are lots of options out there.
Rocking Chairs
Image by Greg Waskovich from Pixabay.
Don't forget about this classic option if you have a more sheltered space, like a roofed patio or porch. As usual, check your thrift stores and online marketplaces. If you are willing to put in a little extra effort, you can weatherproof your finds enough that they will last for years to come. You can't go wrong with a classic! 
Please note that some of the links above and below are affiliate links, and at no additional cost to you. All opinions are my own.