Is it a vintage sideboard or a buffet?
From Houzz.com: There is no difference between a sideboard and a buffet in terms of definition. A sideboard used in the dining room may be called a buffet, and when placed in the living room, called a sideboard. 
This piece happens to be a gorgeous no matter what its name…"A rose by any other name would smell as sweet" 🙂
This lovely large sideboard is about to get a makeover in gray and gold.  I met with the owner over the weekend and we decided on French Linen but a tad lighter.  I will create a custom mix and am looking forward to it!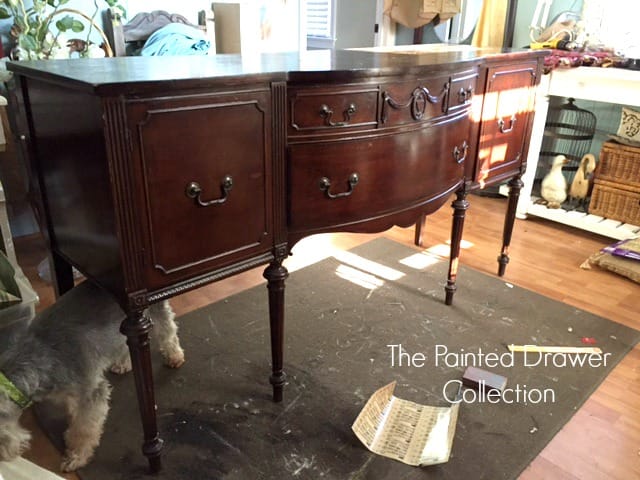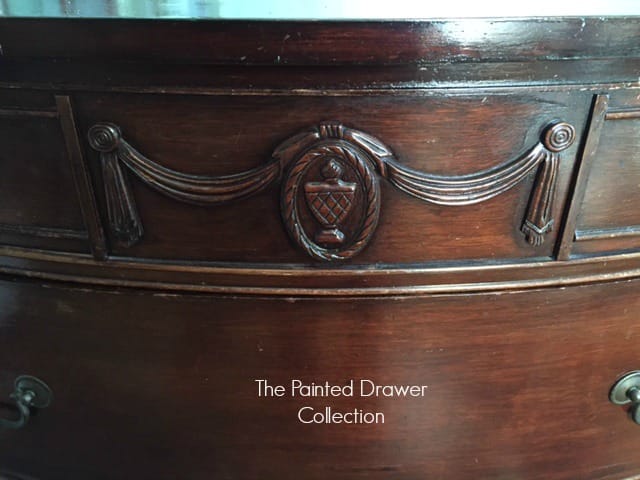 Remember my search for a pot of gold? Here goes!
Well, the Martha Stewart vintage gold is definitely discontinued – boo.  The Ralph Lauren Metallic from Home Depot was too liquidy to apply for my taste and didn't have much punch.  It was $21 and I honestly would not recommend it.  Royal Design Studio's stencil creme was gorgeous to apply – lovely and creamy and smooth.  The color I chose (Antique Gold) was slightly too dark for the look I was striving for but I am looking forward to using it on future pieces. It is $10 for a tiny little jar but it lasts. Back to the drawing board! I ended up going with gold gilding wax by Cire a Dorer.  LOVE it.  The color is a brighter gold that is exactly what my client is looking for.  It is $24 for a very small jar which is pricey but again, it should last a long time as a little goes a long way.
The chair that I posted last week was not exactly the right finish for my client (gold issues).  Starting again, I worked over the weekend to create a different finish and used the gilding wax.  I will post the Vintage Chair (Part II) on Wednesday with a video tutorial on how to apply the gilding wax.  Oh, and she loves the new finish 🙂